Chicken and Sour Cream Enchiladas with Green Chiles
One of the things we already miss most about Texas is good Mexican food (e.g. Lupe Tortilla, El Mirador, Pappasitos, etc.) We seriously haven't even found mediocre Mexican unless you count Chipotle or other similar burrito joints, which are good but no substitute for some good old fashioned Tex-Mex. For this reason we try to make Mexican food quite often. Every week we are buying one of the (way more expensive than in Texas) avocados at Whole Foods for guacamole as a side to our Mexican meal.
I've really been wanting to combine sour cream, green chiles, and chicken for awhile, but wasn't able to find a recipe I was fully happy with online. Instead I decided to create my own enchilada recipe for the first time, and according to Dustin it turned out pretty well. I was even paid the ultimate compliment that these enchiladas were better than a lot of the places back home.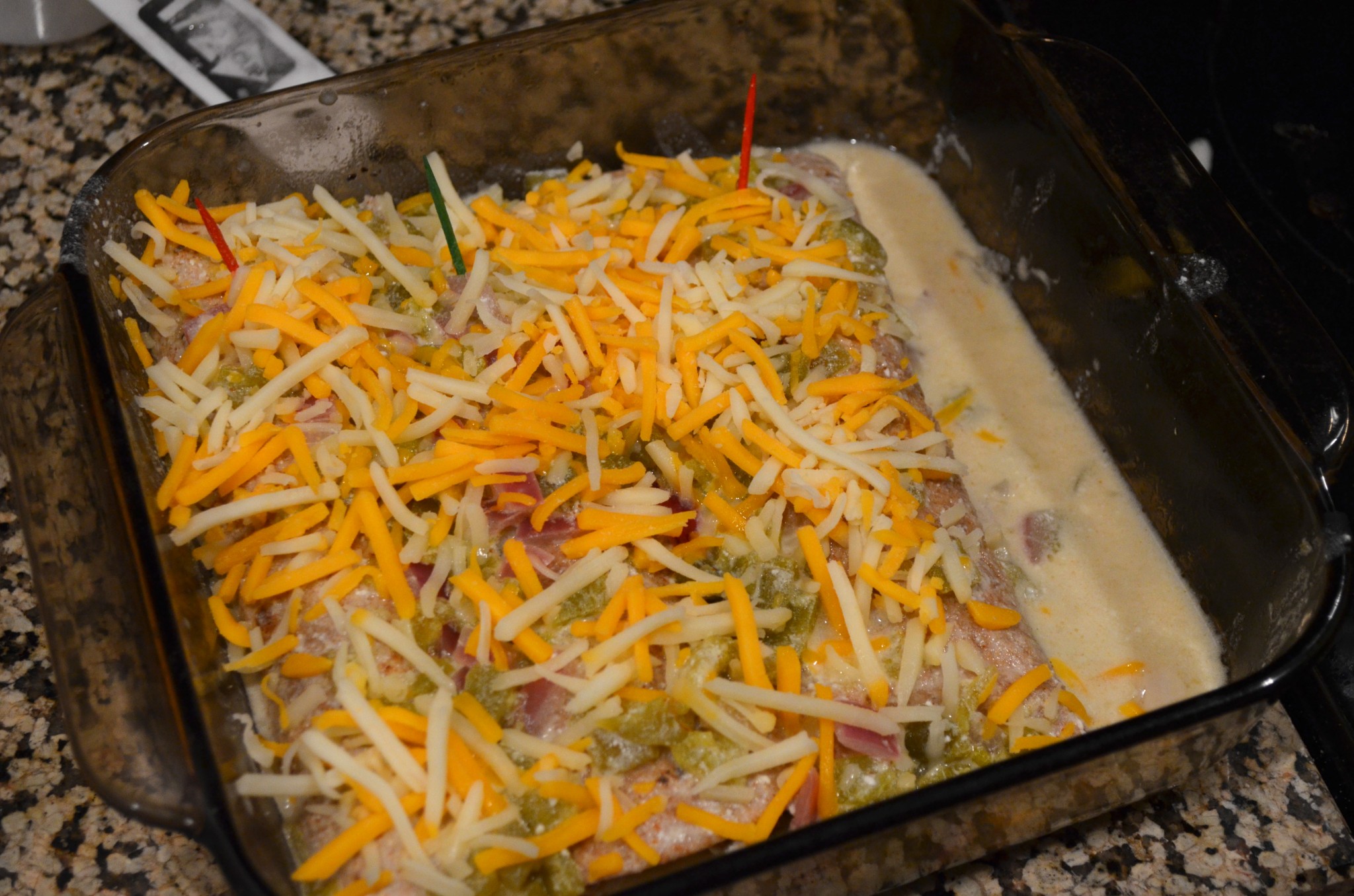 Chicken and Sour Cream Enchiladas with Green Chiles
(Makes 3 enchiladas, serving one big eater and one small eater)
3 large whole-wheat flour tortillas
¾ lb chicken breast, cut into 1" chunks
¾ cup low fat sour cream
1 cup reduced sodium chicken broth
1 tsp cumin
1 tsp chipotle powder
handful of chopped red onion
1 4oz can chopped green chiles
¾ cup grated Monterrey Jack/cheddar cheese blend
canola oil (or other nonstick) cooking spray
Bring pot of water to boil. Add chicken and boil for 20 minutes. Drain and shred. This step can be completed ahead of time.
Over medium heat combine chicken broth and sour cream until a sauce forms. Add cumin, chipotle powder, onions, and chiles. Let simmer for approximately 10 minutes.
While sauce is simmering, spray pan with cooking spray and lightly fry, individually, each tortilla to give the tortilla a slightly crisp texture.
Dunk each tortilla in the enchilada sauce and place in baking dish. Put about a third of the chicken in the tortilla and sprinkle a little bit of cheese on top. Then roll to form an enchilada. I put a toothpick through the enchilada to ensure it stayed rolled up throughout the process. Repeat with the remaining tortillas. Pour the rest of the sauce over the tortillas and top with the rest of the cheese.
Bake in an oven at 375° for 15 minutes or until cheese is thoroughly melted. Once plated, add the extra enchilada sauce from the bottom of the baking dish to the top of the enchiladas for extra flavor since this is where many of the onion and green chile chunks end up.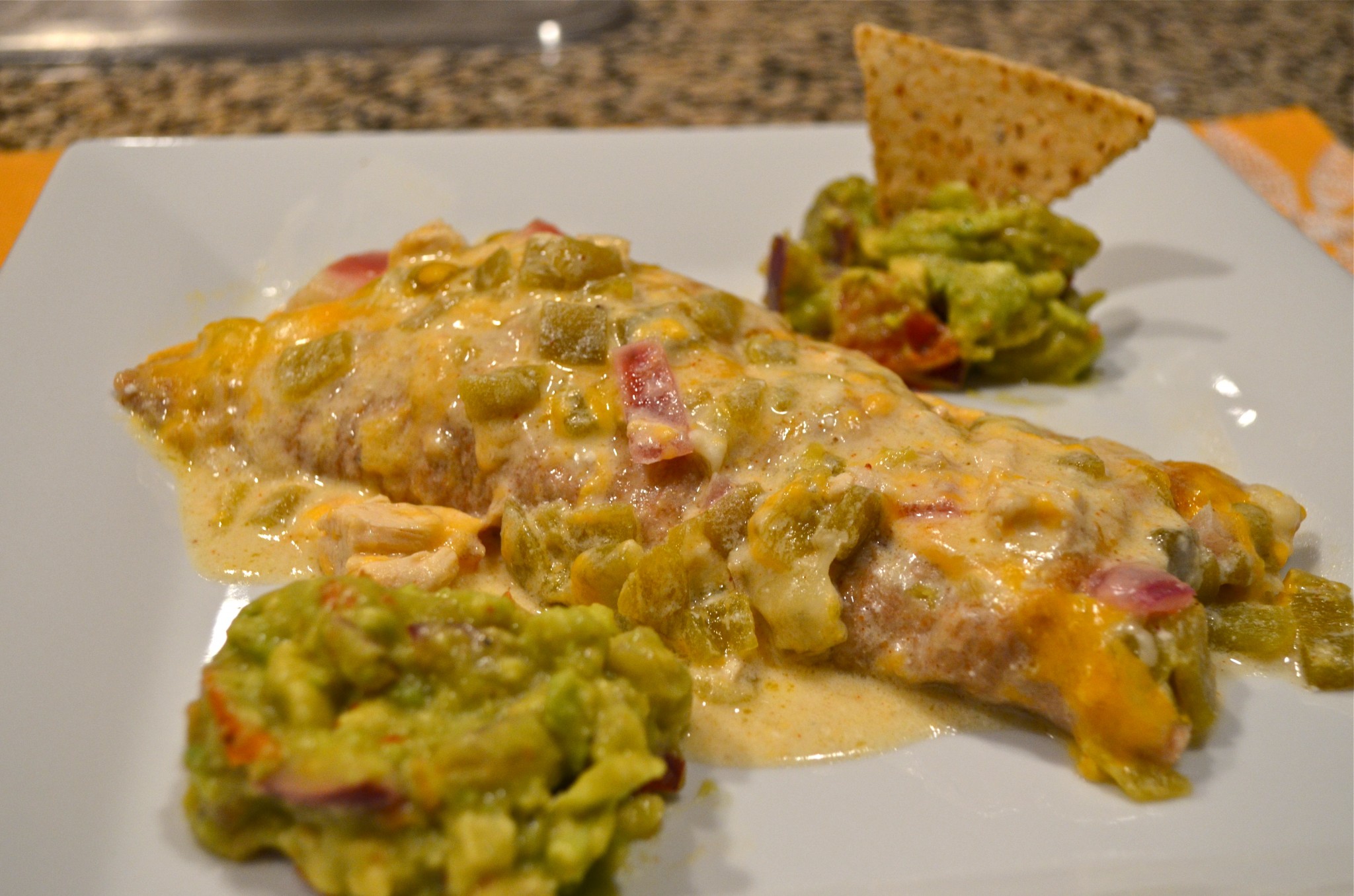 I intended to add a jalapeno to the sauce to add some more kick, but since I forgot to buy one, we did without. These enchiladas still turned out to be pretty delicious! I'm not even sure if I would want to add a jalapeno next time.
We served with fresh guacamole and tortilla chips along with hand-made, from scratch margaritas made with agave syrup and fresh lime (posts coming soon), but this recipe would taste great with some refried beans or another Mexican side dish.