Pizza Night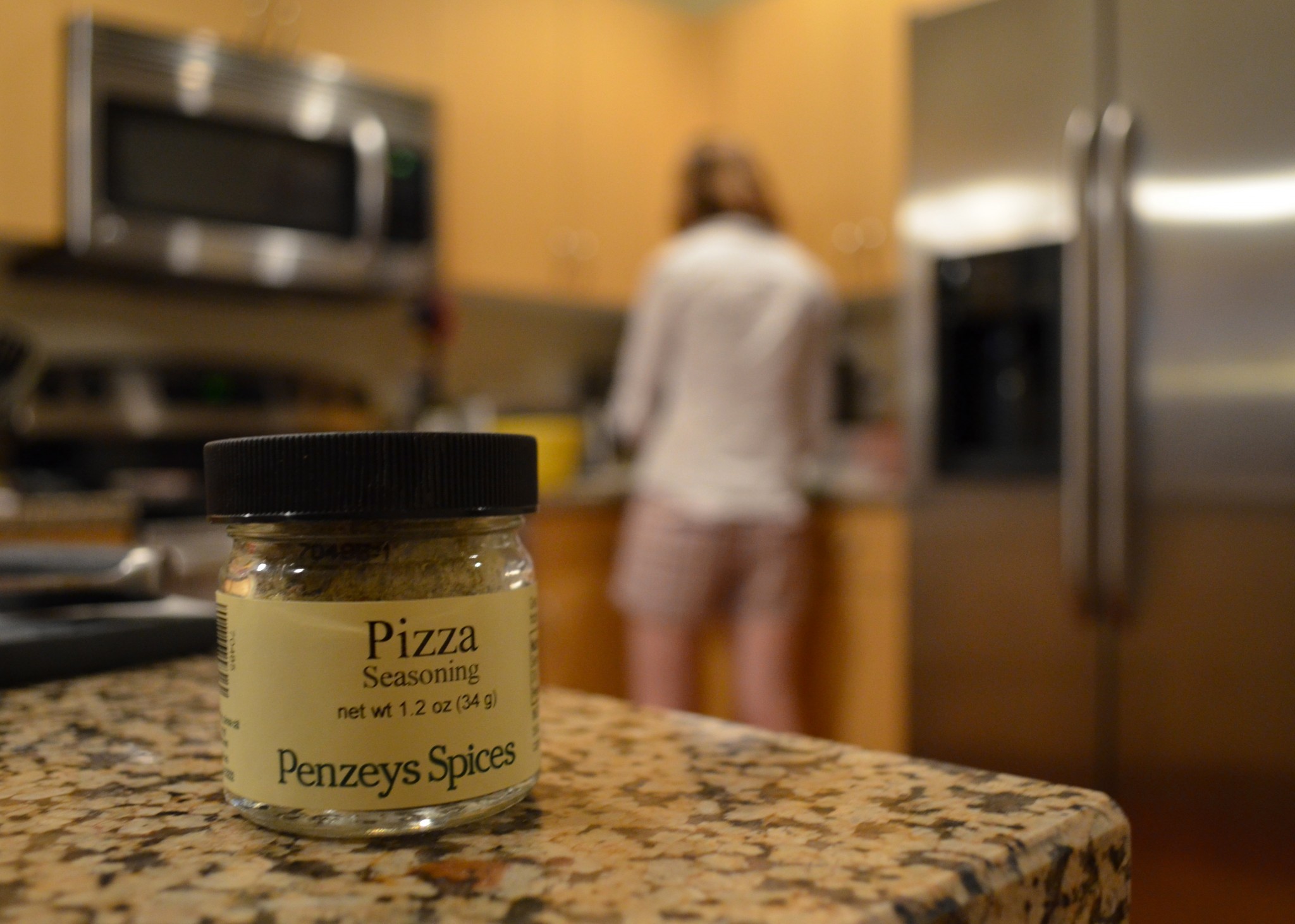 To celebrate the purchase of our new Nikon D5100 camera, we decided to make homemade pizza and start our own blog to chronicle our foodie adventures in Washington state (hence the name Wafoodie, as in WA Foodie). Inspired by foodgawker, we thought taking pictures of the food we so love to make would be a great way to practice our photography skills and share our culinary delights with our friends and family while keeping everyone up to date on the fun things we are doing up here.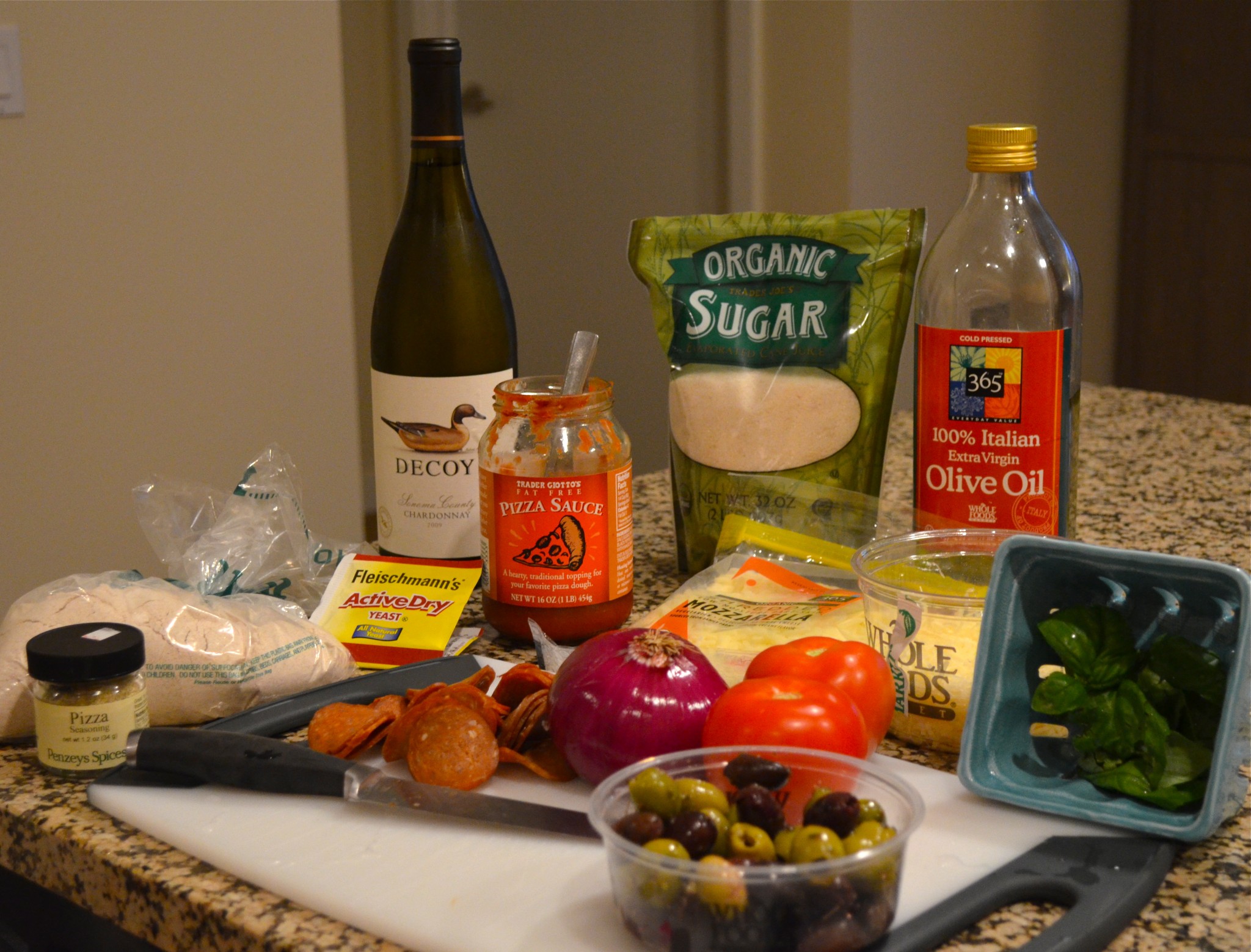 Pizza time. We began by making the dough from scratch using a recipe Dustin's mom gave to us. Then we started piling on ingredients. We didn't make our own pizza sauce, instead we relied on Trader Joe's to help us. Making our pizza sauce is pretty much the only thing I think we could have done to make this pizza better. We put so many ingredients on this pizza— mozzarella and parmesan cheeses, both green and Kalamata olives, red onion, tomatoes, garlic, fresh basil from our patio plant, Penzey's pizza seasoning, and of course pepperoni.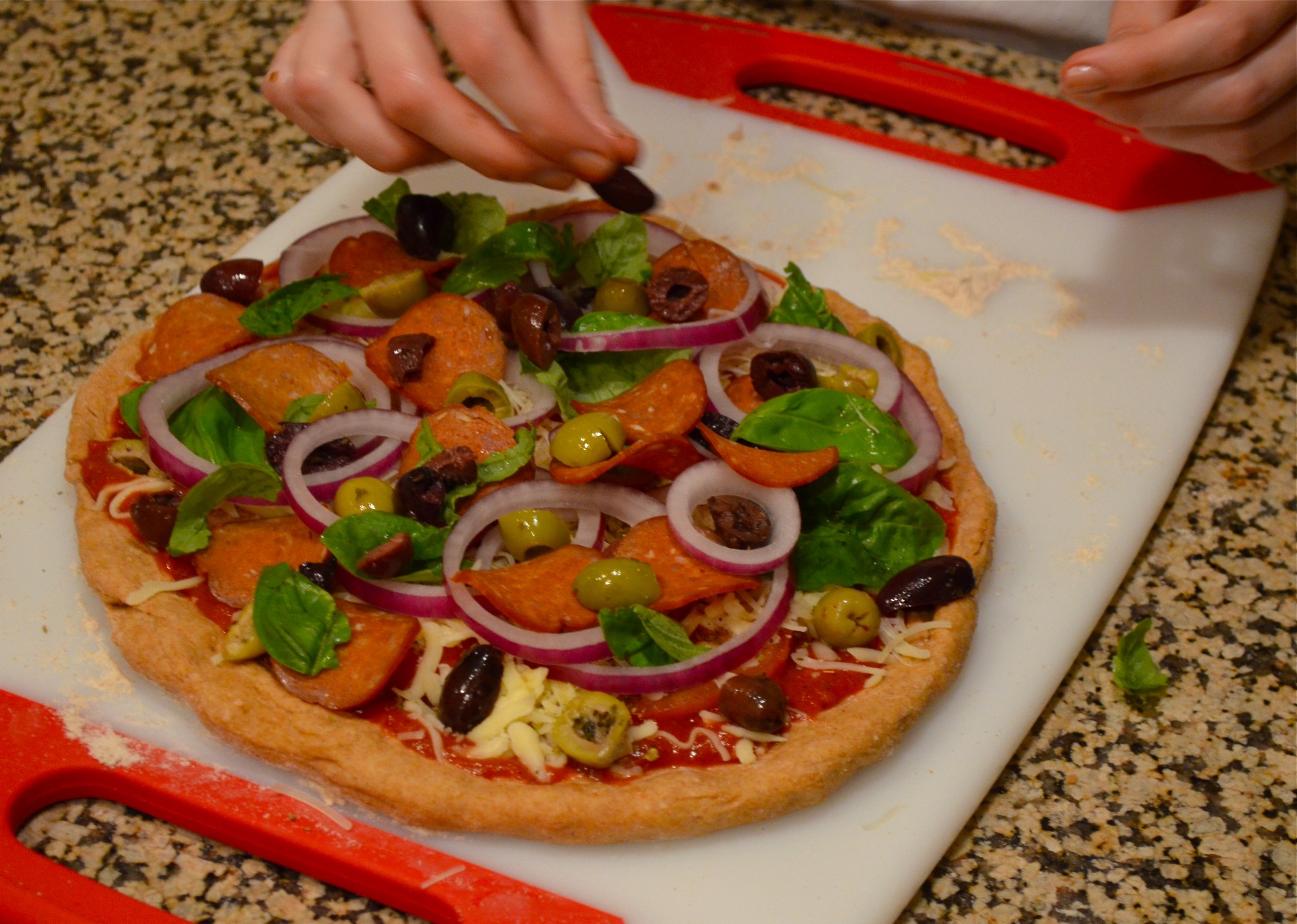 We baked the pizza on our new baking stone we bought from Williams-Sonoma for 9 minutes at 450°, and although we had a few problems getting it in and out of the oven without making a complete mess of everything, our pizza was delicious with a nice crispy crust on the outside and perfectly chewy in the middle.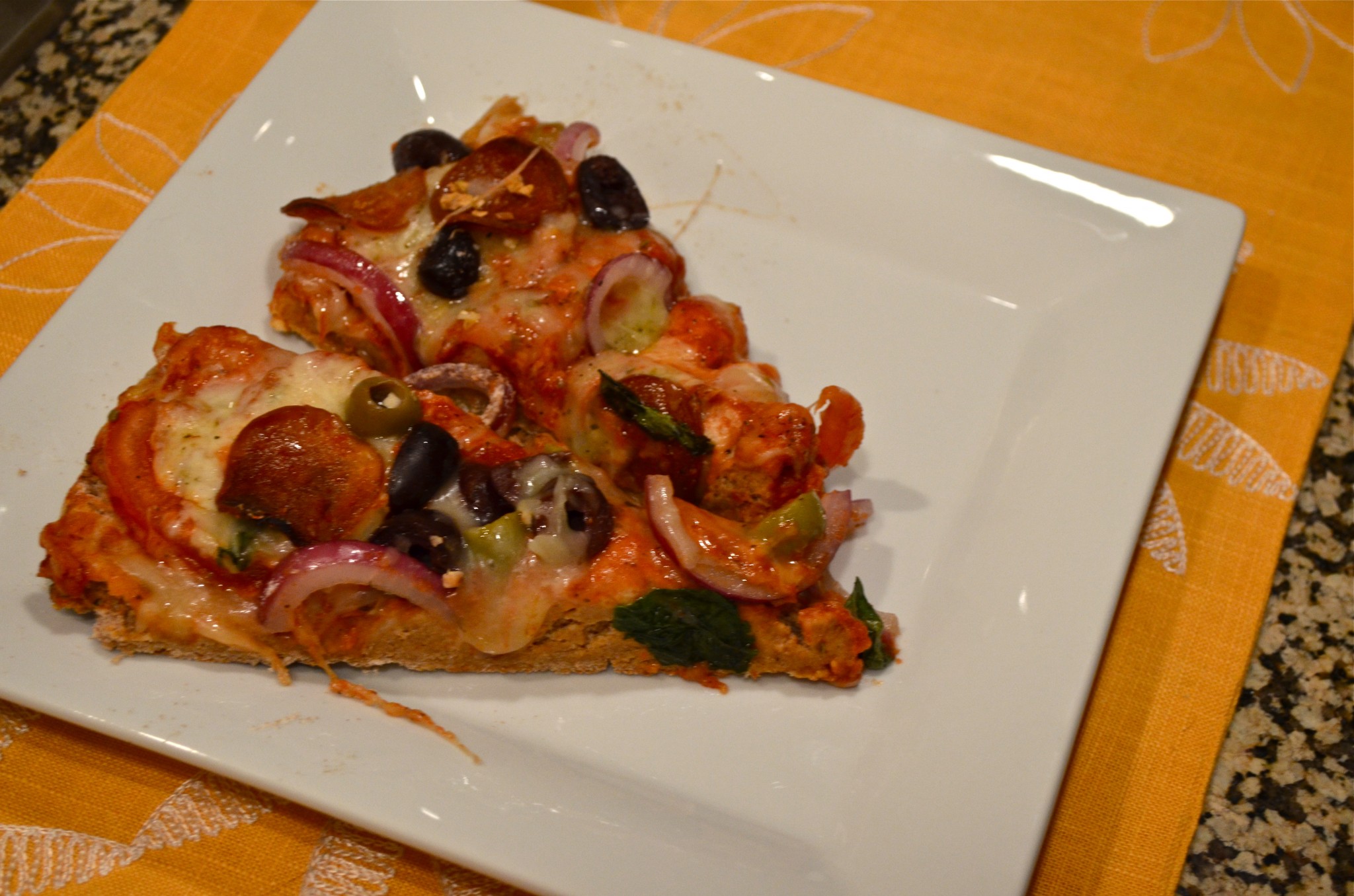 Super Fast Pizza Crust
1 package active dry yeast
1 teaspoon sugar
2/3 cup warm water (105°-115° F)
1 2/3 cup flour (we used whole wheat)
1 tablespoon olive oil
3/4 teaspoon salt
Stir yeast and sugar into the warm water in a small bowl; let stand until foamy (about 5 minutes).
Combine flour, oil and salt in a food processor or a large mixing bowl. Slowly add the yeast mixture. Mix or stir until the mixture forms a soft dough. Process for 45 seconds or knead on a board until board is supple and smooth.
Roll on floured board* to a 14 inch circle and top according to recipe.
Bake on pizza stone according to recipe**
*Flouring the board wasn't super successful for us, so next time we are going to try cornmeal per the recommendation of the insert that came with our pizza stone.
** We had a hard time transferring to pizza between the stone and other surfaces. Hopefully cornmeal will solve that problem as well (or maybe a fancy pizza peel). To further get in the celebratory mood, we opened a bottle of Decoy Chardonnay (a delicious white we had at Nikai Sushi in Jackson Hole) we had been saving for awhile and had a wonderful and relaxing Sunday evening at home together with Bonnie after a busy couple of days.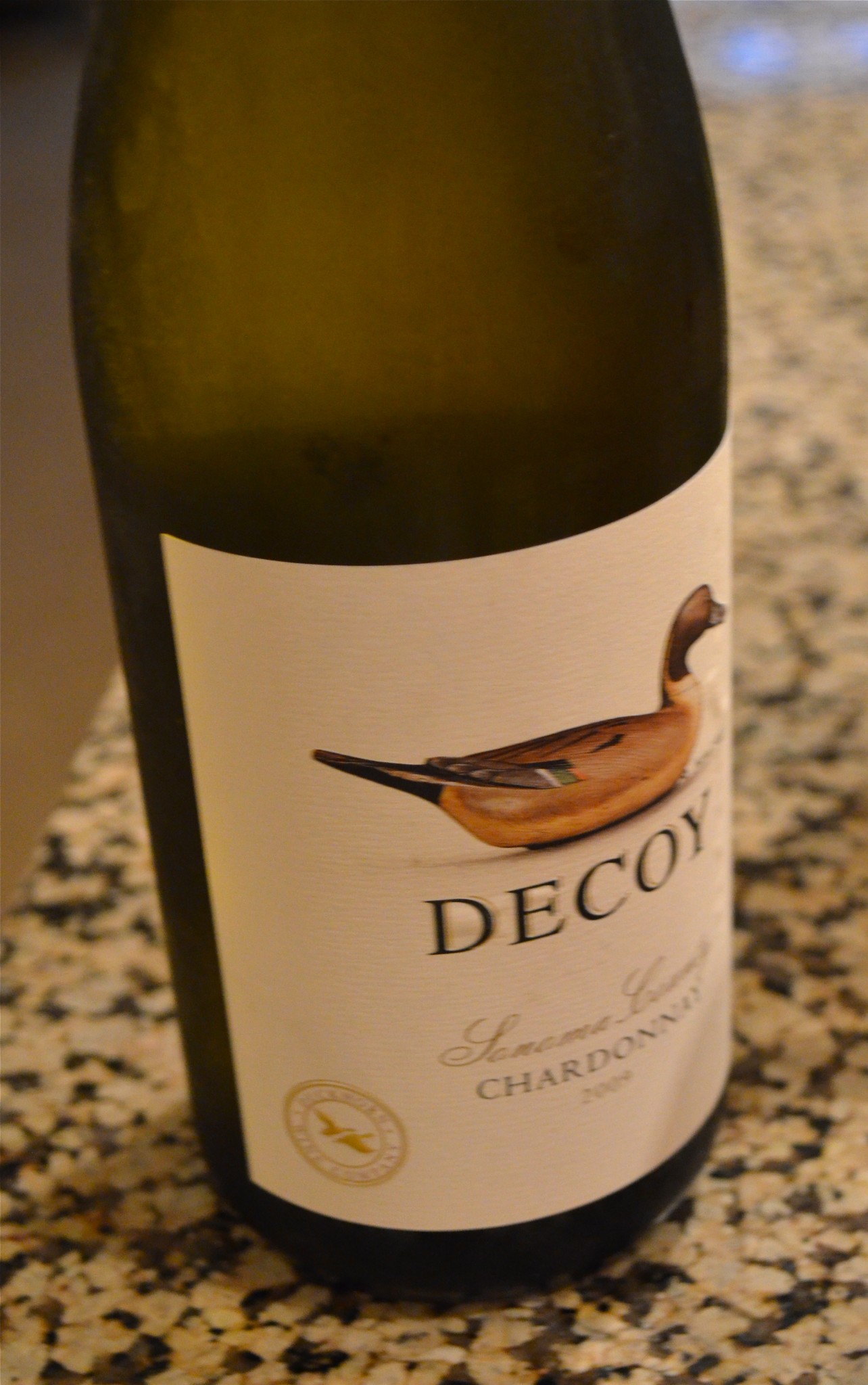 This little cute girl is Bonnie.