Cake Doughnut Muffins
In an experimental mood, I decided I wanted to make a somewhat spiced buttermilk muffin using cinnamon and nutmeg. I found a bunch of different recipes, but decided to pretty much start from scratch in order to make them healthier (e.g. replacing butter with applesauce, using whole wheat pastry flour, and cutting down on oil), and I wanted to use a combination of cane sugar and brown sugar.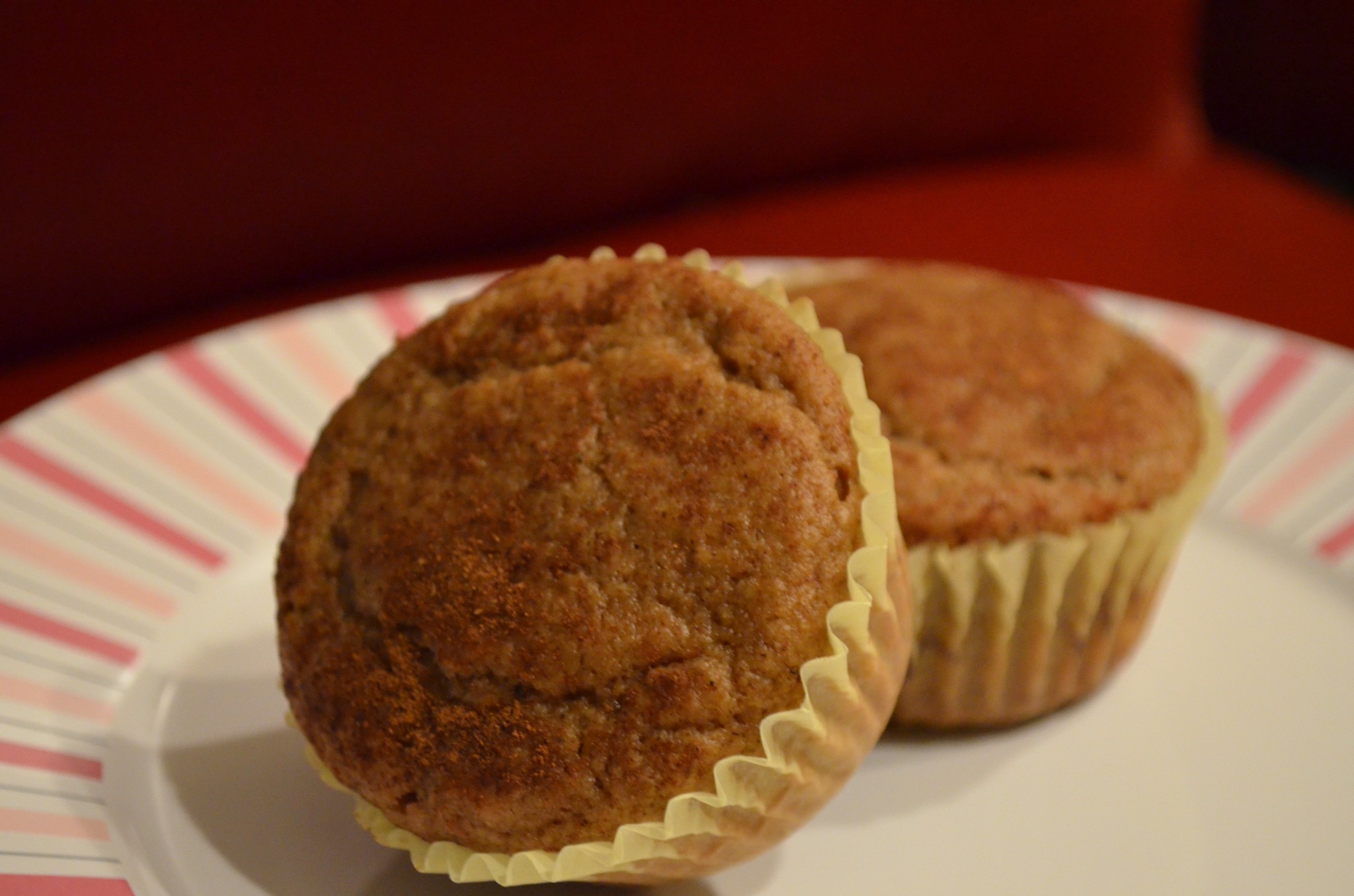 Cake Doughnut Muffins
yields 12 muffins
½ cup unsweetened applesauce
1 T canola oil
1/3 cup cane sugar
1/3 cup light brown sugar, packed
1 egg
1 1/2 cups whole wheat pastry flour
1 1/2 t baking powder
1/2 t baking soda
1/2 t salt
1 t nutmeg
1 T cinnamon (plus more for sprinkling on tops)
½ cup low-fat buttermilk
1 1/2 tsp. vanilla extract
Preheat oven to 350°.
Miix flour, baking powder, baking soda, salt, nutmeg, and cinnamon in large mixing bowl.
Mix applesauce, canola oil, cane sugar, brown sugar, egg, buttermilk, and vanilla in medium bowl.
Slowly add wet mixture to dry mixture, mixing thoroughly.
Pour into lined muffin tin and sprinkle tops with more cinnamon.
Bake in oven for 15-18 minutes or until toothpick comes out cleanly.
When I tasted these muffins, they were reminiscent of a light and fluffy cake doughnut and similar to a breakfast cupcake we tried at Crave back in Houston called Cake Donut. The nutmeg flavor was very pronounced, and the flavor is perfect to go with a chai tea latte for breakfast on a cool fall morning or as a dunking agent in butternut squash soup for lunch, as these muffins are not overly sweet (although sprinkling some more sugar on the tops could help if you are looking for a sweeter sugared cake doughnut taste).
According to Calorie Count's Recipe Analyzer (my best friend in determining the calorie count of a recipe), each filling, low-fat muffin comes in at 122 calories, which is not bad for a breakfast treat!