"I Got VD in Portland"
No, it's not what you think.
"I Got VD in Portland" is one of the many clever slogans belonging to a tasty place you must try if you ever visit Portland, Oregon. VD refers to Voodoo Doughnuts, aka "Quite Possibly the Best Doughnuts You'll Ever Have."
To celebrate four years of togetherness, we took a mini vacation to Portland for the weekend.
I heard about Voodoo Doughnuts on a television special about the best donut places in the U.S. (Top Pot was also featured) and when reading a list on America's Top Donuts. My life quite possibly revolves around finding and eating good doughnuts. As we learned on our trip, Voodoo Doughnuts are practically synonymous with Portland. We saw an abundance of their famous pink boxes as we walked through Portland's Saturday Market and even as we drove around the city. The bellboy at our hotel even commented "You got Voodoo Doughnuts. You've done half of the things there are to do in Portland!"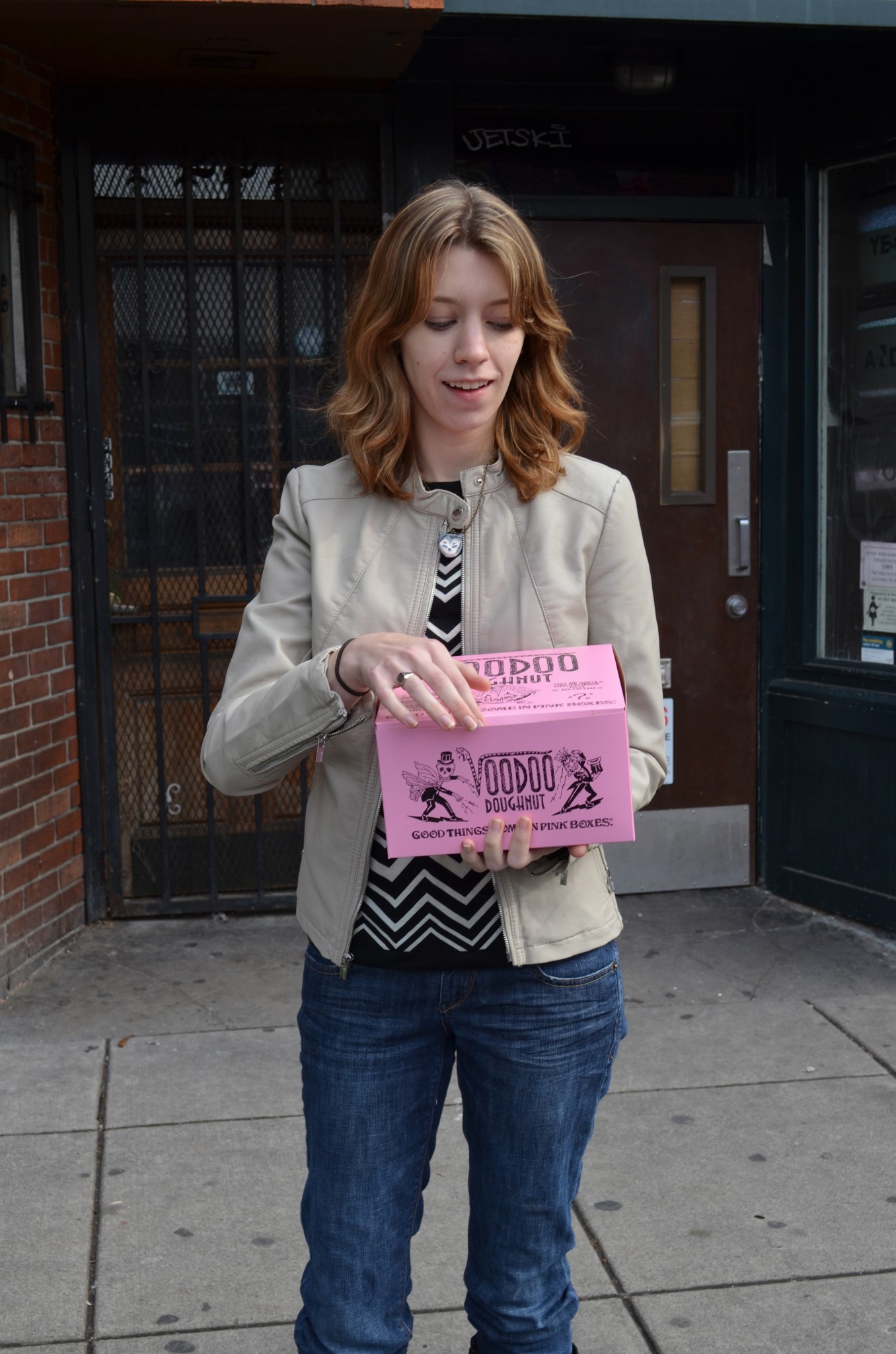 We got to experience just how popular Voodoo Doughnuts are firsthand. The wait at 1 o'clock in the afternoon was half an hour. Voodoo Doughnuts has an incredibly large selection of unique donuts, many of which have sexually-themed names. We really wanted to try them all, and as Dustin said, "There's no way we are waiting 30 minutes in the cold to get two doughnuts." We settled on five not so tiny doughnuts. Surprisingly our favorite was our last-second addition of the Dirt Doughnut, a yeasted doughnut covered in vanilla frosting and crushed Oreos.
We also tried the Memphis Mafia, a massive fritter with banana and cinnamon sugar, glazed then covered with a chocolate drizzle, chocolate chips, peanut butter, and peanuts. I must admit I was a pretty big fan. We tried two of Voodoo's doughnuts topped with cereal— the Triple Chocolate Penetration, a chocolate doughnut covered in chocolate frosting and Cocoa Puffs, and The Loop, which was similar to the Dirt Doughnut except covered in Fruit Loops. These had an interesting texture with the soft dough and crunch cereal all in one bite. They were good, but we both agreed we wouldn't order them again. There are too many other delicious sounding doughnuts to try. Side note— we spread the eating out across several different snacks/meals, so we aren't complete pigs.
Finally, we tried their signature Voodoo Doll, a yeasted donuts shaped like a voodoo doll, covered in chocolate frosting, filled with raspberry (blood) filling, and a pretzel stake. Each doll is decorated to look slightly different so that it has its own character. This was an excellently crafted iced doughnut— definitely the best I've ever had. I always feel that iced doughnuts disappoint. They look so tasty and most things are better when frosted, but in the end I always wish I would have just order a plain one. Not this time. The Voodoo Doll was delicious, and the shape and decorations gave it a little something extra fun.
Overall, we were incredibly pleased with Voodoo Doughnuts and are definitely worth a little waiting in the cold, although it might be best to do some research before going to figure out when they are least crowded since they are open 24 hours!
Next time we'll have to try the Bacon Maple Bar, a simple maple bar covered in bacon. Can you think of a way to make fried dough more unhealthy?
Other highlights of our Portland trip included burgers for lunch at the street truck, Brunchbox. Portland has some neat looking areas with dozens of food trucks. We tried Brunchbox because of another television special (What? I like to watch food shows). This place is slightly ridiculous, but in a totally good way. Brunchbox allows you to substitute thickly sliced Texas toast, or wait for it, grilled cheese sandwiches in the place of the bun. So basically, if one sandwich isn't enough for you, you can sandwich your sandwich in two more sandwiches. I ordered the Reuben, a burger covered in swiss cheese, grilled onions, sauerkraut and thousand island dressing, and substituted Texas Toast (good choice). Dustin ordered the Outlaw with cheddar cheese, bacon, onions, and barbecue sauce, and substituted for the grilled cheeses. Both were juicy and greasy in that oh so delicious way (I wish we had remembered to bring the camera for this meal). The burgers were actually pretty modestly sized (considering there were two grilled cheese sandwiches involved) and very reasonably priced. All in all, Brunchbox was a great find.
For our romantic dinner, we visited Urban Fondue. Cheese fondue is something both Dustin and I really enjoy. Dustin explained my love for fondue— it's basically sophisticated queso. We've been wanting to eat a full course fondue meal at a restaurant, but weren't super impressed by the idea of going to The (chain-y) Melting Pot, so when we located this place on OpenTable, we were psyched.
The whole experience was fabulous from the food and drinks to the service to the unpretentious yet romantic atmosphere. Urban Fondue has it's own connected bar next door with a large selection of specialty cocktails. The coconut mojito-tini was a sweetly delicious hit among us. The first course was a delicious brie and gorgonzola fondue with hazelnuts— so creamy and delicious. For the second course we got an assortment of meats and seafoods that we got to cook at our table then dip in wide assortment of tasty sauces. Interacting with our food like that was quite the experience. We even got little timers and guides that told us how long to cook things. Both of us were pretty much stuffed by this point, but our "Fondue Experience" package we ordered came with dessert, so we just HAD to try it. We had a marionberry cheesecake fondue served with an assortment of fruits, cakes (including cheesecake, and let me tell you cheesecake covered in melted cheesecake is divine), and even cookie dough— making it pretty much the perfect dessert for me. Urban Fondue's menu was so incredibly creative that we had a really hard time settling on what to order. Our server did a really great job with recommendations, and he even brought out some extra dipping sauce flavors for us. We read many great reviews about this place before making our reservations, and we totally see why. Two thumbs up. In fact, we'd have to give all the food we tried in Portland two thumbs up.
Dustin's already craving a visit back to Brunchbox. I'm craving Voodoo. Neither one of us would be upset with a trip back to Urban Fondue. I think a visit back to Portland is in our future.