Pepperoni Pasta
Boccone's in San Antonio was one of the first restaurants Dustin took me to in San Antonio when we started dating. He talked up this pepperoni/sausage pasta drenched in olive oil with tomatoes, garlic, olives, and onion, which we will fondly refer to as "pepperoni pasta" from here on out. Dustin knew I would love this dish, knowing what a pepperoni fiend I am, and he was right. I thought this pasta was really neat because I had never really seen the circular pepperoni you'd expect to find on a traditional pizza mixed into a richly flavored, more authentic seeming Italian dish, and I'm all for making plain pepperoni seem fancier!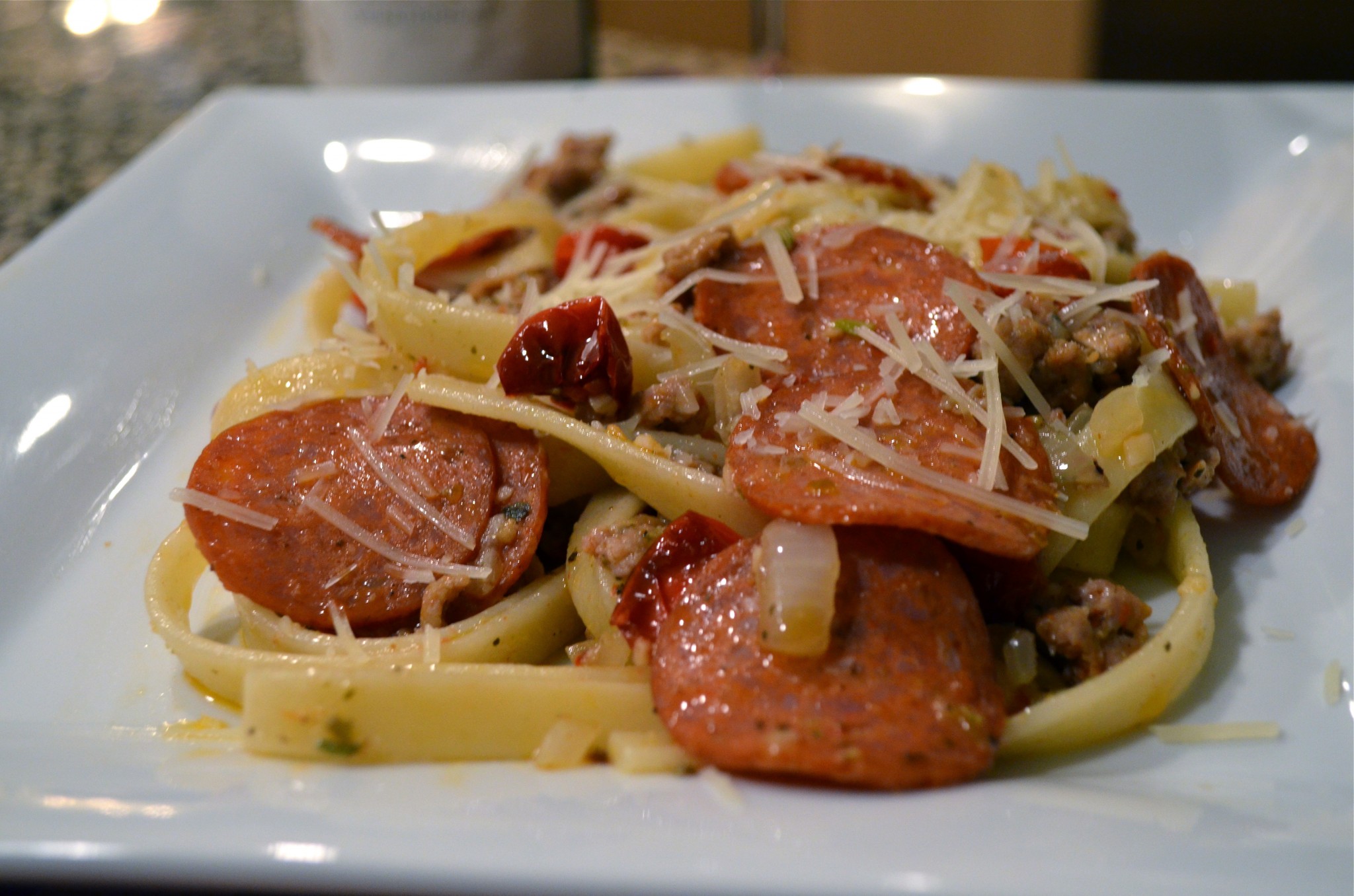 We frequented Boccone's when we visited San Antonio, and we were devastated one day when we drove out there to find the restaurant closed. So many moons ago we decided to replicate the Boccone's dish in our own kitchen. Unfortunately, we were not able to copy the dish to completely replace Boccone's, but we did create a tasty pasta recipe we really enjoy that has become synonymous with romance, nostalgia, and the early days of our relationship. Dustin claims our creation is not quite as good as the original because I don't use enough olive oil, but I don't think that's true. I think there's some secret, addictive ingredient we are missing...
Maybe one day Boccone's will resurface in San Antonio. Apparently there was a location many years ago that closed and reopened to become the Boccone's we went to, so there's always hope. We'd have to make a special trip back just for the pasta!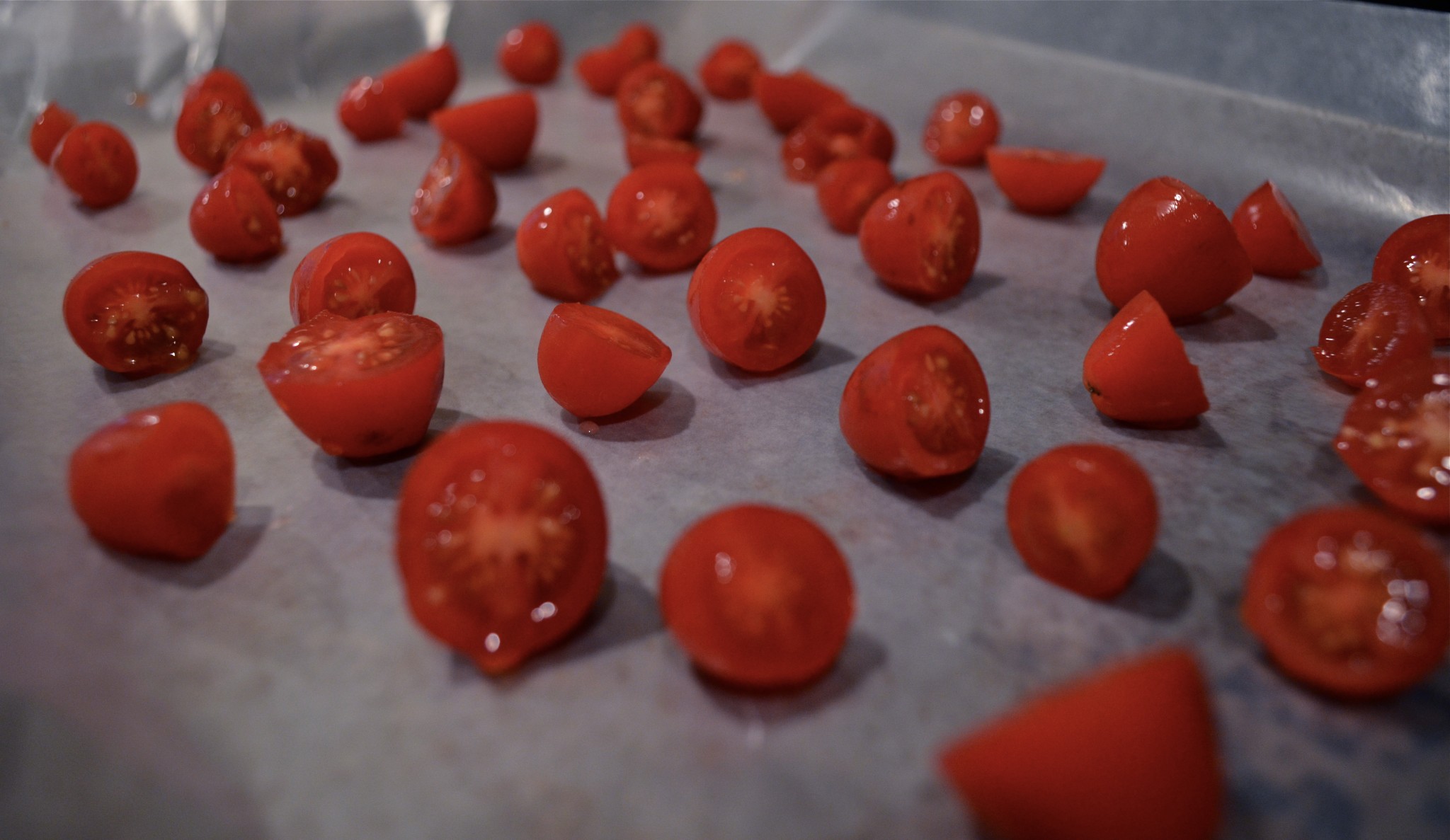 We were trying to remember what exactly Boccone's did to their tomatoes for this dish, but we don't know exactly. In the past we just cut up fresh tomato, but on this go around, we decided to drizzle cherry tomatoes in olive oil, garlic, salt and pepper, then roast them in the oven at 250° for 2 1/2 hours. Even though roasting was not how Boccone's prepared the tomatoes, we thought roasting would add more depth of flavor to the dish, something our pasta didn't stack up to compared to Boccone's when we made it previously and just used raw tomatoes. After our taste test, we both thought that roasting was the way to go when preparing pepperoni pasta.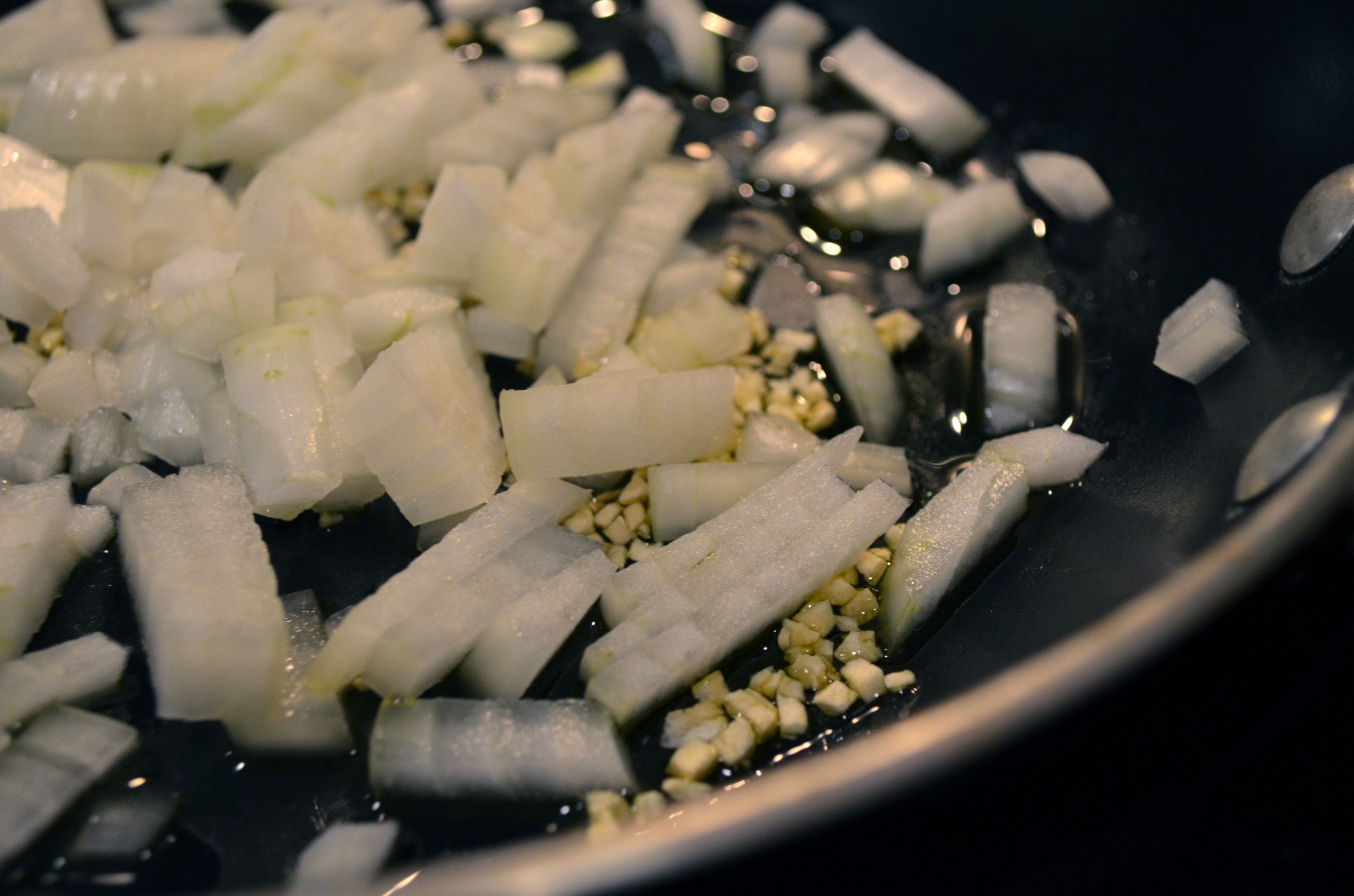 We boiled some linguine while we sautéed up spicy Italian sausage with onions and garlic in quite a bit of olive oil on a medium-high heat. When that was mostly cooked, we turned the stove down to a low heat and added in the pre-cooked pepperoni to warm it up and get it nice and soaked in the olive oil.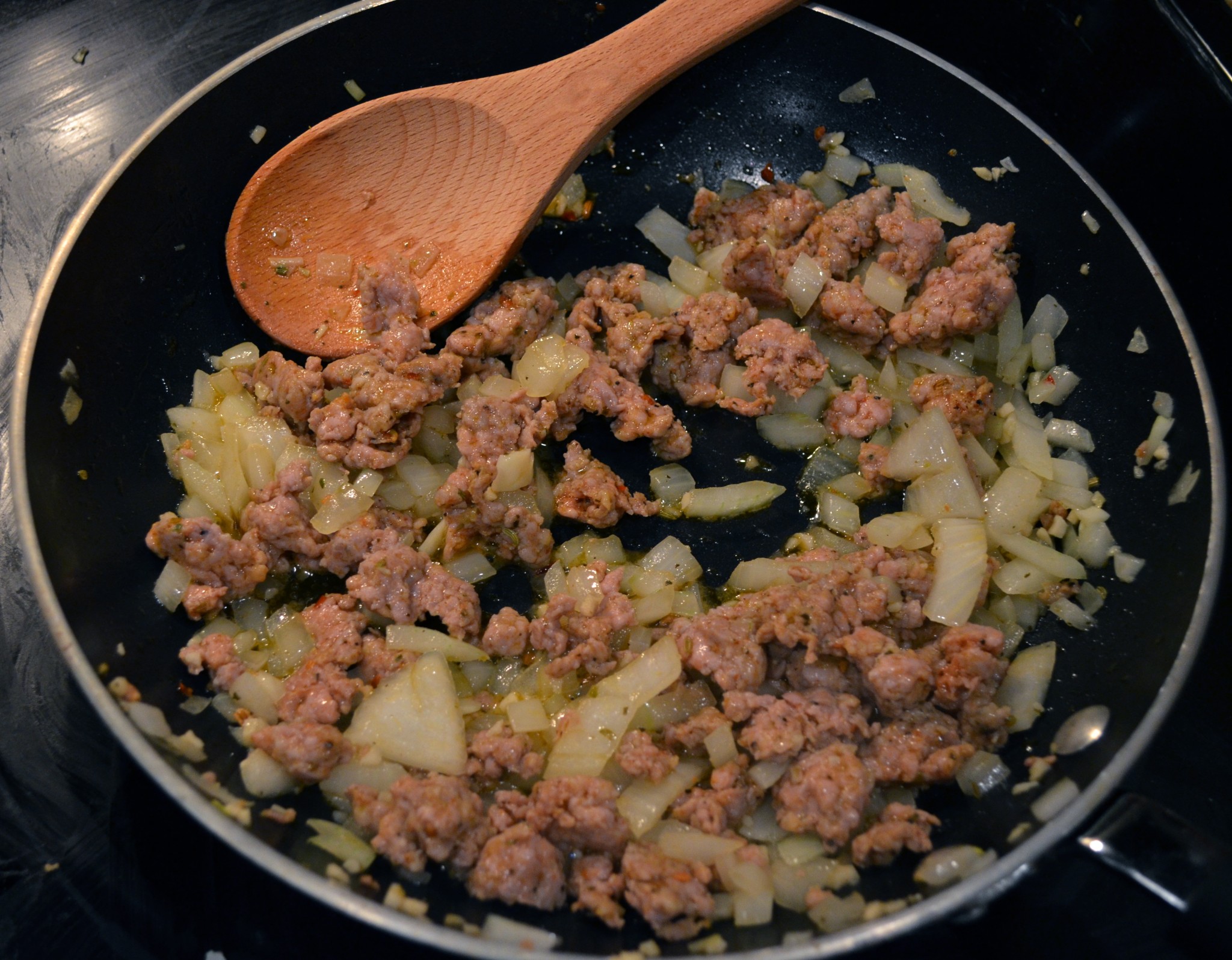 Then we added the roasted tomatoes and the linguine to the dish to mix all of the flavors together with the olive oil. We were planning on adding some fresh basil, but being the bad plant parents that we are, our basil plants are just about dead and didn't have any tasty looking leaves. So if you have some basil, it would definitely be a nice touch.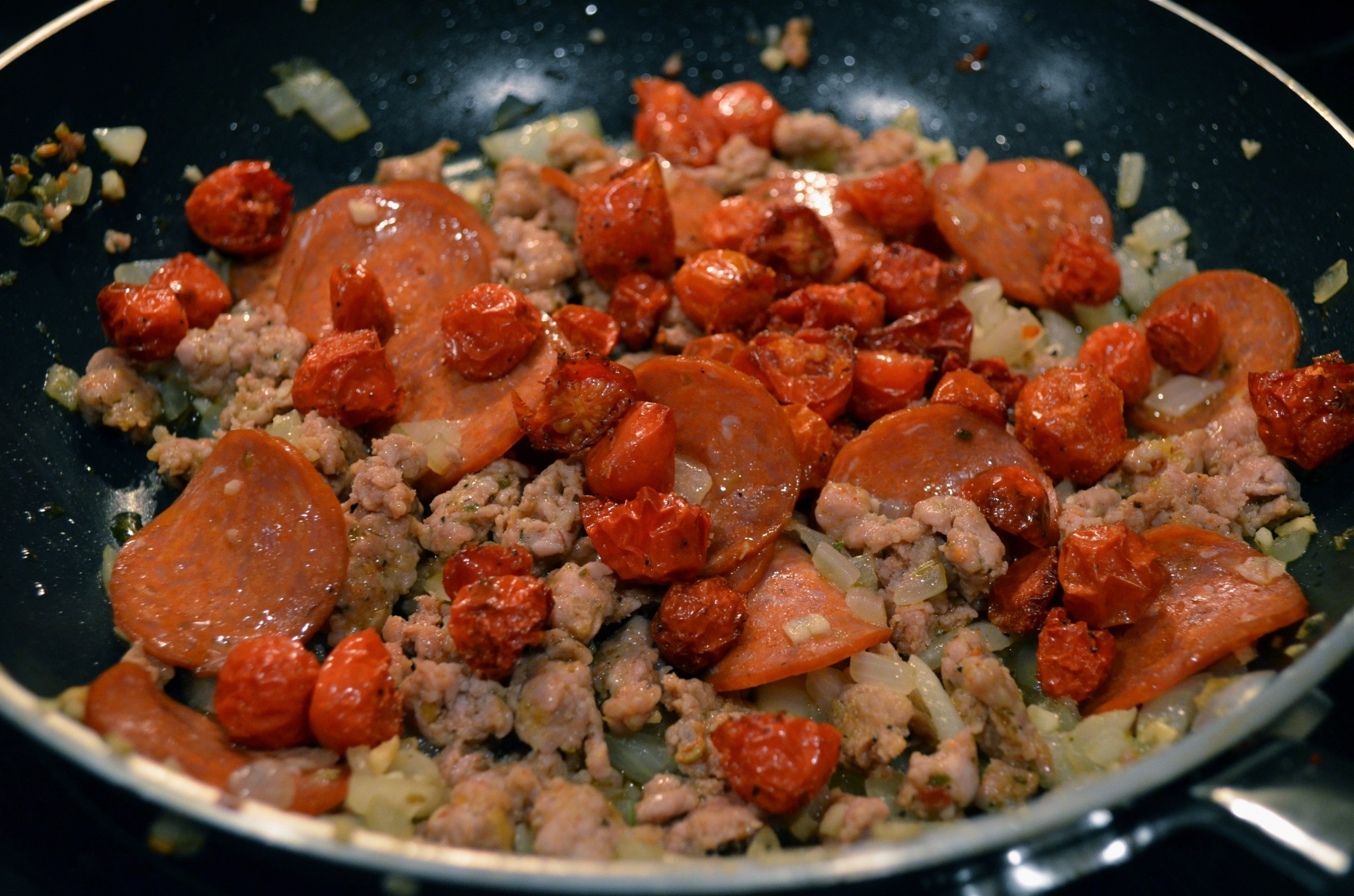 This rendition of the pasta was definitely the best of all our attempts to replicate the dish. We are still slightly missing something magical from Boccone's recipe, but we made great strides in being able to satisfy our cravings.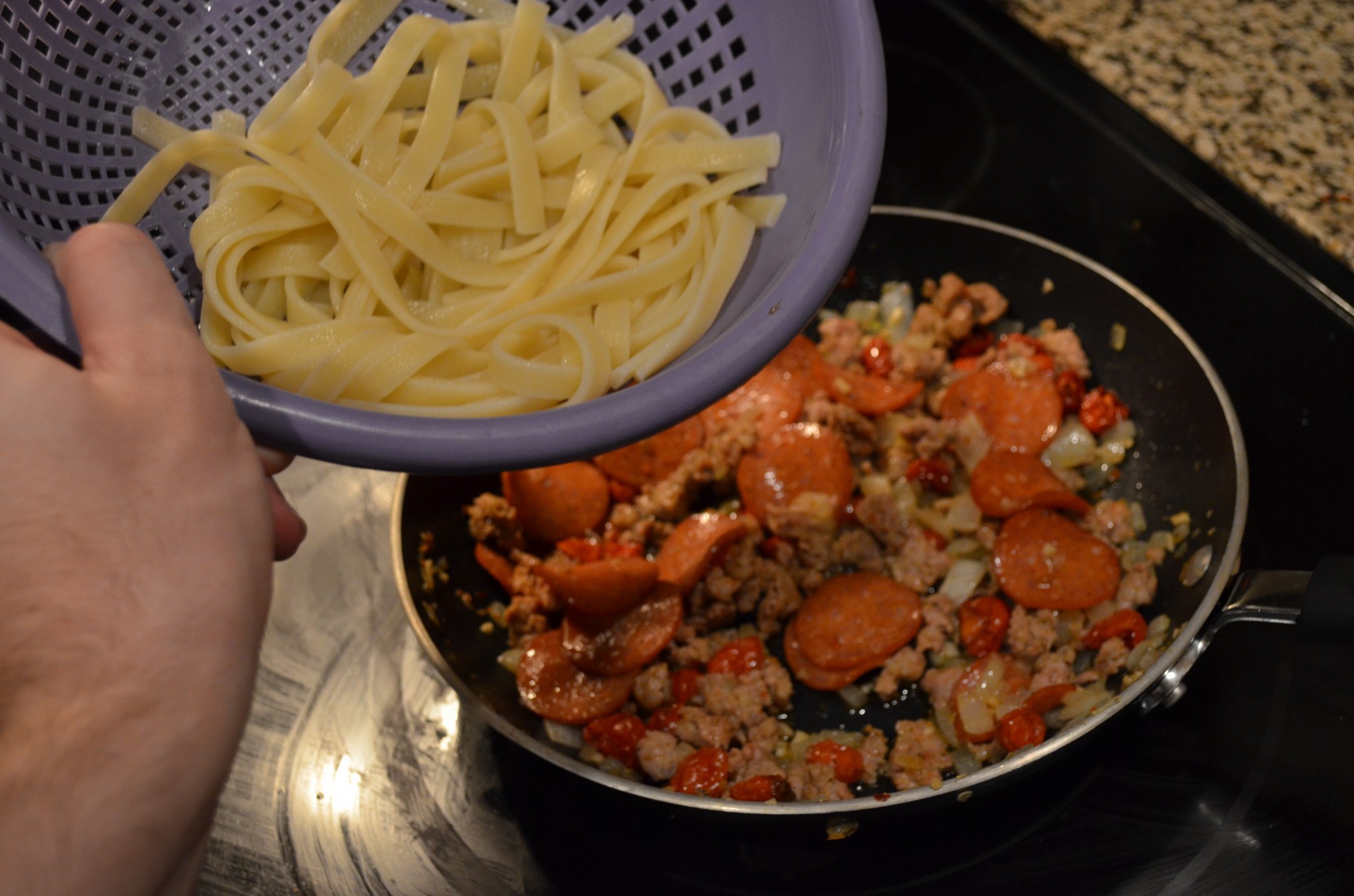 Next, we'll have to make the Bambino Huey, Boccone's signature dessert, that can be described as a "molten, gooey butter cake topped with whipped cream" for which there is apparently no good recipe from a Google search of Bambino Huey. I guess we'll just have to tough it out and experiment!