'Rub With Love' Chicken Sandwiches
As with the rest of Seattle, we are pretty much obsessed with Tom Douglas. Dustin proposed to me at Etta's, so that place and their triple coconut cream pie will always have a special place in our heart (I've even bought the cookbook with the recipe so we can try to make it when we don't have access to the real deal). We've tried Lola for breakfast and dinner. We were told Lola's breakfast was the best in Seattle, and I totally believe it. I had the fluffiest pancakes ever with vanilla marscapone (they seriously didn't even need the side of maple syrup), Dustin had a delicious omelette, and we are ready to go back again because we overheard the man next to us say the bagel and lox he was eating were the best he'd ever had. For dinner at Lola, I was blown away by the Kopanisti spread (made with pistachios) and am itching to go back to try the dessert goat cheese turnovers. We've also tried Serious Pie's gourmet pizzas for the best happy hour ever (except that it only lasts until 5 making it a real challenge to get to) with $5 mini pizzas. Brave Horse Tavern has the best homemade pretzels and dipping sauces I've ever had. Cuoco has great homemade pastas. Seatown is good, but not quite as great as some of his other restaurants. And Dahlia Lounge makes some tasty sandwiches and soups (as well as the best sweet cream butter with a touch of salt served with their homemade bread). We still have a few more of his restaurants to try, but considering we've only been here a few months, I think we've done pretty well. Now on to the dish...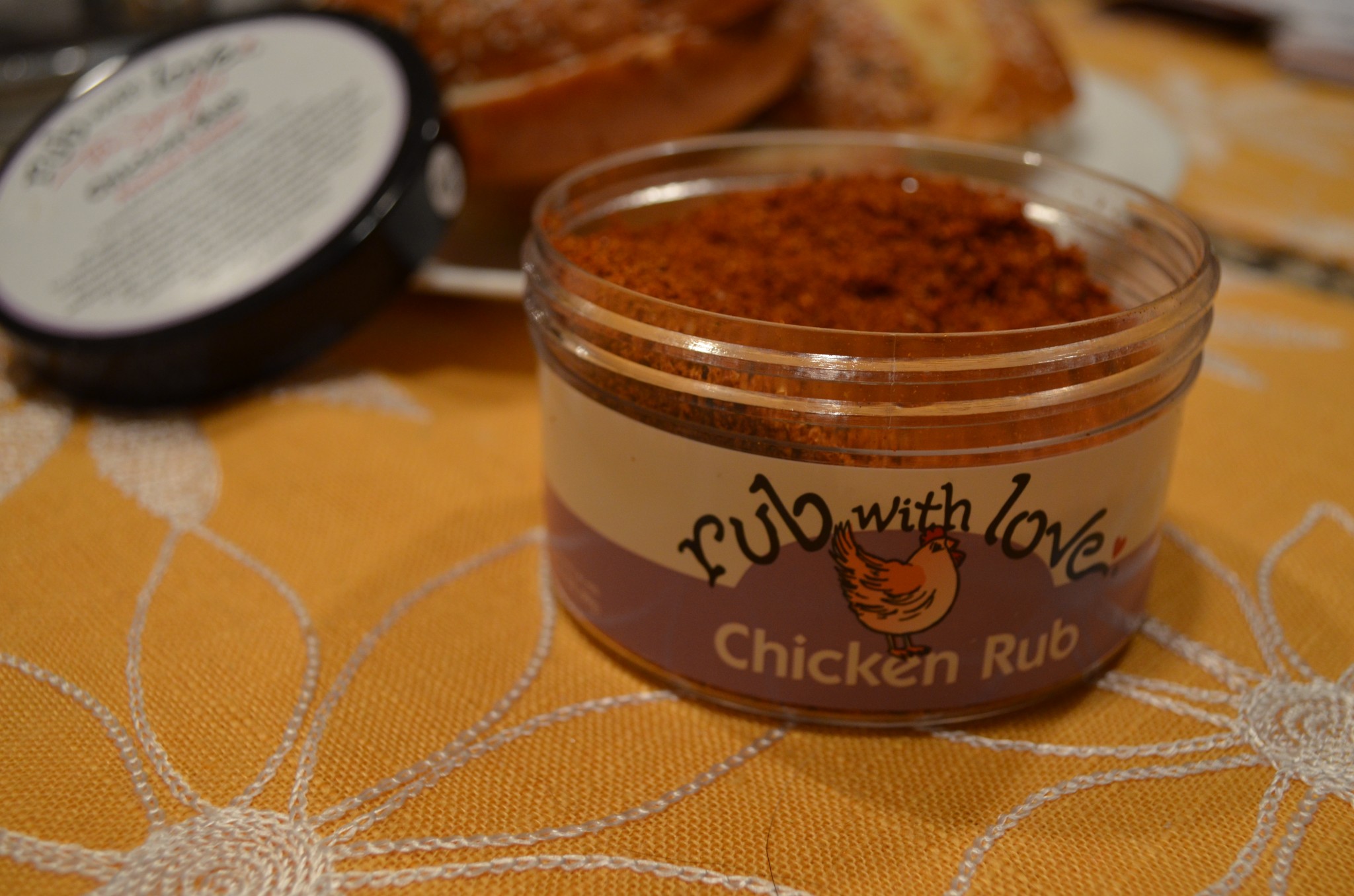 When we saw the Tom Douglas 'Rub With Love' rubs that are used in the restaurants on sale at Whole Foods (you can also buy online), we decided to buy one, the chicken rub, and use it in our own cooking.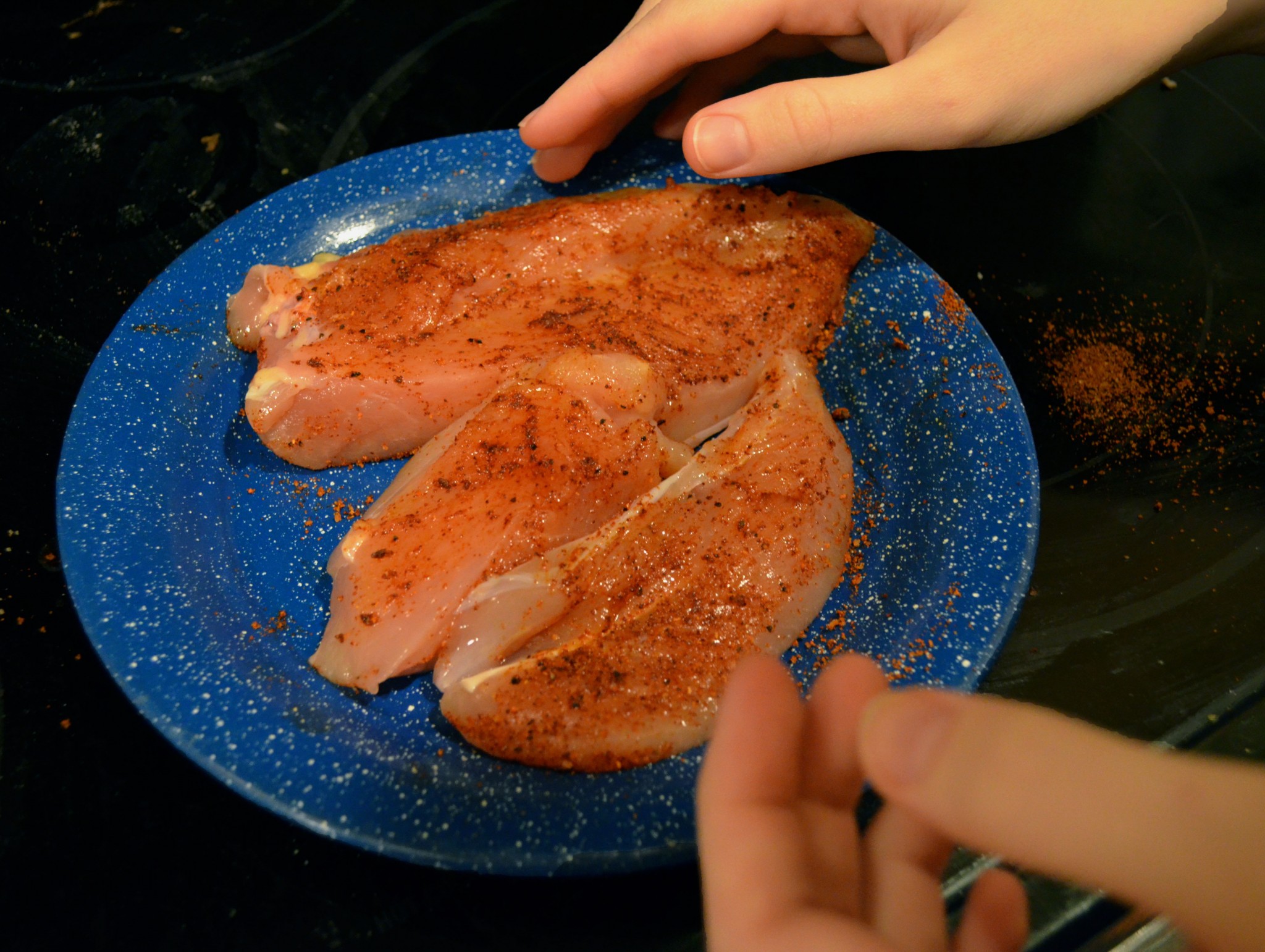 Our first 'Rub With Love' meal is this chicken sandwich. It consists of chicken breast, grilled up on the George Forman (this would taste awesome mesquite grilled on a charcoal grill, but alas our apartment complex will not let us have one), with Kalamata olive tapenade, sliced red onion, and tomatoes. We sprinkled a few crumbles of Gorgonzola cheese on top for a little flavor.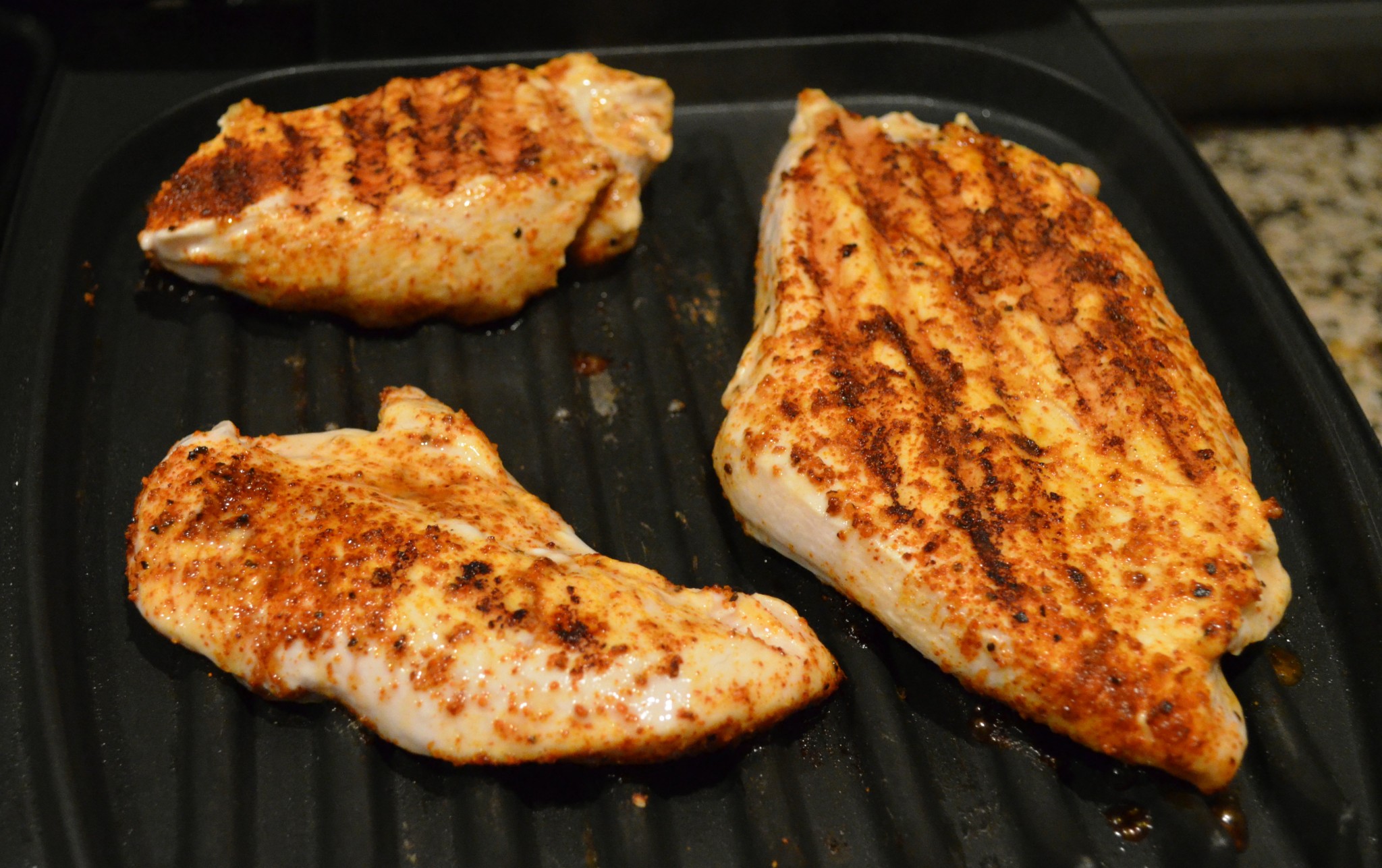 To add a little more Seattle to this dish, we put the chicken on brioche buns from Macrina Bakery located in Seattle. We've only gotten their bread from Whole Foods, and it is so good. I can't even imagine how good it would be fresh from the bakery in Belltown. We are definitely going to have to stop by sometime when we are in the city.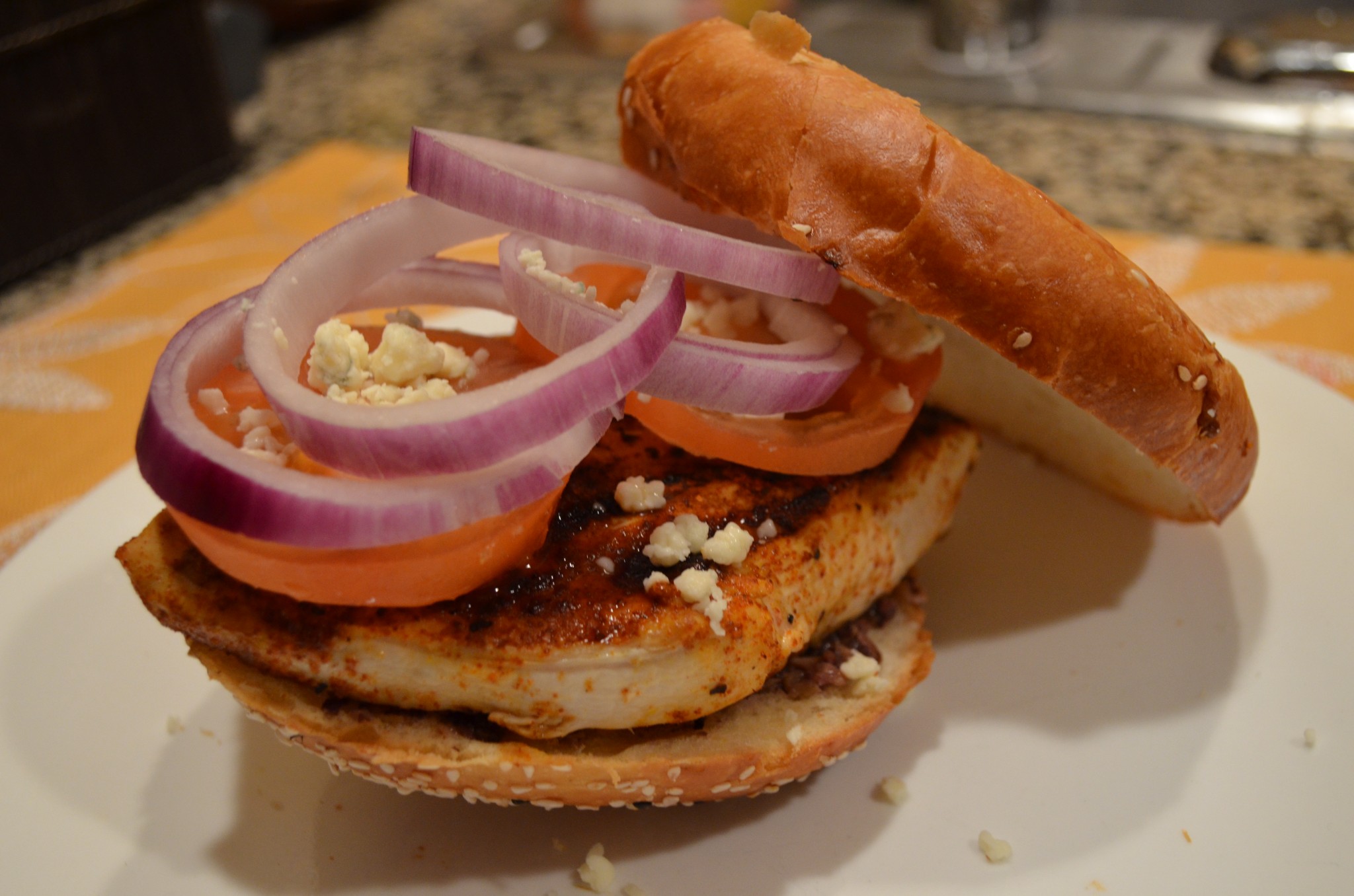 As a side dish, we ate beer-battered onion rings (from Trader Joe's) with crumbled Feta, parsley, garlic, and a drizzle of extra virgin olive oil. There is a Mediterranean restaurant nearby that we really enjoy, and last time we were picking up food, Dustin noticed somebody eating Feta Garlic Fries. He has been talking about randomly stopping by and getting some ever since. This side dish idea came to me on a whim seeing the Feta in the refrigerator. We couldn't make fries since we didn't have any potatoes, and we didn't even have any frozen fries in the freezer. We did, however, have onion rings. I think our spin was successful.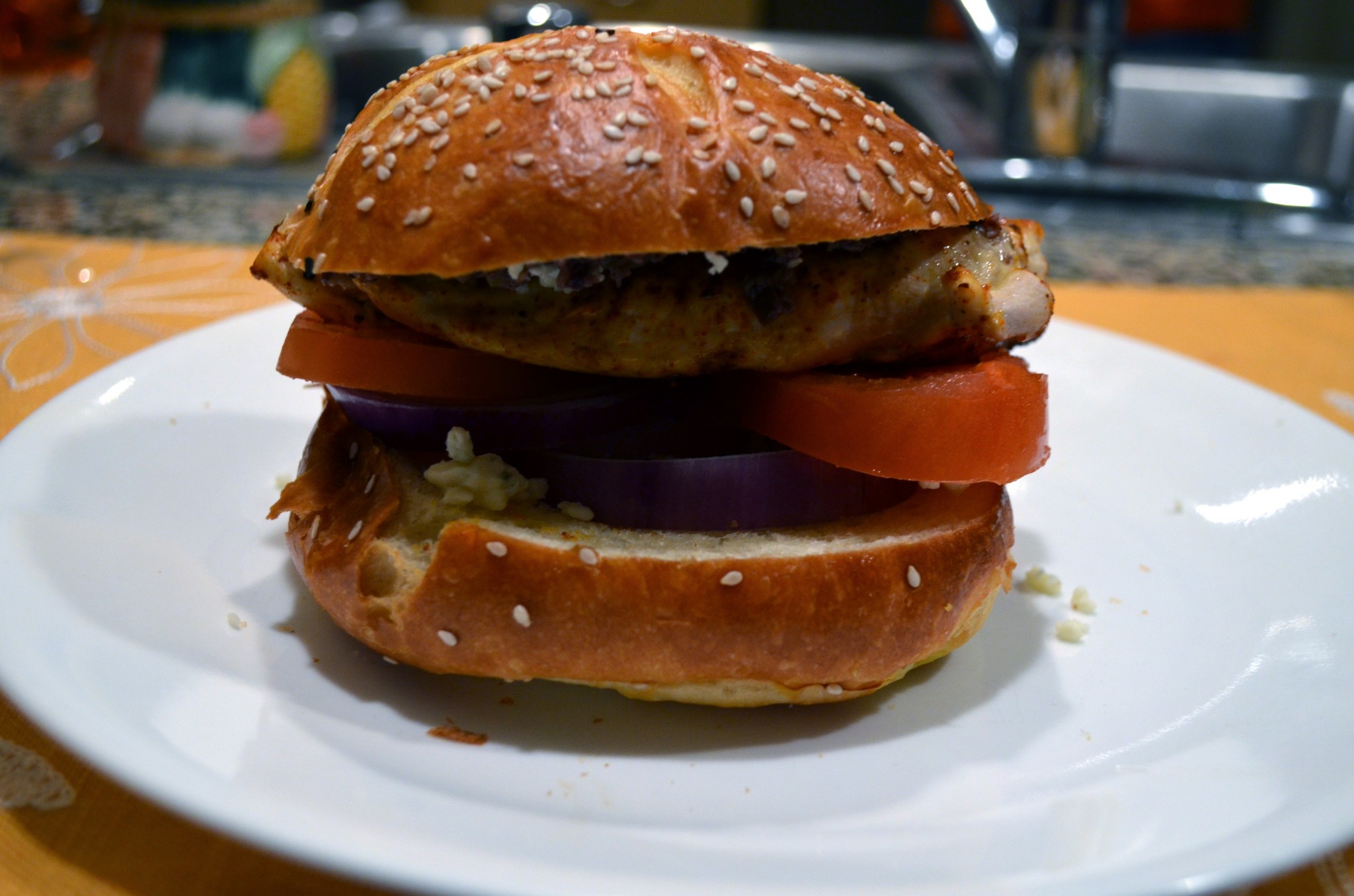 The entire meal was fantastic, each bite of the sandwich made perfect with the Rub with Loved chicken breast, Gorgonzola, fresh red onion, and tomatoes. And frankly, how can you complain when you have a side dish of onion rings made super awesome.