Sushiya!
Bonnie is normally a really good dog. But when she gets bored and there's no one to tell her to stop doing something naughty, havoc upon our household can ensue.
Case in point— when Bonnie was left alone outside of her crate one day when I was in Texas and Dustin was at work, she decided to eat the remote control to our television. Yes, she actually ate the entire part of the remote that contained the number pad. Given this misbehavior, Bonnie is no longer allowed free range of the house when we are gone.
Yes, we are suckers for the sweet face of our dog, and whenever we see her sadly shrink down and walk into her kennel our hearts pang with guilt. Thus we eat at home more (good for the wallets and great for portion control), and when we want someone else to cook for us, we often do takeout to hang out with our little Bonster.
One of our favorite things to do is takeout sushi. There is something about eating with chopsticks on your living room floor that is really fun. I think this may have something to do with watching The Big Bang Theory every Thursday, as they eat from paper cartons with chopsticks. We love sushi and pretty much HAVE to get that since we live in an area with the freshest fish in the country. It's practically a sign.
Lucky for us there is a restaurant with fresh sushi in the building across from us, so when it's wet and cold, which let's face it, it will be for the next seven months, we don't have to go far for our sushi fix.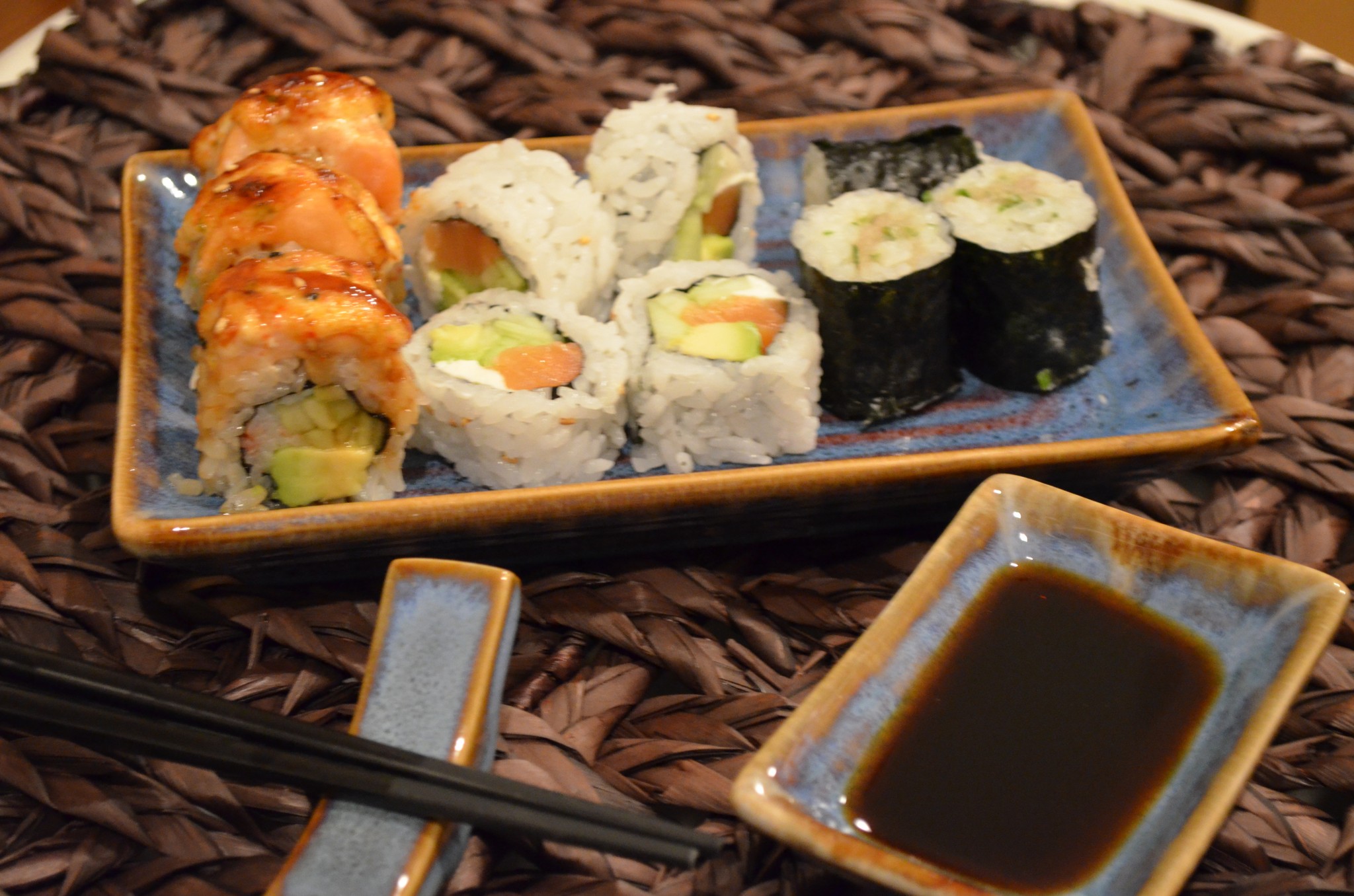 We used this takeout opportunity to try the Muscat Canelli from Chateau Ste. Michele we bought on our trip to the wineries on Labor Day. The wine was ridiculously sweet (i.e. perfect for my sweet tooth), and we were told it paired well with sushi. This pairing is never something we had thought about, so we decided to give it a shot. The wine definitely went with the sushi, but I don't think this is a combination we'll be going to regularly on sushi night. I think Dustin would prefer hot sake, which is fine now that he has an awesome sake set courtesy of our anniversary.
Still this at-home date was a lot of fun, plus it was a great opportunity to use (and photograph) another part of his gift— a cool blue sushi plate set with chopsticks!