Argentinian Burgers
A few years ago, we bought Bobby Flay's Burgers, Fries, and Shakes cheaply at a Crate and Barrel outlet store. It's turned out to be a pretty good investment for this burger recipe alone. It's the first one we tried and remains our favorite from the book.
We probably enjoy this burger so much because of our love for chimichurri. Chimichurri takes us back to some of our favorites meals in Texas—  The Churrasco from Churrascos (voted one of the top 20 steaks in the U.S. by Esquire Magazine), the Filet of Sirloin and Frites which soak up the chimichurri sauce and make them absolutely impossible to stop eating at Boudro's, and of course the plantain chips at Amazon Grill for which chimichurri acts as the salsa. The chimichurri we make doesn't hold a candle to the chimichurri from these places, but at least this will hold us off until we can make it back to Texas. I don't want to undersell this recipe's tastiness— it's still darn good.
We began by making the chimichurri in the food processor by combining two packed cups of flat leaf parsley with one tablespoon of dried oregano (the recipe calls for fresh but we didn't have any),  four cloves of garlic, one teaspoon of smoked Spanish paprika, a half a cup of extra virgin olive oil and three tablespoons of white wine vinegar. The recipe calls for red wine vinegar, but we realized we didn't have any. Instead we substituted white wine vinegar, and Dustin claims he actually enjoyed the flavor better as a result. I thought it tasted good either way. The chimichurri can be made ahead of time and stored in the refrigerator but should be set out to return to room temperature before serving.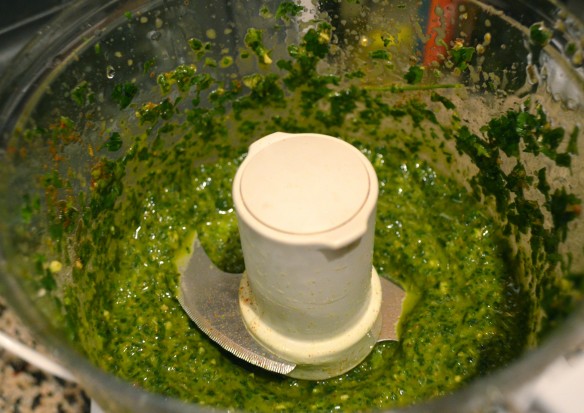 The rest of this recipe is really simple.  All you have to do is grill up some beef, put it on the base of a bun with some Manchego cheese and red onion, spoon the chimichurri sauce over, and close the bun. You then have a unique and flavorful burger that took very little effort.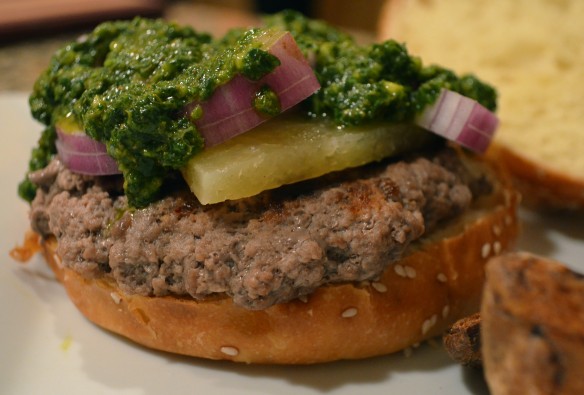 We served alongside chips and salsa and roasted potato wedges leftover from our tapas party. These potatoes, originally served with roasted garlic aoili, were really good and really easy to make. We just roasted Yukon Gold potatoes drizzled in olive oil for an hour and 15 minutes at 375°. It does take a little remembering to put them in the oven so early, so this side is not for the procrastinator, but it's the best way we've found to make fries at home in our oven.