Chocolate Buttermilk Waffles
I think chocolate waffles are Dustin's favorite sweet breakfast. We bought the Williams Sonoma Chocolate-Chocolate Chip Waffle Mix before, but I was sure I could make delicious waffles from scratch. I used this recipe I found online except that part way through mixing the wet ingredients that I only had one cup of buttermilk, not the necessary two. Determined not to waste my already mixed ingredients, I decided to swap in chocolate almond milk for the other half. I'm a big believer that in any chocolate dish that call for milk, you should substitute chocolate milk. It only intensifies the chocolatey goodness, so why not? My favorite place to make this swap is in hot cocoa for the ultimate in chocolate decadence. I've also recently discovered that chocolate hazelnut milk makes some amazing hot cocoa. Top with marshmallows and you have a nice drink to serve with chocolate waffles to send you into chocolate overload.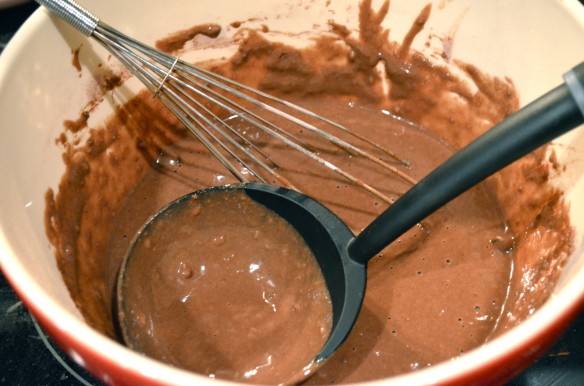 Now back to the waffles. I made these during the day while Dustin was working. The recipe created six waffles, so once they had cooled I put them in a gallon size freezer bag with wax paper between them. The next day I surprised Dustin with them for breakfast. I heated the oven to 350° and reheated the waffles for 15 minutes. I've found that by doing this, I can save the hassle of making fresh waffles each morning, which can take awhile. Instead have a really easy (lazy) breakfast that is better than eating frozen waffles, and they retain their nice, crispy texture you get right out of the waffle iron.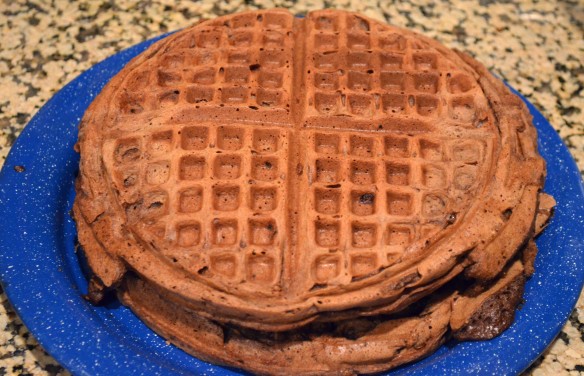 He was so excited when he saw them. He was even more excited when I added powdered sugar and topped them with chocolate sauce instead of maple syrup. These waffles taste really good with fresh strawberries, but unfortunately we didn't have any. Either way, these waffles are good— sort of like eating chocolate cake for breakfast (but shh! don't tell).