Frangelico French Toast
Hands down. Best. French. Toast. EVER.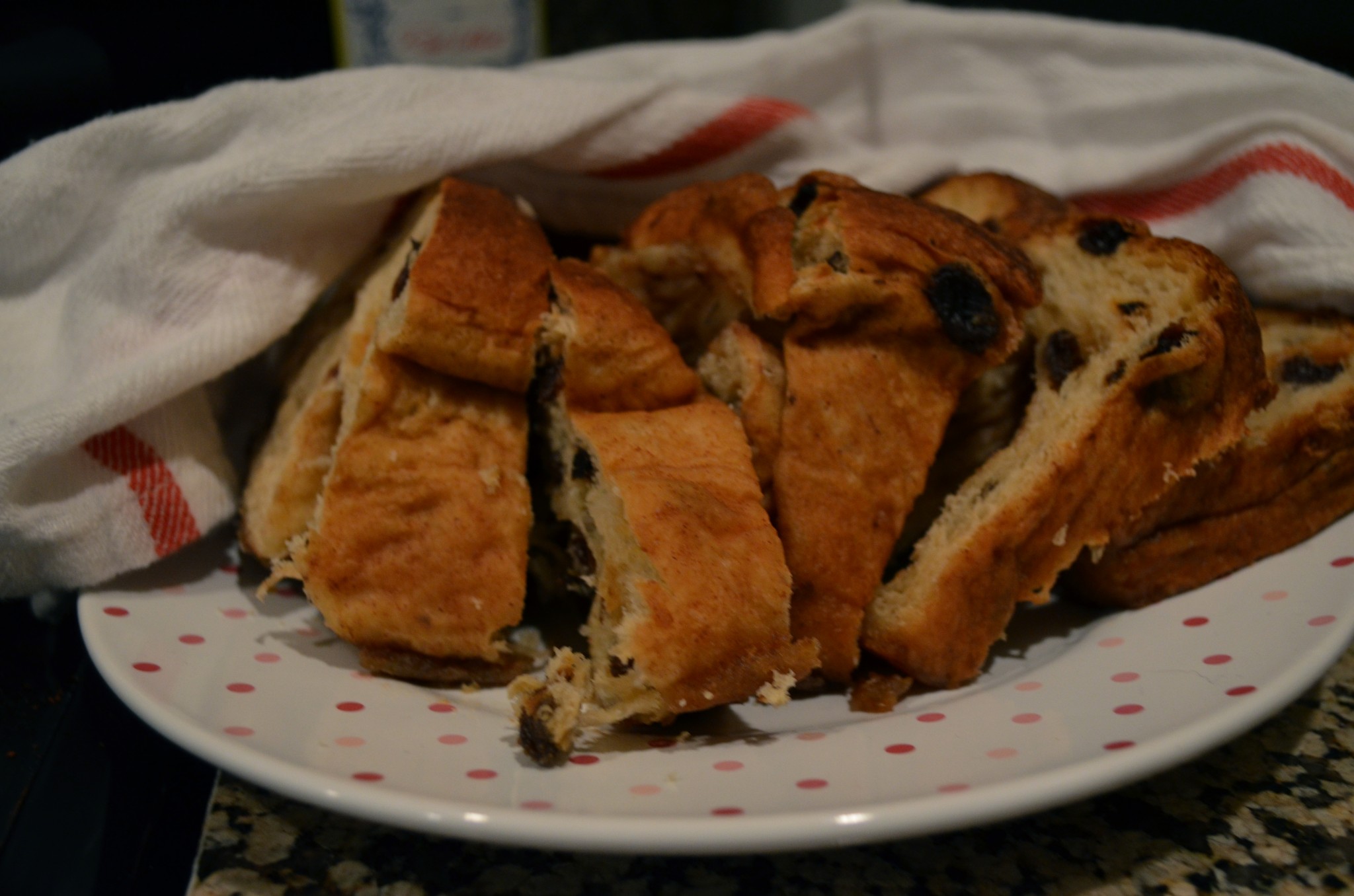 Good French Toast starts with good bread, which is probably why this French Toast was so delicious. However, I think I'm going to take credit and say it was my amazing cooking skills.
Knowing we were making our favorite French Toast this week in celebration of Dustin's birthday, we stopped at Macrina Bakery in Seattle. We've been wanting to go for so long after trying their baguette from Whole Foods, and the bakery did not disappoint. We bought the most heavenly smelling Raisin Brioche Twist. Open the bag, and you get a whiff of cinnamon and sugary sweetness, but not overpoweringly so like when you walk past Cinnabon.
We couldn't help ourselves. We dug into the bread for dessert the night we bought it . According to Macrina's website the bread, they add raisins to their Brioche dough, then the "pieces are braided together with a blend of sugar, cinnamon, and nutmeg." Top with a little bit of Amaretto Pecan Honey Butter from Rustlin' Rob's in Fredericksburg, and you have yourself a real treat, although you can't go wrong eating it plain. The bottom of the bread is doughy, moist, and divinely sweet, without a doubt the best part.
We had to stop ourselves from eating too much, so we could make sure we had enough to have French Toast. I'll admit that was tough.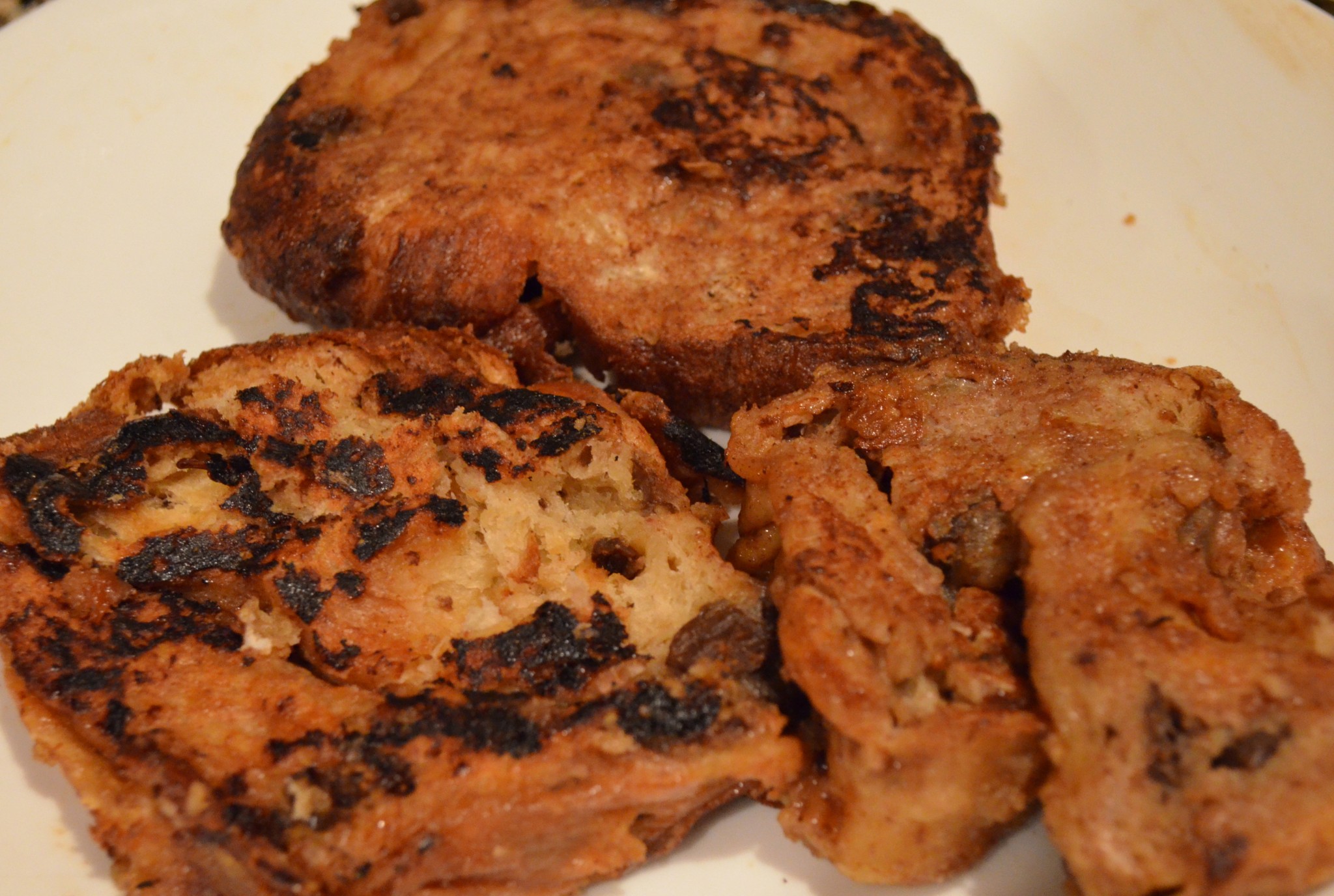 We like to add liqueurs to French Toast for a touch of richness to the dish. Frangelico has been our favorite choice, but Amaretto and Grand Marnier work well too.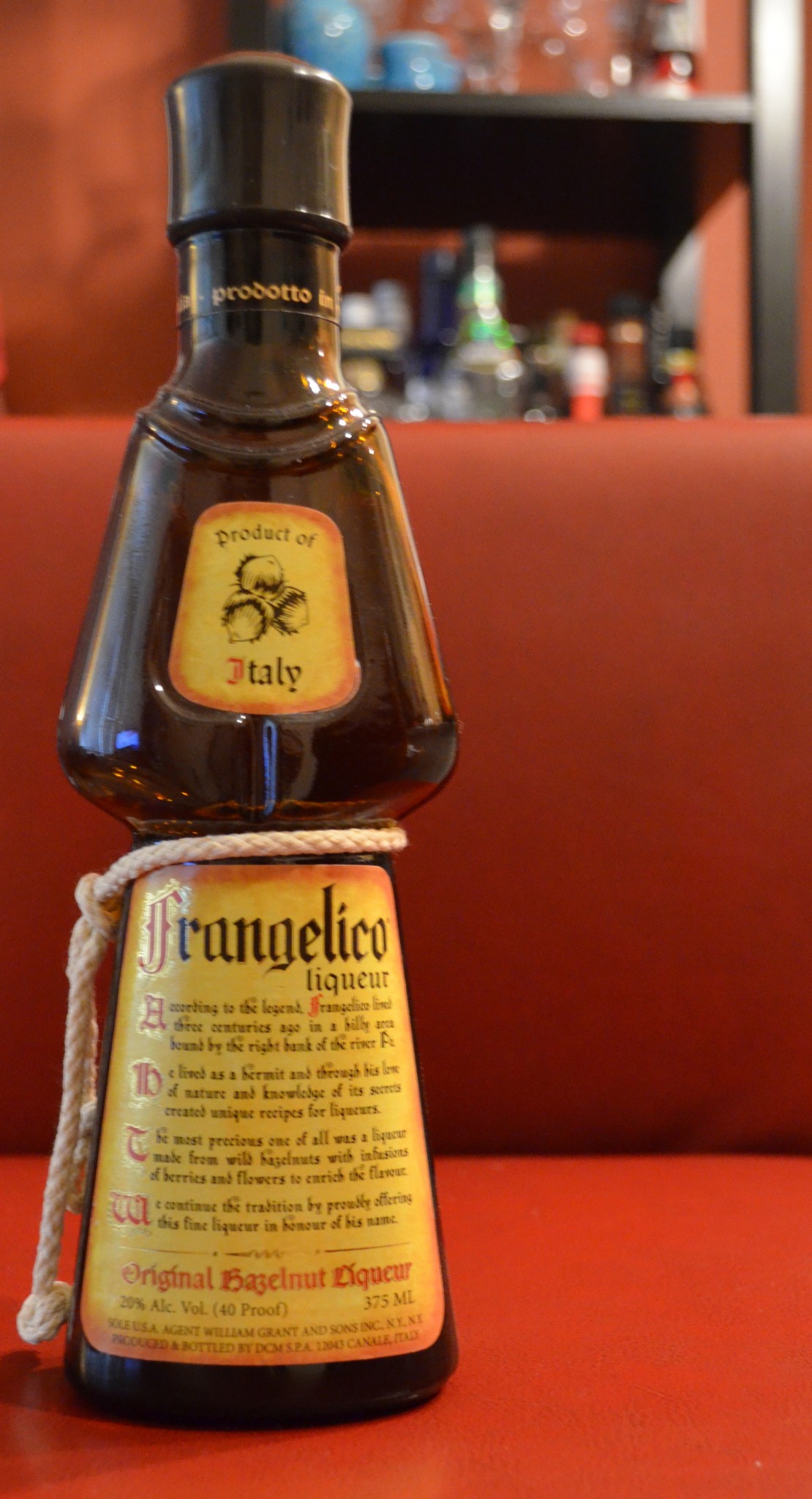 This French Toast is great served with warm maple syrup infused slightly with the liquor of choice, a sprinkling of cinnamon, some caramelized banana, and a little whipped topping if you are feeling decadent.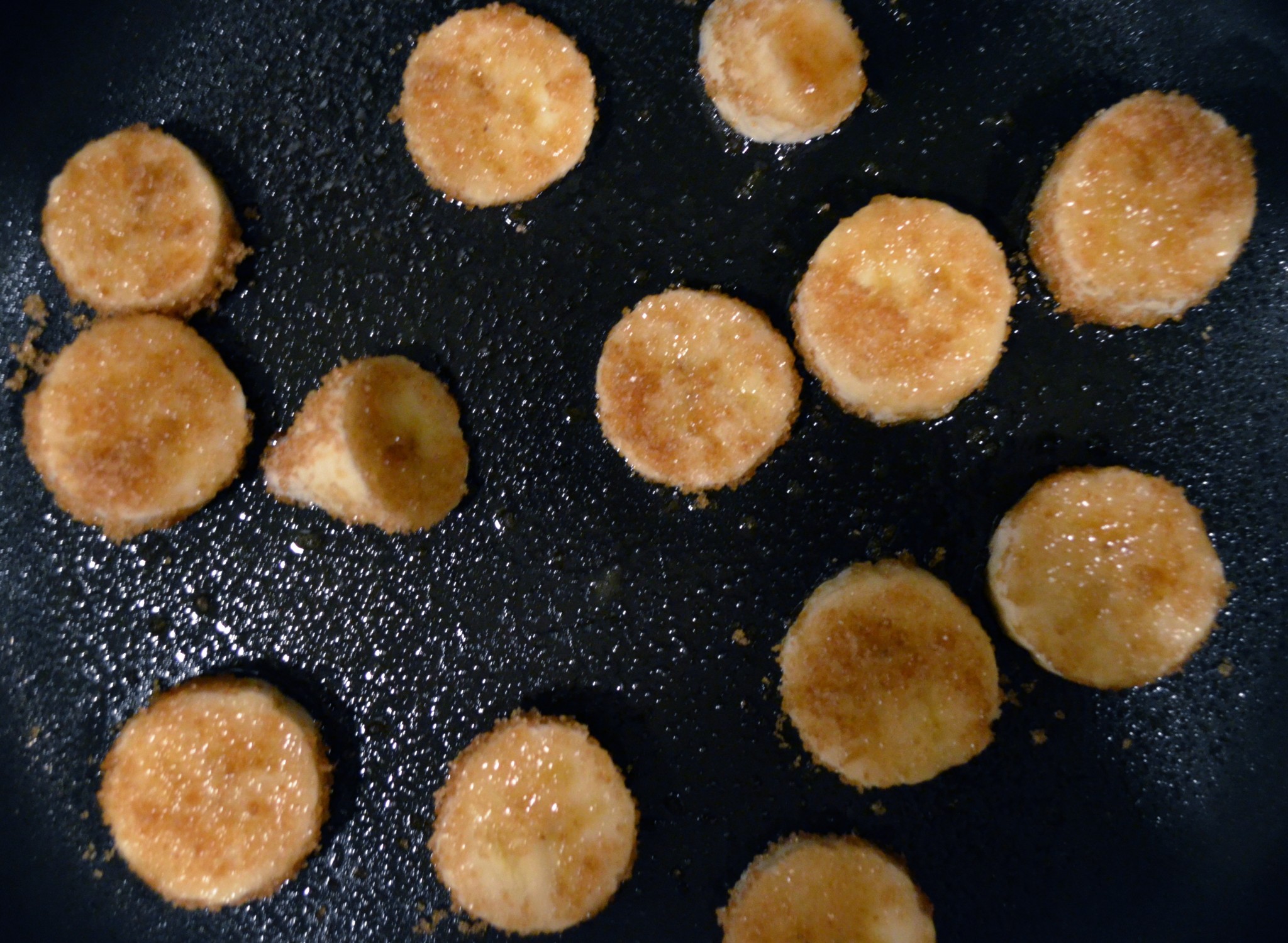 Frangelico French Toast
serves 2
6 slices of thickly sliced Brioche bread, slightly stale (leave out overnight covered with a towel to achieve staleness)
2 eggs
2/3 cup milk
3 ounces of Frangelico
2 Tablespoons brown sugar, plus more for coating bananas
1 Tablespoon cinnamon, plus more for sprinkling
1 teaspoon nutmeg
1 teaspoon vanilla extract
1 banana
1/2 cup maple syrup (with a small splash of liqueur of choice added)
non-stick butter flavored cooking spray
whipped topping (optional)
Spray two pans, one small and one large, with cooking spray and heat over medium heat.
While the pans are heating up, slice the banana and cover with brown sugar. Place in small pan and allow to turn brown and caramelize. Stir every so often.
In a small bowl whisk the two eggs. Add the milk, Frangelico, and vanilla. Mix. Next add the brown sugar, cinnamon, and nutmeg.
Soak each slice of bread in the mixture, allowing the bread to absorb mixture.
Place slices two at a time into hot pan and allow this side to turn brown and crunchy (about 2 minutes). Flip and allow the other side to brown
Sprinkle the cooked slices with cinnamon, then pour Frangelico-infused maple syrup over the top. Add the now caramelized bananas and a spray of whipped topping.
Serve with a cup of warm coffee or fresh squeezed orange juice and enjoy!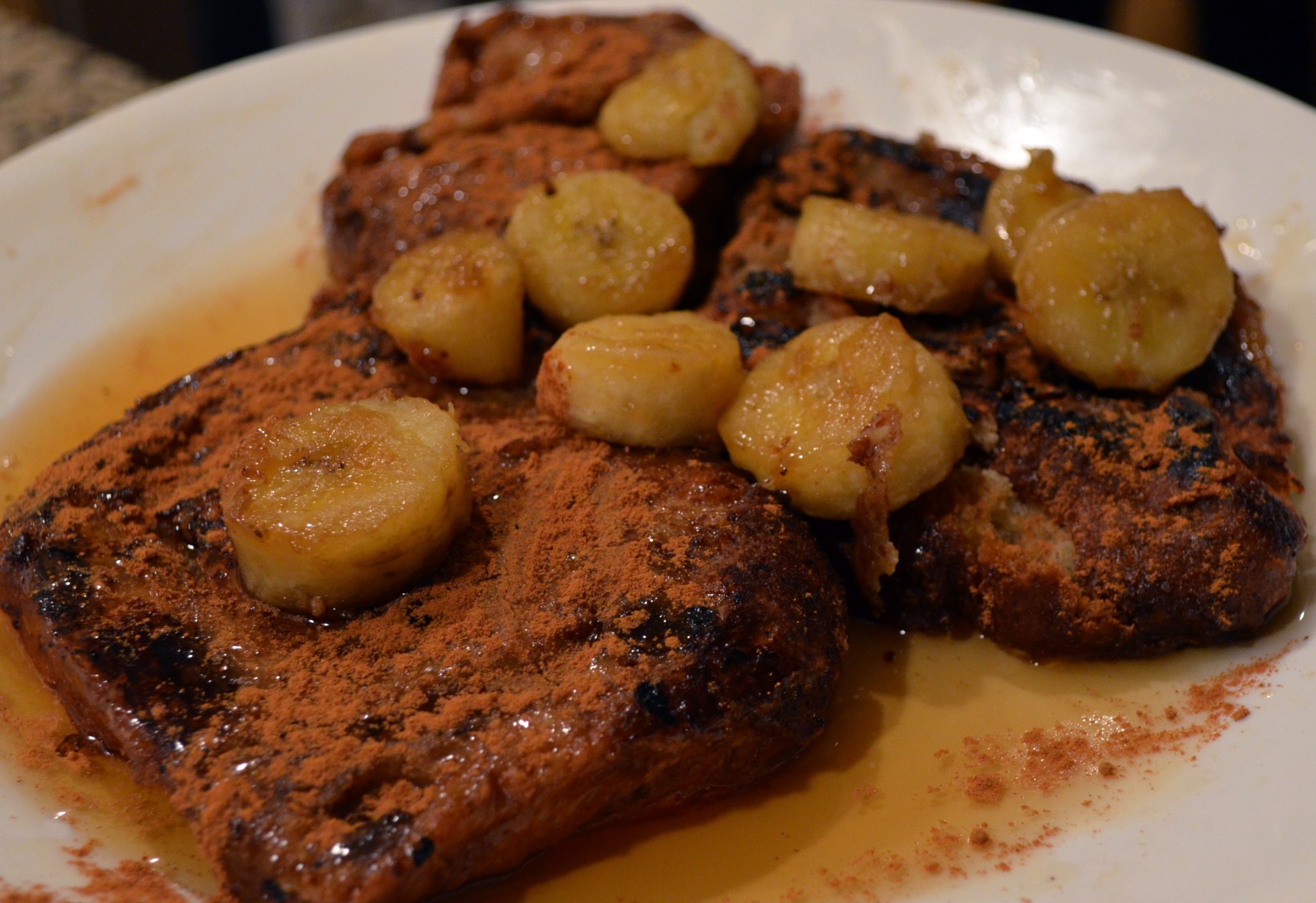 Oh my gosh, biting into this French Toast is heavenly. I strongly recommend going to a local bakery and finding a sweet bread to make French Toast. We've made it with store bought cinnamon raisin bread, but nothing compares to sensation we experienced after using Macrina's bread.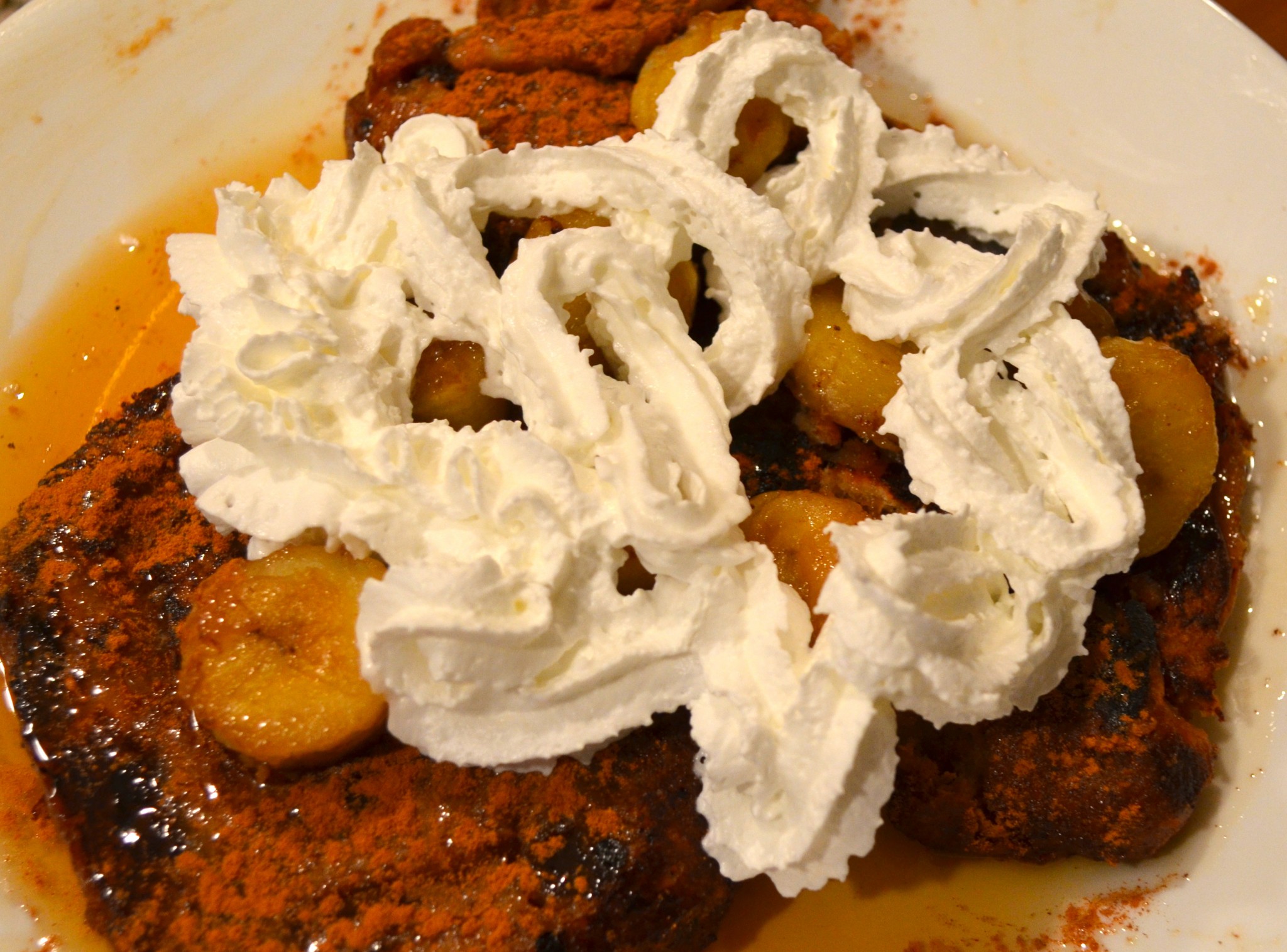 This meal is great to serve as a breakfast birthday treat like we did, or it's simply lovely as a Fall brunch dish any lazy Saturday or Sunday morning!