Holy Guacamole
Hands down, the best guacamole we've ever had comes from Boudro's on the Riverwalk in San Antonio. Most of the Riverwalk is a giant tourist trap, but there are a few gems for which it's worth a once San Antonio native like Dustin venturing out among the throngs of people. Boudro's guacamole alone is enough to pay the outrageous parking prices and walk among the loud, obnoxious people drinking overpriced, watered-down margaritas along the river.
Boudro's guacamole is served for two, tableside and is definitely something to experience if you are ever in San Antonio. It's one of those appetizers you order intending to moderate yourself, but in the end, you have to give in and scarf down every last bite. After we've polished off every last morsel, we always proclaim that they must include some special, illegal ingredient that addicts us because we cannot stop eating and/or dreaming about that guacamole.
Now we've tried to replicate Boudro's on several occasions, but due to several reasons we never have been able to capture their magic. First off, Boudro's gets first choice of their avocados over anyone in San Antonio, so that gives them a leg up over you already. Second, Boudro's uses roasted tomatos that taste significantly different than the roasted tomatos we make, no matter what we've tried. Third, Boudro's uses serrano peppers, which we don't know how to work into the recipe well, so we've omitted it. Fourth, Boudro's also includes fresh cilantro, which we always intend to do, but sadly we can't when we realize our cilantro plant is dead. So if you have cilantro and serrano peppers lying around, or know how to roast a mean tomato, they would surely be great modifications to this recipe.
Despite these minor setbacks, Dustin and I have perfected the at-home guacamole making process with everyday grocery store avocados and simple ingredients that don't need any special preparation, like say roasted tomatoes. We think the secret to taking plain guacamole to "Holy Guacamole" is the inclusion of fresh orange juice. Most guacamole recipes just call for fresh lime, but a mixture of the two citrus fruit juices really makes the overall flavor pop and beautifully complements the flavor of the avocado.
Begin by gathering your ingredients and preparing them all at once to save yourself some time. Halve the avocado, then remove the pit (give a nice whack at it with your knife and then twist). Chop the tomato and onion. Cut the lime and the orange into quarters.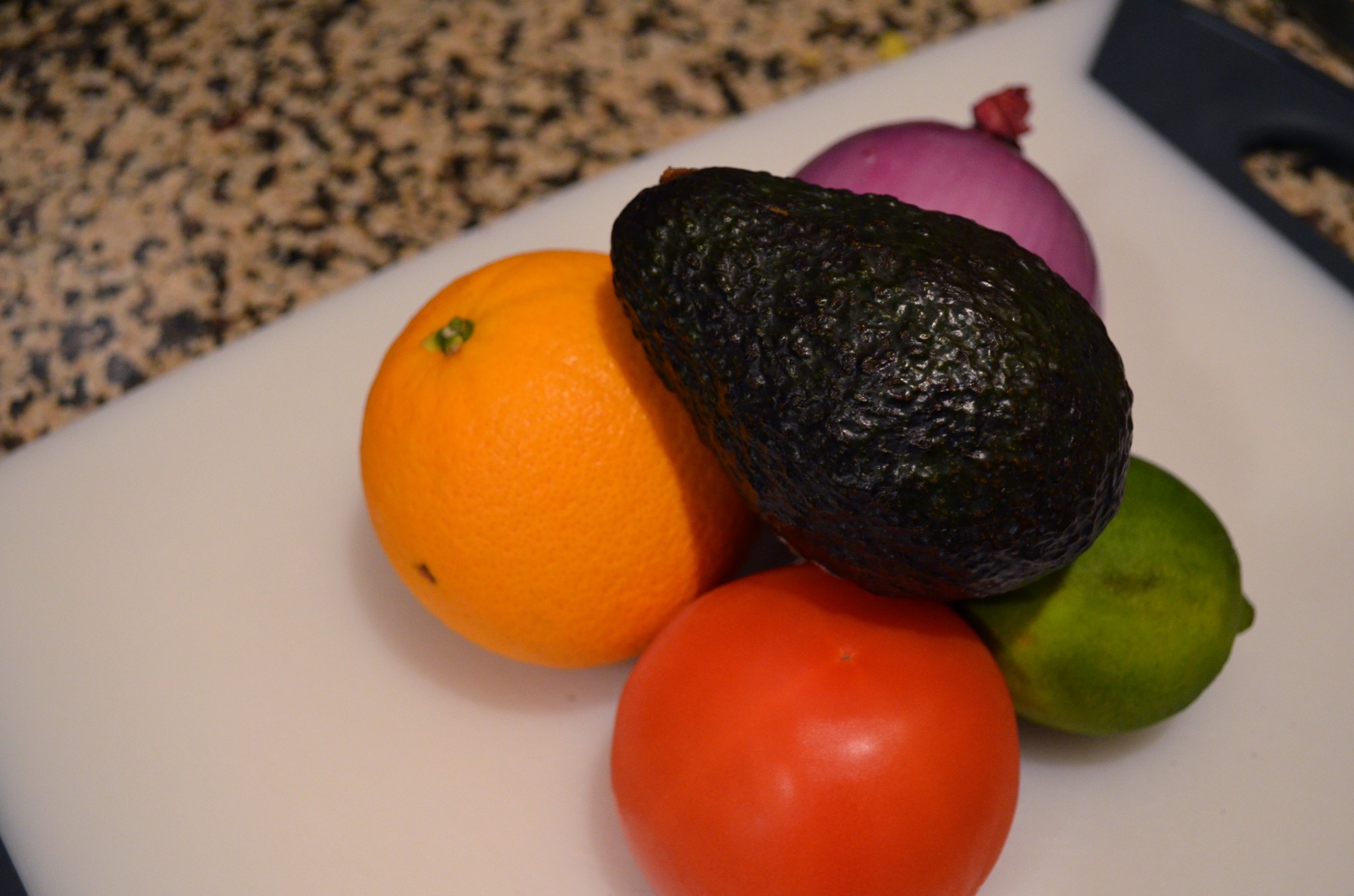 Place the avocado (1 if large, 2 if small) in a bowl or molcajete if you want to be fancy like us. Using a fork to hold each avocado in place, cut the avocado into slices using quick strokes of a knife in one direction. Then rotate the avocado and cut a few more times to make small cubes of avocado.

Then mash it all up together. There's an art when it comes to this part. Some people may prefer a chunky guacamole, while others will want an utterly smooth, food-proccesored texture. We like to err on the side of chunky, but a nice mashing up will help when you're dipping your chips into it.

Squeeze the lime into the guacamole using a fork to help get all the juice out.

And then squeeze half of the orange.

Toss in finely chopped red onion.

Followed by chopped fresh tomato.

Add a few pinches of coarse sea salt and mix all the ingredients together. Serve with tortilla chips and sit back and marvel.