John Howie Steak
John Howie Steak knows how to do a steak right. After last year's indulgent, steak filled eating fest courtesy of the birthday dinner from Dustin's parents at Bohanan's in San Antonio, Dustin was itching for a well cooked steak from an actual steakhouse. We've been there once for a delicious Happy Hour, and ever since Dustin has been talking about going back for an actual dinner. Since we live within walking distance, it was a perfect and convenient birthday gift for Dustin.
We sat down to attentive, but not overbearing service, an assortment of freshly baked breads with whipped butter. The kitchen served us a tasting of a tender, thinly sliced cut of sirloin with a mint chimichurri with an interesting flavor, topped with a pea. We really love going to nice restaurants where the kitchen sends out nice little mini tastings with interesting flavors that we'd probably overlook on the menu.
As an appetizer we split an heirloom tomato salad. We are absolutely tomato salad people. It was a delicious salad of tomatoes, grilled onions, bleu cheese, and Russian dressing. It was quite a tasty salad we really enjoyed and would definitely recommend.
Both of us ordered the 8 ounce American Wagyu "Kobe Style" Beef Filet Mignons grilled to medium rare perfection over mesquite coals as our main course. The steaks were served with a trio of delicious salts from around the world, the best of which was a black colored salt from Hawaii that complemented the meat perfectly. The steaks were nice a juicy with a perfectly red center. Each bite of steak was tender and moist, popping with flavor in our mouths. I'm not a huge steak person, but I have to say a great steak, cooked perfectly is one of the best things ever. This might be what I would order if I was having to choose my last dinner. Although it would have to be accompanied by an awesome dessert...
On the side we ordered sautéed spinach with garlic and preserved lemons and Yukon Gold potato cakes with crème fraîch. The spinach was simple and perfectly done, which is surprisingly hard to do well. The potato cakes were a more sophisticated version of hash browns. I thought they were good, but not all that special. Dustin really enjoyed them, and since he is a more a fan on fried potatoes while I'm a mashed kind of girl, he might be a better judge. Either way, both sides accompanied our meal nicely.
By the way, the mashed potatoes served to the next table looked creamy and delicious as well. Based on our experience, I think you can't go wrong with any of the sides, or the steaks for that matter.
We had signed up for John Howie's email list awhile back, and lucky for us, they sent a free dessert coupon for use during Dustin's birthday month. Picking a dessert was tough. They had an extensive and delicious sounding menu. We debated for a long time, and finally narrowed it down to two choices— the macadamia nut pie with semi-sweet chocolate, toasted macadamia nuts, macadamia nut brittle and dehydrated pineapple OR tempura fried carrot cake served with sides of white chocolate, maple icing, and orange marscarpone. Which would you choose in that dilemma?
In the end we went the tempura fried carrot cake. The notion of fried cake was too interesting and unique for us to pass up. Let me just say, this dessert did not disappoint. John Howie also knows how to fry; they also serve tempura fried bacon that is apparently delicious as well according to the discussions on this Downtown Bellevue Network post.
The carrot cake, or should I say four fairly large pieces of carrot cake, was soft and moist on the outside, and nice and crunchy on the outside. It was slightly difficult to cut through considering we only had spoons, causing quite the mess on our plates. The sauces were incredible. The orange marscarpone was the most unique and the first bite was an explosion of flavor. The other two sauces, particularly the maple icing, were much sweeter and began to overpower the marscarpone as we ate through the dish. I'm not sure if this was such a bad thing though, the other sauces went perfectly with the carrot cake flavor. We felt pretty guilty after consuming so much of this dessert, and nearly sick to our stomachs. It was so rich and done so well, it was hard to stop. This dessert is best to be shared among four individuals.
A really nice touch that John Howie offered was a little wrapped up box of salted chocolate caramels to take home as we left. Still stuffed after our decadent dinner, we didn't tap into them for two days, possibly a record for us. We seriously woke up the next morning not wanting any breakfast whatsoever, quite the unusual experience for foodies like us. I guess that's the sign of a enormous, quality meal.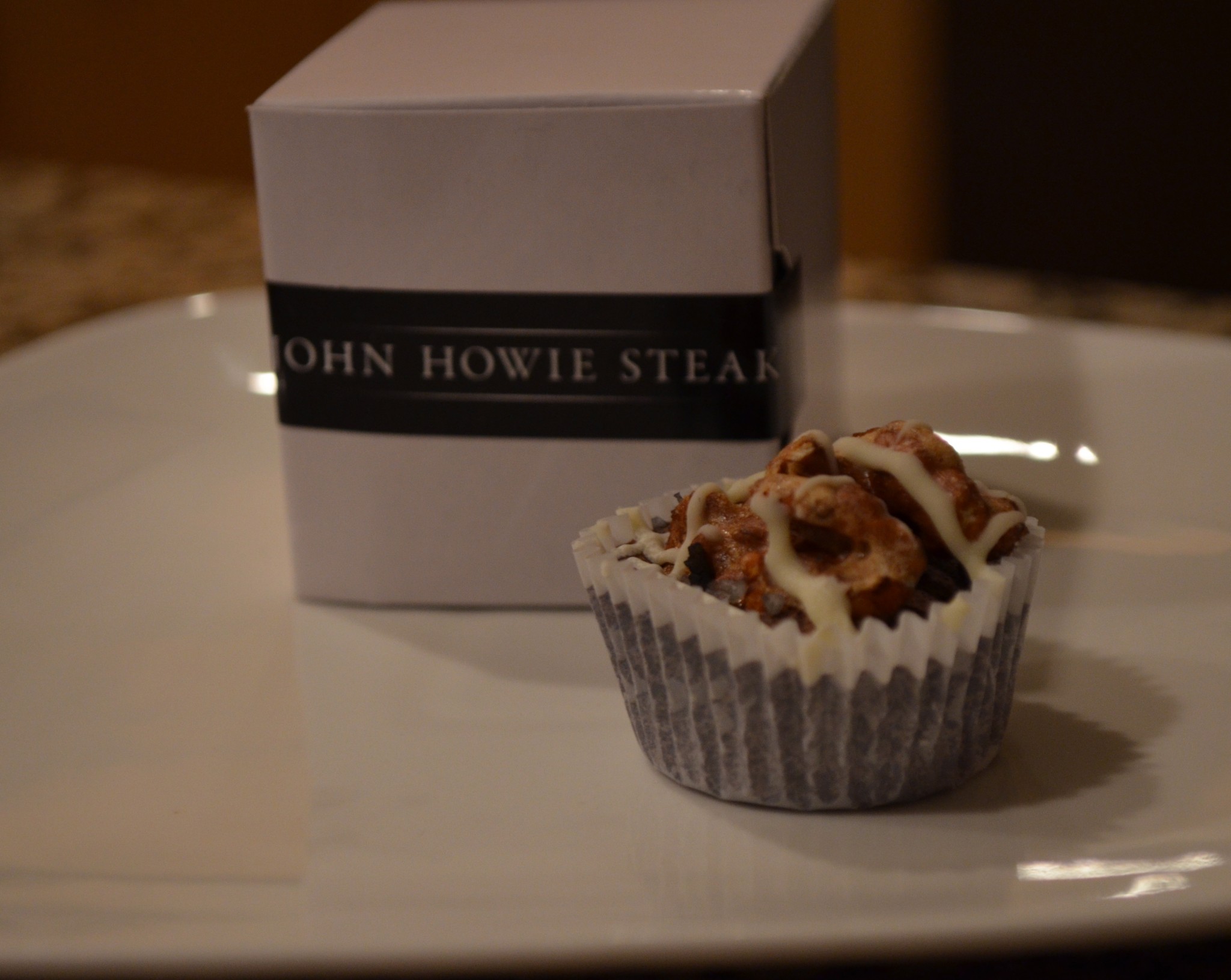 And yes, the caramels were good— a perfect mix of sweet, salty, and chocolate goodness.