Pumpkin Mac and Cheese with Amaretti Crumble
When I saw this recipe on foodgawker from Closet Cooking, I knew this was something I would be making very soon. Not only does it include some of my favorite seasonal ingredients (I used a combination of pumpkin puree blended into the cheese mixture and butternut squash because I couldn't decide which I'd rather include), but it has an amaretti cookie crumble on top, an almond-y treat I'm slightly obsessed with and perfectly accompanies butternut squash and pumpkin. I had seen a lot of pumpkin macaroni and cheese recipes, but I really liked the creative idea of using amaretti cookies instead of the usual panko bread crumbs.
When we were at Pike's Place we stopped by DeLaurenti's Specialty Food & Wine and stocked up on the amaretti cookies and good quality gruyere and fontina cheeses. Macaroni and cheese becomes such an elevated dish when fancy cheeses are used. We sampled the cheese in store, and after that we were totally psyched for this meal.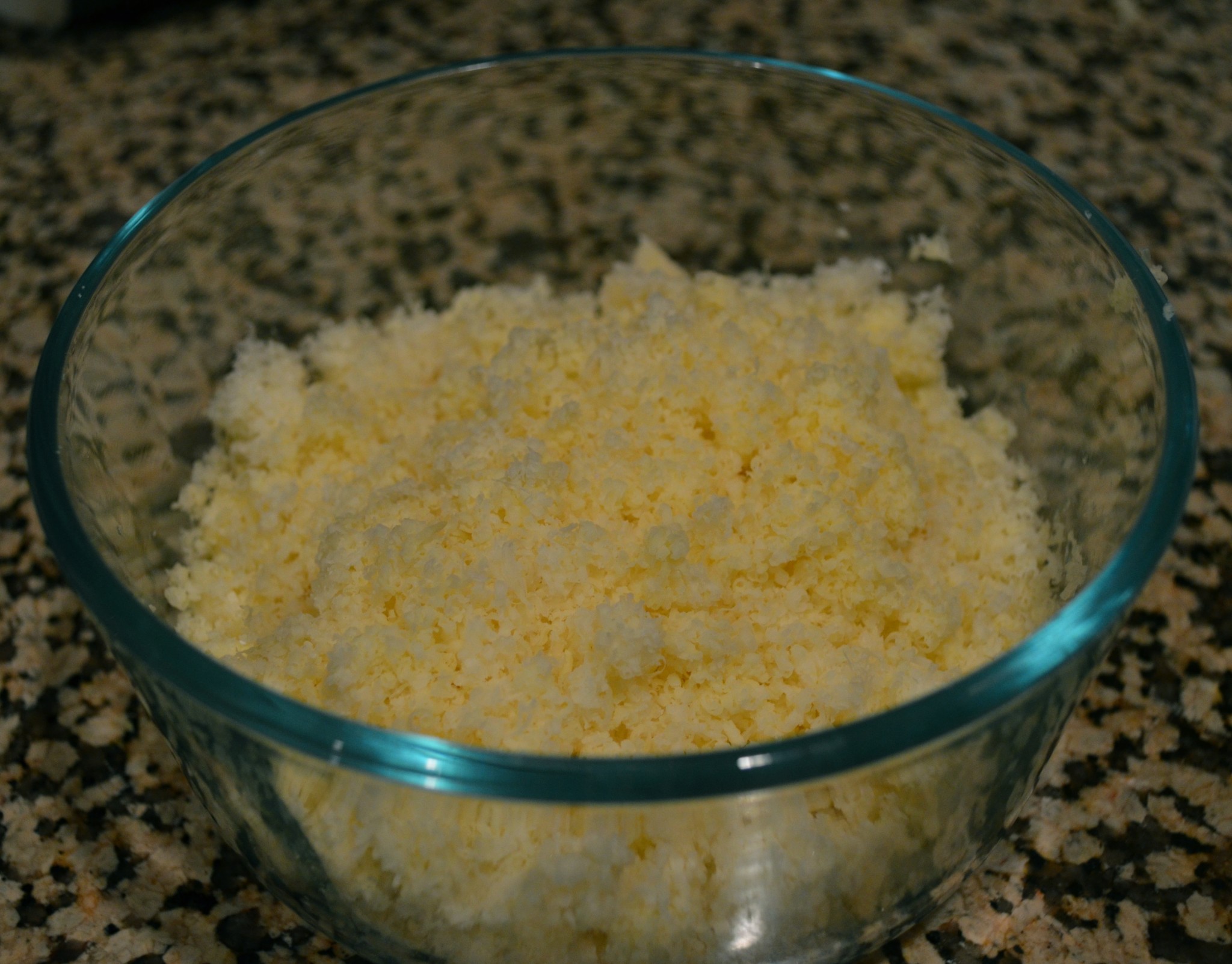 I started out by roasting the butternut squash while I boiled some fresh garlic and chive pasta shells from Pappardelle's, also in Pike's Place, to give our dish a little something extra in terms of flavor.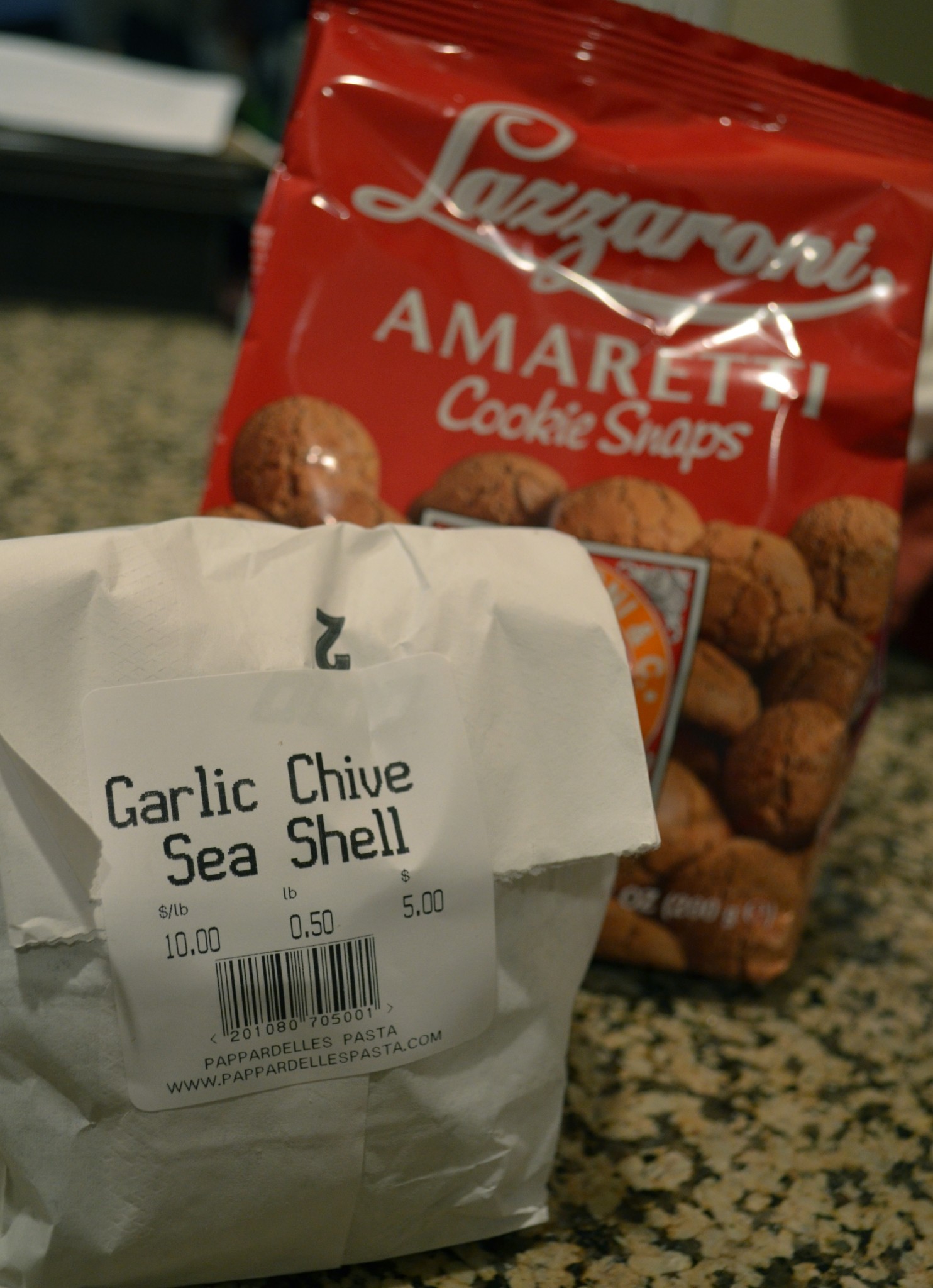 I next made my cheese sauce according to the recipe, browning the butter, adding the flour followed by the milk, nutmeg, mustard, and cheese mixture (we also used a little parmesan in addition to the gruyere and fontina).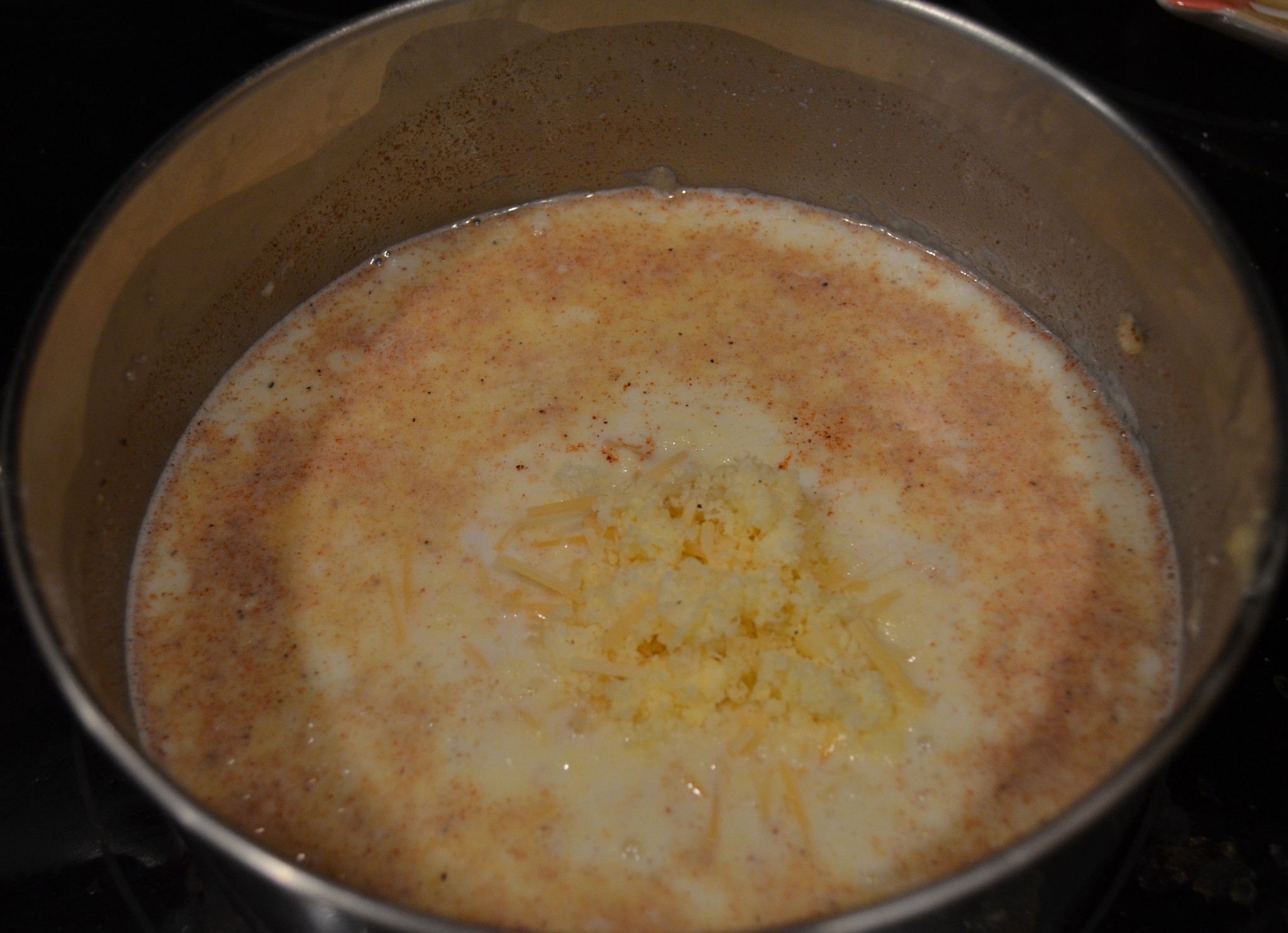 When the sauce had thickened, I added a few scoops of pureed pumpkin to the sauce, giving it a nice yellow color. The addition of pumpkin made the sauce look very cheesy.
I spread the garlic shells in a baking dish, laid some butternut squash on top, then drenched the dish with the cheese sauce. And I mean it was drenched. Next, I spread the crumbled amaretti cookies on top. I omitted the fresh sage from the actual dish since I didn't have any. Instead I just sprinkled a little bit of the dried herb on top.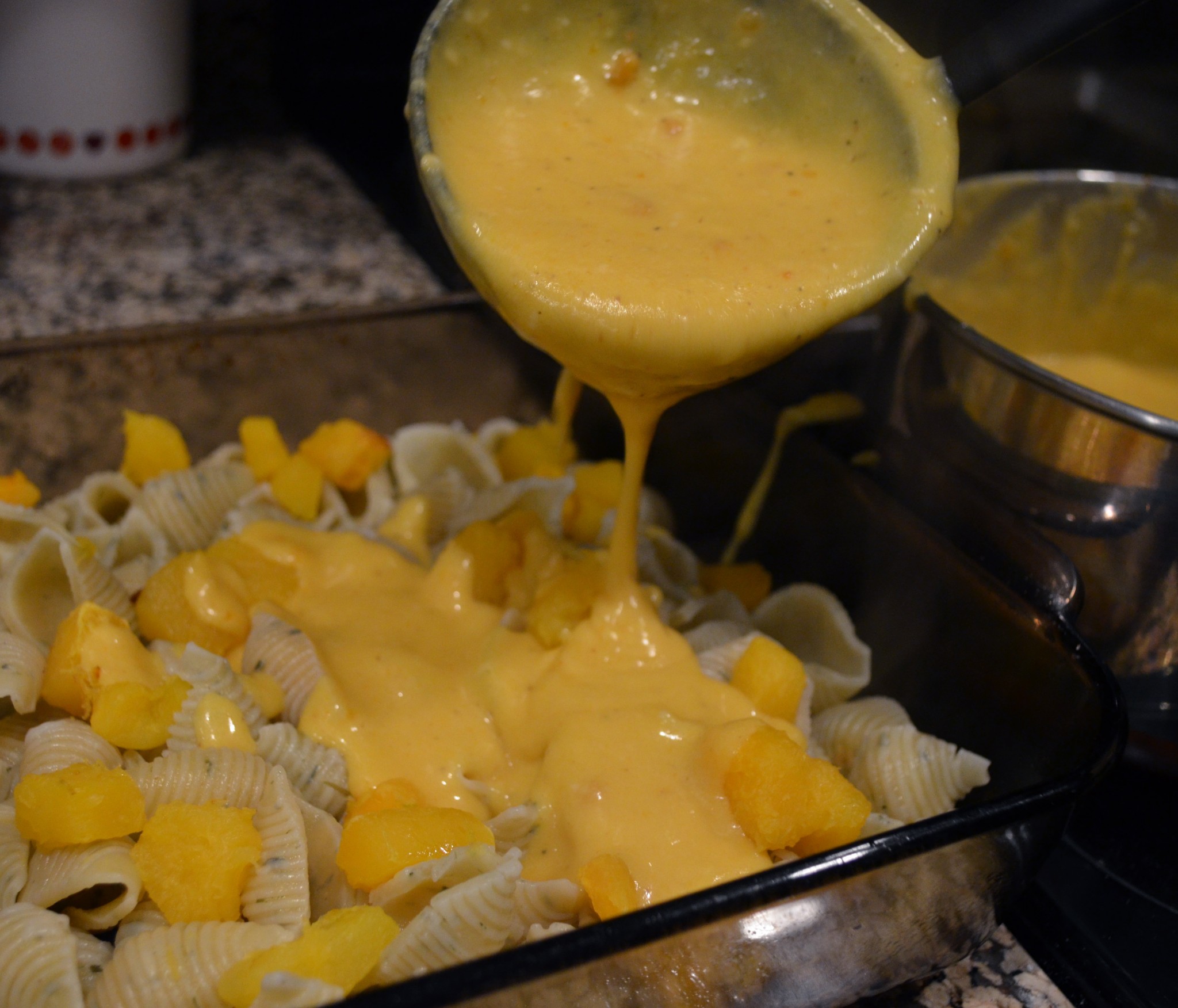 I popped the baking dish in the oven preheated to 350°, and then we waited impatiently for the next thirty minutes for dinner to be ready.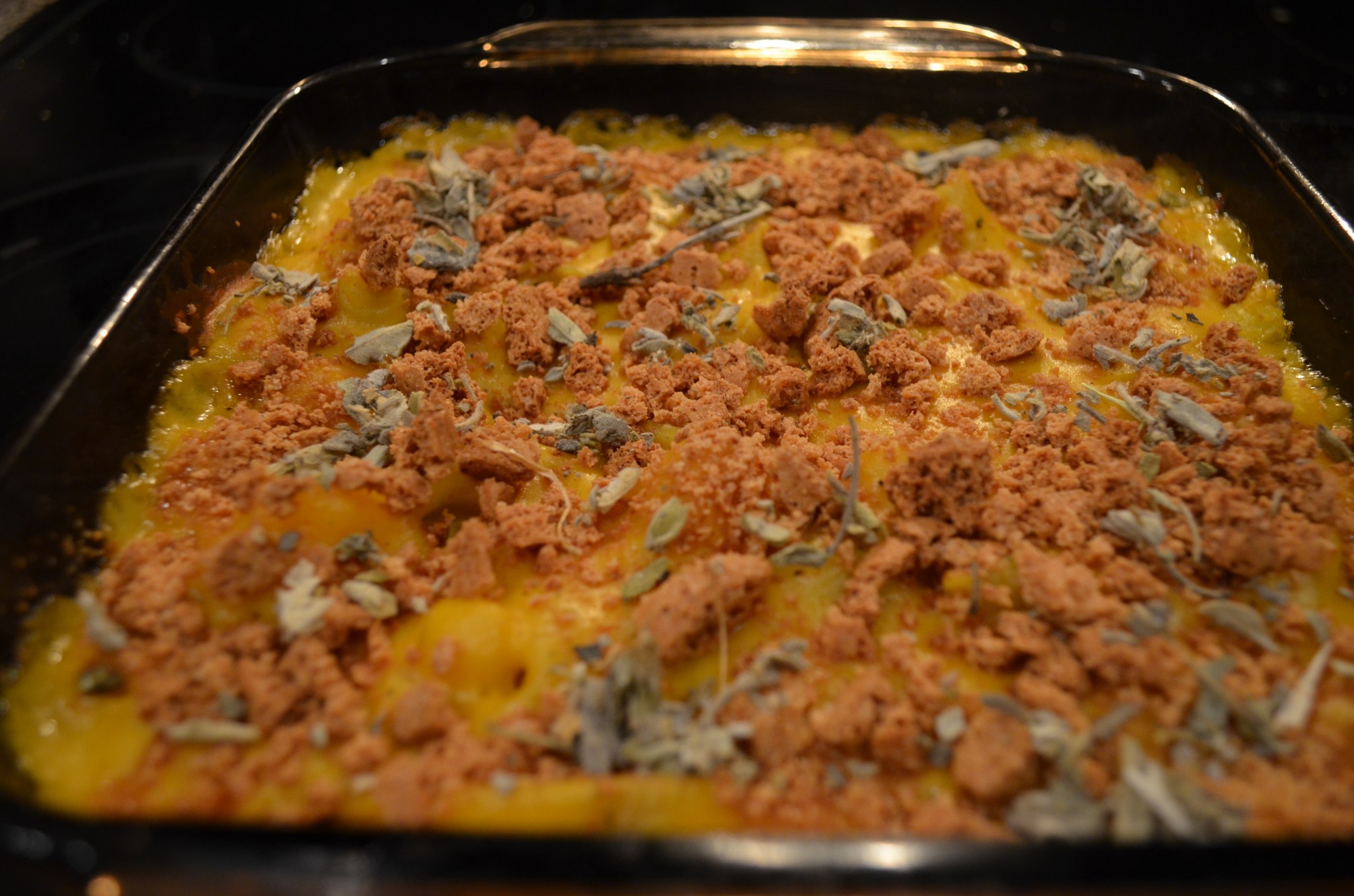 Let me tell you, it did not disappoint. The expensive cheeses sent the dish over the edge, and the amaretti crumbs were the icing on the cake, so to speak, adding the slightest hint on sweetness to each rich, cheesy bite. I probably could have eaten the whole dish. We planned on both having leftovers for the lunch the next day. However our mouths had other plans. When we went to package it up, we realized there was only enough for one of us to enjoy this meal again. Dustin nicely offered it up to me (although I'm pretty sure he was only doing so because he is going to make a fancy cheese sandwich with the leftover gruyere and fontina instead). So just a note— when there is no side dish to accompany this macaroni cheese and there are two very hungry eaters, this dish does not serve 4-8 as the original recipe claims!