Pupcakes
Yes, I enjoy baking treats for my dog. Yes, I know she is spoiled. But in my defense, baking for my dog is good for me because I get the joy of baking without being tempted to eat ay too much. And she loves the treats I make her (well she likes any food really), which makes her love me more. It's really a win-win.
Dustin laughed at me when I saw this book at Harrod's on our trip to London. I really wanted to buy it even though we didn't even have a dog yet. It was ridiculously overpriced— like 18 pounds or something crazy. I mean it was Harrod's, so what do you expect? When we got back I looked on Amazon to see if they had it, and to my surprise, the one new copy you could buy was more than $100, and to buy it used was around $40! Not willing to pay that price, I was quite disappointed. Even though they were other books about baking for dogs, I like none as much as Pupcakes. I was really attached to the name. Plus, I didn't actually have anybody to bake for yet, so Pupcakes were put on hold.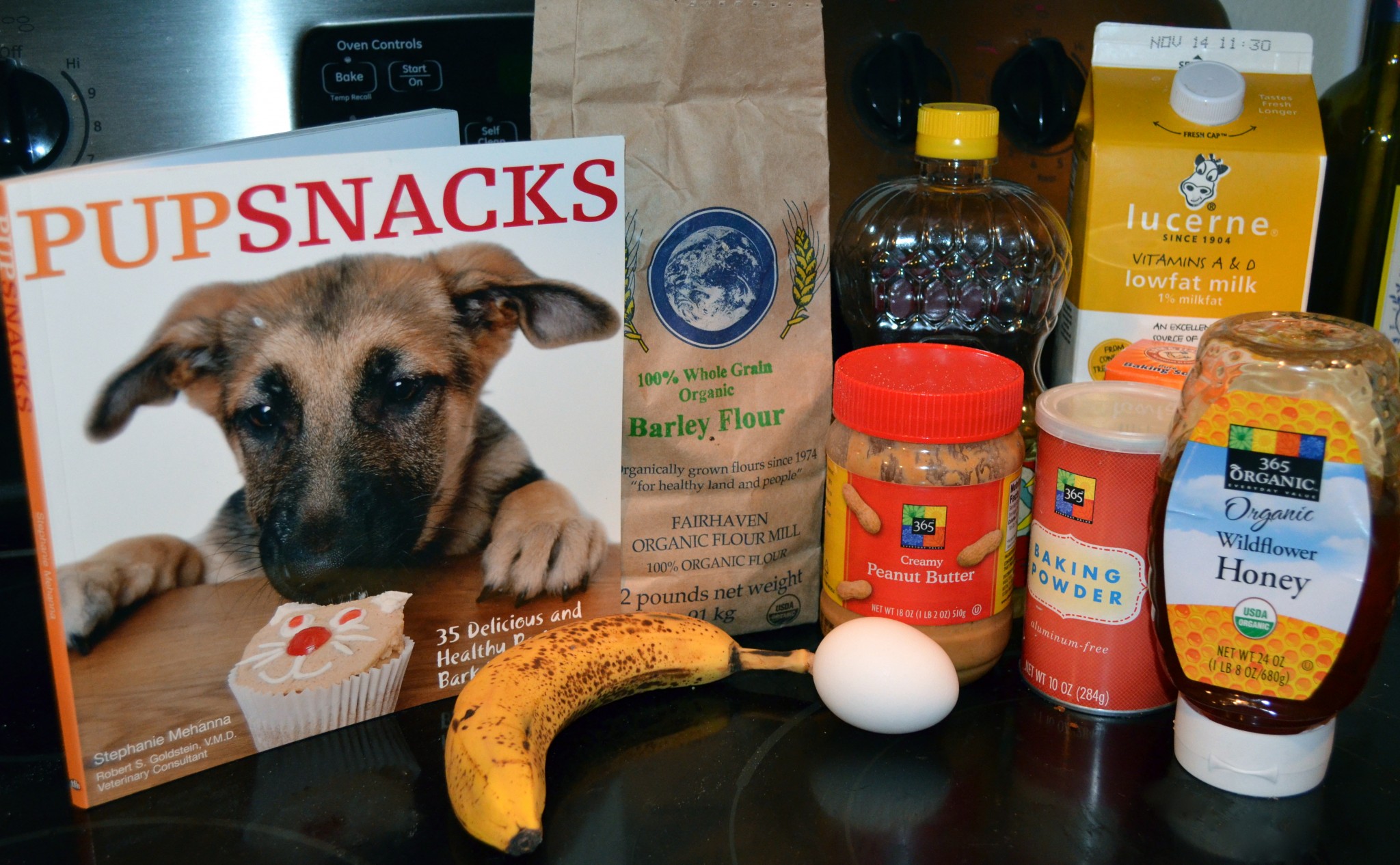 A few months later, after we had actually adopted our puppy, I found the same book with a different name at a much more reasonable price. Even though I was quite disappointed about the name difference, I bought the book and started baking treats for Bonnie. The recipes all sound really cool, but many of the ingredients are hard to find, even at Whole Foods, and quite expensive. Nonetheless I found a couple of treats I could make Bonnie easily without breaking the bank; I love my dog and all, but I'm not going to spend more on her food than my own food when I know she'll eat anything I give to her.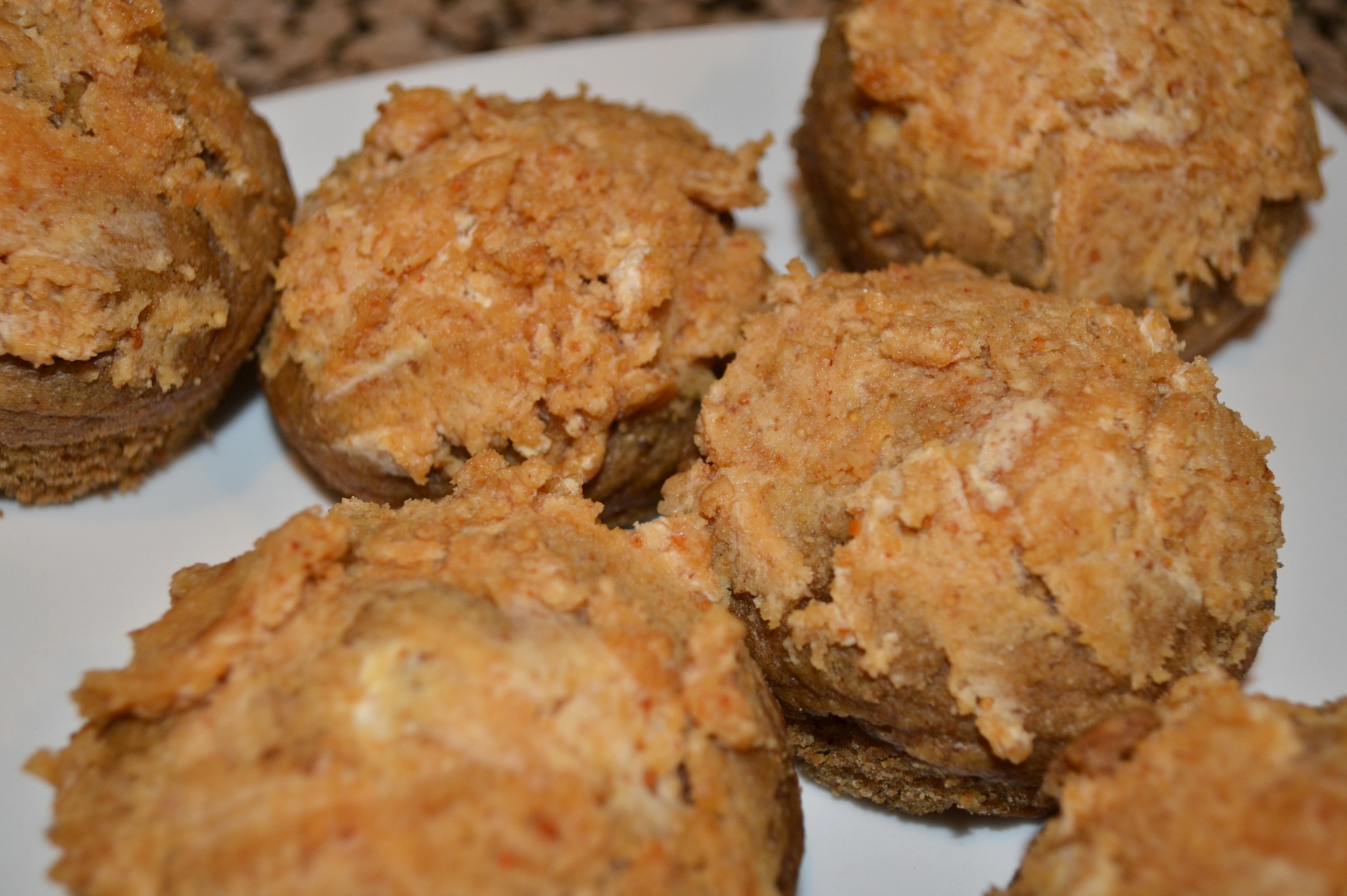 I decided to bake a couple of recipes for Bonnie to eat during our tapas party. I felt bad making all of this food for everyone else and Bonnie not getting any special treats.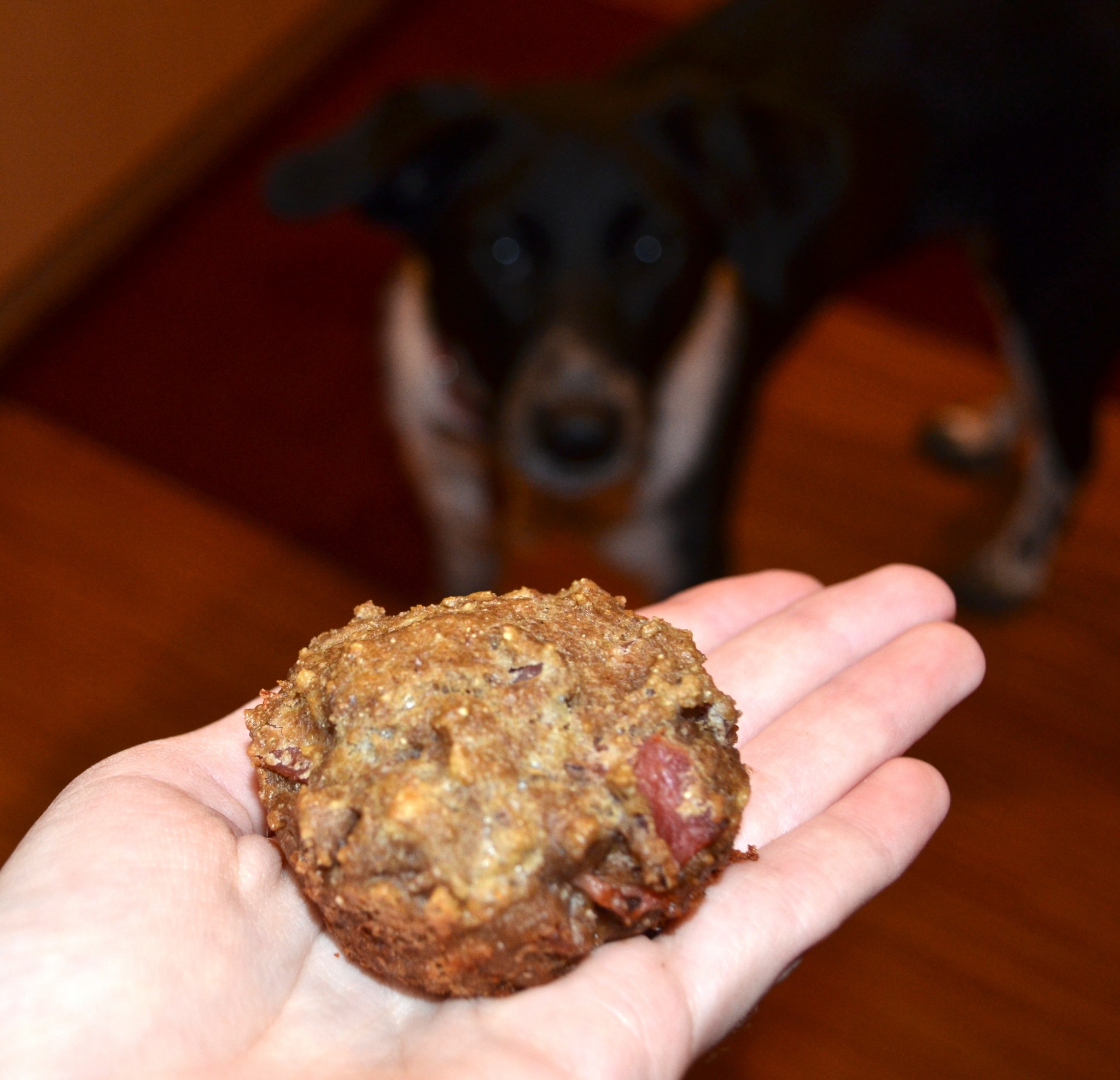 I started out making "Catty-cakes," that in the book are very cutely decorated like cats. I'm not into decorating cupcakes for people, who can actually appreciate the decorating, much less for my dog. I just went for taste. I also modified the recipe based on the ingredients I liked and because the ingredients in the book were written in weight instead of in cups. I didn't feel like digging out my scale, so I just went with my gut, adding more liquid or more flour as needed. I'm also reviving the name Pupcakes for these treats because that name awesome.
These muffins smelled like human food, particularly peanut butter cookies. I had to remember that these were dog treats when I sniffed them, so I didn't sneak a bite. When Bonnie got a whiff, she wanted one too. She had to wait until they were cooled and frosted.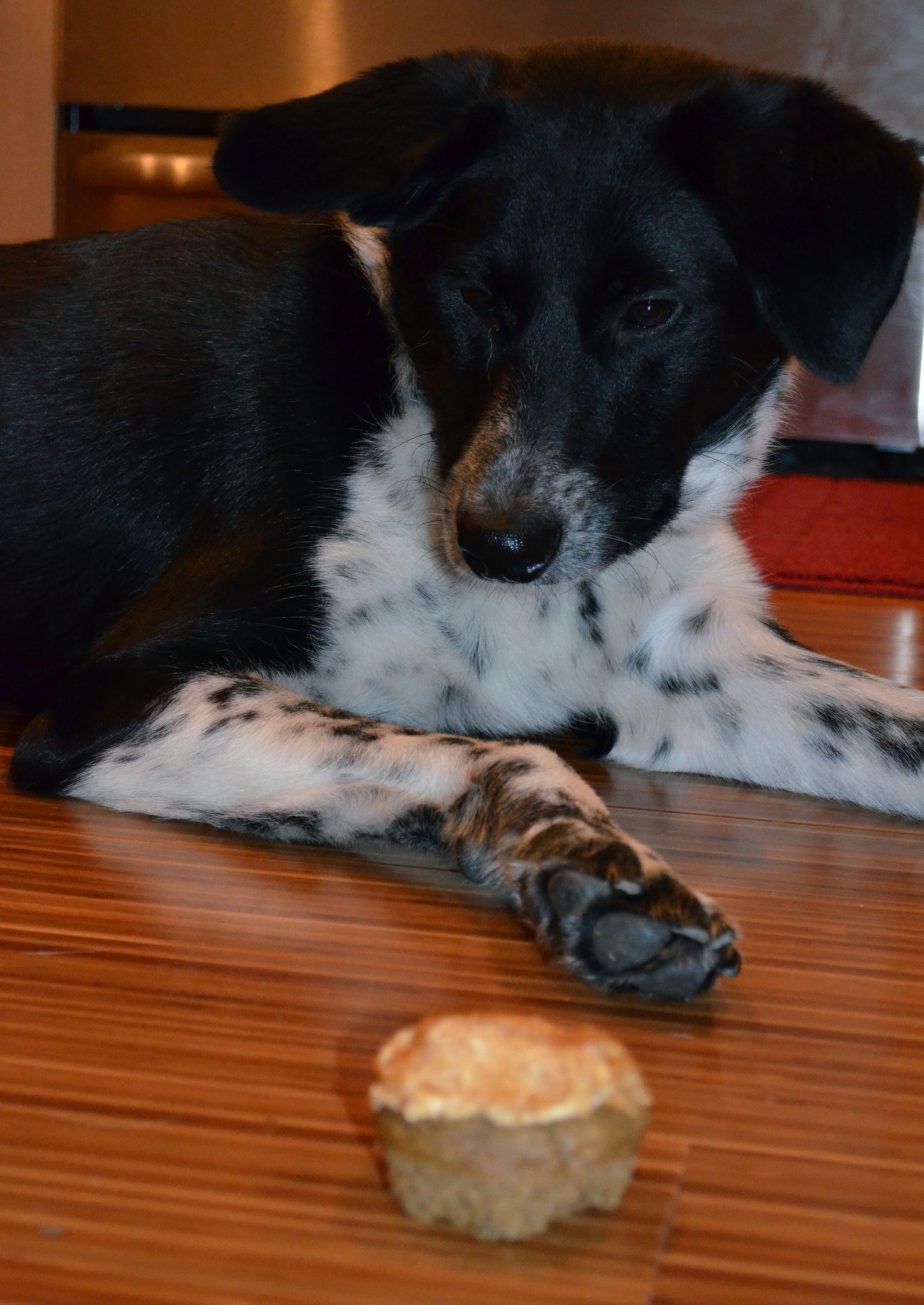 But then she was one happy camper.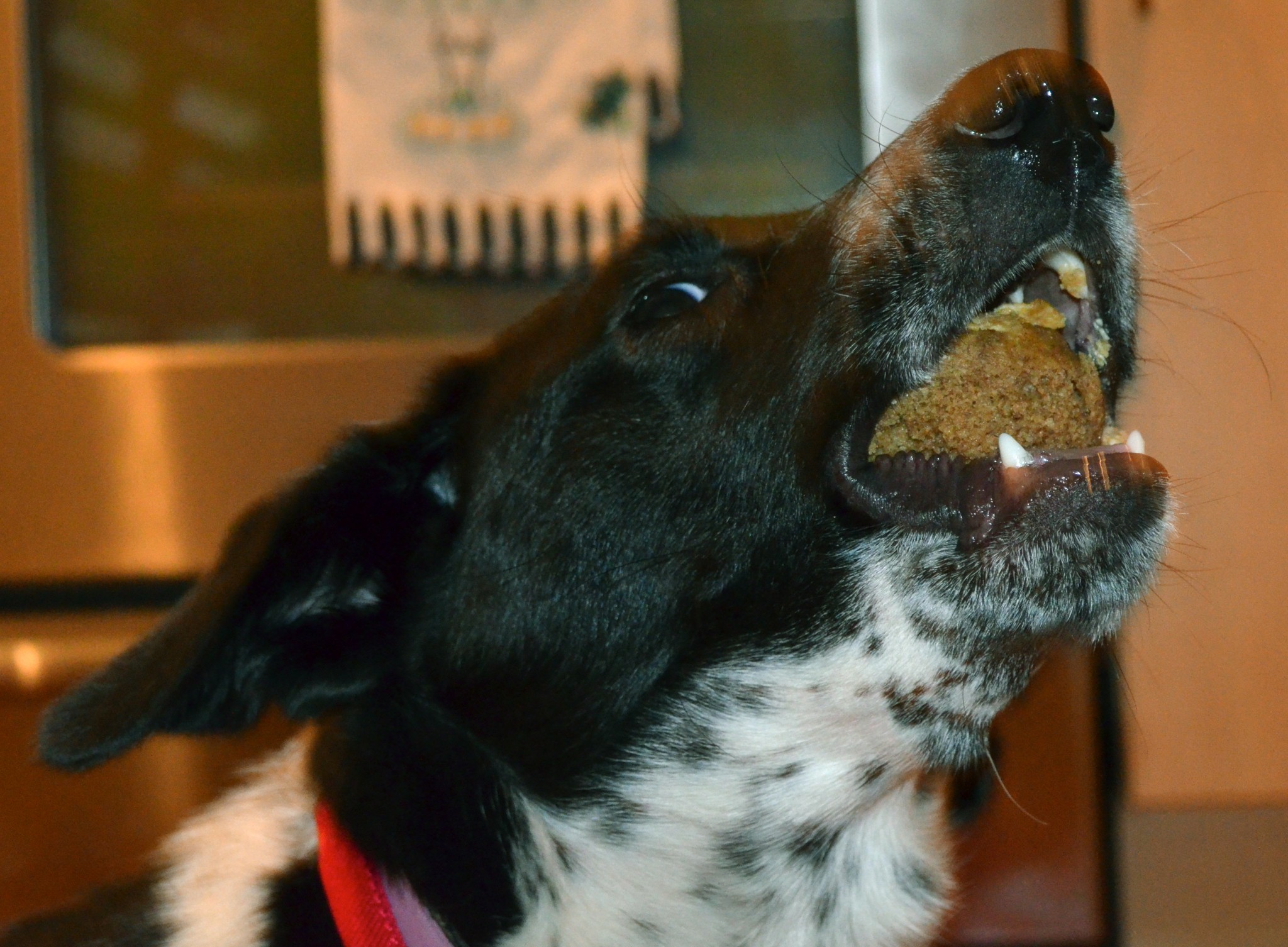 Pupcakes
(adapted from Pupsnacks Catty-cakes recipe by Stephanie Mehanna)
makes 12 cupcakes
1 cup of barley flour (this book recommends wheat and gluten free flour because so many dogs have allergies)
3/4 cup 1% milk
1/4 cup peanut butter (no sugar added)
1 egg, beaten
1 banana, mashed
4 tablespoons of honey
4 tablespoons of canola oil
3/4 teaspoon of baking soda
3/4 teaspoon of baking powder
non-stick cooking spray
Add baking soda and baking to flour in large bowl.
Add in milk, honey, and canola oil, then stir.
Add in mashed banana and peanut butter and stir until smooth.
Spoon into muffin tin sprayed with non-stick cooking spray and bake in the oven at 350° for 15 minutes.
Pupcake Frosting (adapted from Pupsnacks "Catty-cakes" recipe by Stephanie Mehanna)
1/2 cup reduced fat cream cheese, room temperature (whipped works well)
1/4 cup peanut buter (no sugar added)
3 Tablespoons of olive oil (start with 3 and add more as needed)
Mix cream cheese and peanut butter in a small until the two ingredients are well blended.
Add in the olive oil to thin out the frosting. Begin with the 3 tablespoons and add more as needed if the frosting is too thick.
Using a knife frost the cooled Pupcakes and serve to your four-legged friend!
These treats can be stored in the refrigerator for three days.
I also made the "Turkey and Cheese Muffins" from the book since the Pupcakes are really more like a dessert. Bonnie needed a main entree too. I fondly refer to these as "Bonnie Muffins" because I've made them before and she devoured them. Once again, I adapted them for the same reasons as before.
Bonnie Muffins
(adapted from Pupsnacks "Turkey and Cheese Muffins" recipe by Stephanie Mehanna)
makes 6 muffins
1/2 cup barley flour
1/2 teaspoon baking powder
1/2 teaspoon baking soda.
2 slices of turkey bacon, chopped finely
1/3 cup cheese (I used a mixture of reduced fat cheddar-jack and parmesan)
1 egg, beaten
4 Tablespoons of canola oil
1/2 cup of water
non-stick cooking spray
Combine the flour, baking soda and baking powder.
Add in the egg, canoila oil, and water. Stir until smooth.
Fold in the cheese and turkey bacon.
Spoon into muffin tin sprayed with non-stick cooking spray. Bake for 20 minutes at 350°. Let cool and serve to your puppy!
These were a dog's version of the cheesy, bacon beer bread we made.
Bonnie was so happy. My day was made.