Savory Chocolate Linguine
I've been intrigued by Pappardelle's Pasta's Dark Chocolate Linguine ever since we sampled it at our first visit to Pike's Place. It's a simple linguine subtly favored with chocolate. The recipe included in the packaging and most of the recipes I saw online were for dessert pastas, but I really wanted to turn the chocolate linguine into a savory dish.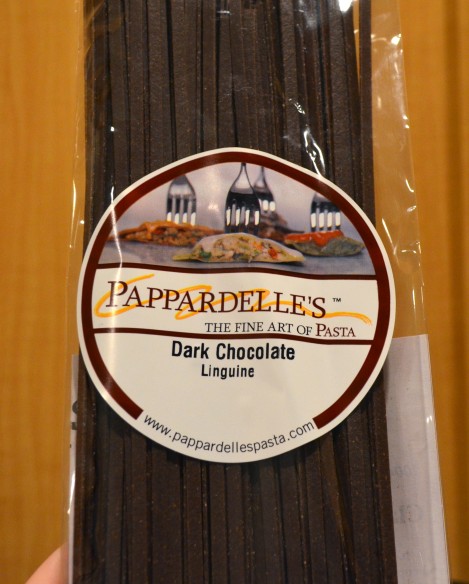 A quick online search came up with very few recipes I'd be interested in. One involved a chipotle sauce, but I was more interested in this creamy recipe. I took the suggestion at the bottom of the recipe and used gorgonzola cheese and altered some of the ratios to make the sauce cheesier.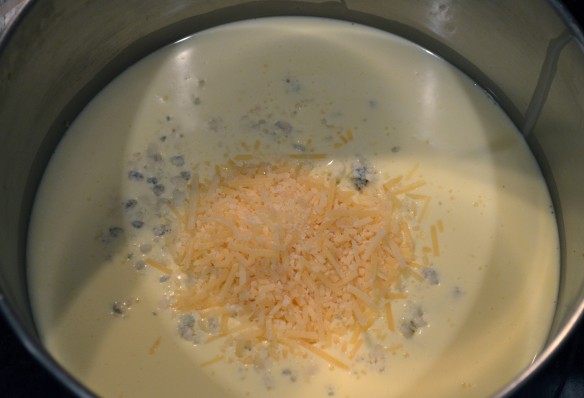 Chocolate Linguine
serves 3 or 2 + leftovers for dessert!
1/2 pound of dark chocolate linguine
1 cup heavy cream
1/3 cup parmesan cheese
1/3 cup gorgonzola cheese
1 tablespoon honey
1 egg yolk, beaten
1/4 cup of toasted walnuts (toasted for 8 minutes in the oven at 350°)
Salt and pepper to taste
Bring a large pot of water to boil and cook linguine for 9 minutes or until pasta reaches desired texture.
While linguine is cooking, heat the cream in a saucepan over medium heat.
Add in beaten egg yolk, honey, and cheeses. Stir until cheeses are melted and the mixture is smooth and thick. Cook for a few minutes.
Season with salt and pepper.
Plate the linguine and cover with warm sauce.
Sprinkle crumbled walnuts on top and enjoy!
adapted from this recipe by Michele Wolfson, Manhattan Vegetarian Examiner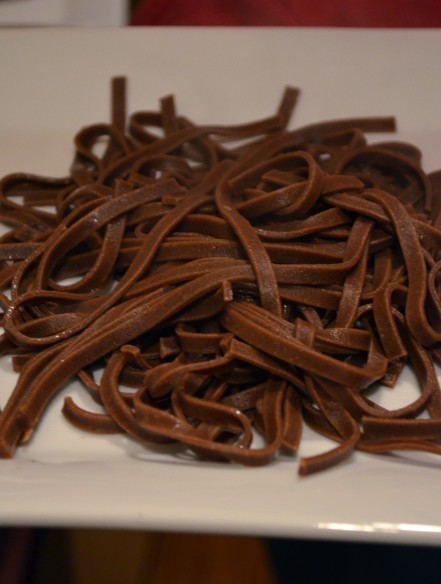 Dustin was curious whether the flavors would all go together, but he trusted me and they really did. The sauce was creamy and cheesy, almost like a macaroni and cheese sauce and complemented the light chocolate flavor well.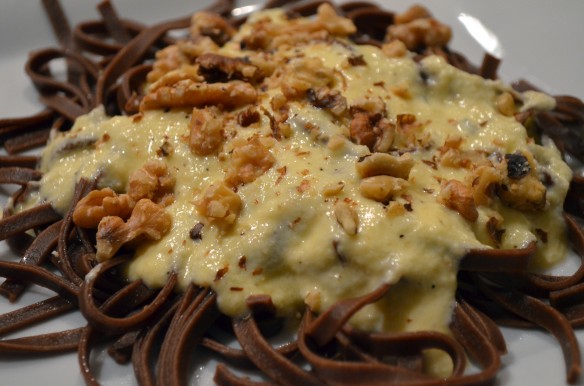 Once we were finished, Dustin asked me what was for dessert, and I had a fabulous idea. Why not turn the leftover cooked linguine into dessert? That versatility might be the greatest part of this meal. I pulled out some caramel and chocolate sauces and poured them over the pasta then warmed the pasta in the microwave for about 20 seconds. Next I topped the pasta with whipped cream, the leftover toasted walnuts, and a couple of maraschino cherries. The pasta also would have gone really well with vanilla ice cream and fruits or fruit sauces. A few ingredients swaps and this linguine transforms from main course to sweet treat. It's hard to tell the difference just by looking at the pictures.