S'mores Oatmeal
I've had a craving for S'mores since last summer, so when I finally made S'mores cupcakes for Dustin's birthday, I thought the craving for S'mores would go away. Not the case. Every time I see the mini marshmallows in the cabinet I want to bust them out and eat them with chocolate and graham crackers. I've always liked S'mores, but they were never one of my favorite things. I think people always toast the marshmallows too much, burning them. Just melt them enough to be warm and sticky for me.
I've made chocolate oatmeal several times when it hit me. This would be a great opportunity to bust out the marshmallows and take my oatmeal from plain chocolate to S'mores. Brilliant.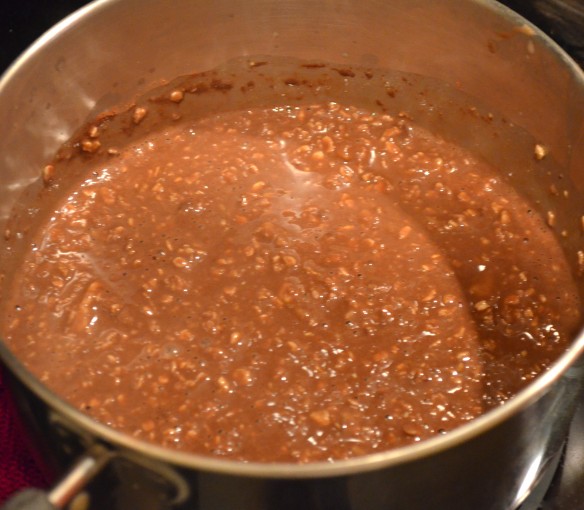 S'mores Oatmeal
(serves 2)
1/2 cup of quick cooking oats
1 cup of chocolate almond milk (regular milk works fine, but chocolate enhances the chocolatey flavor)
1 banana, mashed
3 Tablespoons of cocoa powder
sweetener to taste (I used four packets of stevia)
1 sheet of honey graham crackers, crumbled
1/4 cup of marshmallows, plus more for garnishing
Cooked oats in milk for around two minutes over medium high heat.
Add in mashed banana, sweetener, and cocoa powder. Cook for another 5 minutes or so, stirring constantly.
Add in marhsmallows, stirring until there are swirls of melted marshmallow throughout the oatmeal.
Continue to cook until desired consistency is reached.
Pour into bowls and sprinkle with graham crackers crumbs. Add a few more marshmallows on top . Enjoy!
One word— delicious. There really is nothing better than traditional oatmeal turned into dessert for breakfast.
I'd really like to try my hand at making homemade marshmallows soon. They look so good— way better than the bag of Jet Puffed sitting in my kitchen. Whole Food sells freshly made ones that look like soft, melt-in-your-mouth pillows, but they are like nine dollars for a little bag. There's nothing like seeing an overpriced good in the grocery to make you want to experiment in your own kitchen.