Sugar Cookie Oatmeal
Until recently I was never much of an oatmeal person, and when I did eat oatmeal it was always the instant microwave kind. I honestly just preferred cold cereal most of the time. The flavor choices always seem more interesting (i.e. more sugary for me) when I walked down the aisle in the grocery store, and most of the time when I ate oatmeal, it was runny, soupy mess.
But I've really warmed up to the idea of hot cereal, especially living in a cooler climate. I've also learned that making oatmeal on the stove really isn't difficult or very time consuming. Plus you only have to buy one (very cheap) base of oatmeal, and you can turn it into an unlimited number of differently flavored dishes (many of which resemble my favorite desserts).
These dessert oatmeal recipes as I make them are super sweet, and actually pretty healthy because I there is no refined sugar added, well at least not in the oatmeal part. I sweeten with stevia and banana instead. I love using banana to sweeten because in addition to adding its natural sugars, the banana gives the oatmeal a nice, thick texture, which is really important for the best oatmeal.
I also really like crumbling a small cookie on top of this sugar cookie oatmeal, as I feel it is a great way to limit my dessert eating. The oatmeal has a lot of fiber in it, so I feel full, unlike when I eat sugar cookie by themselves. Instead I eat the equivalent of one small cookie, feel full and satisfied with all of the nutritional benefits of the oatmeal, milk, and a little bit of fruit.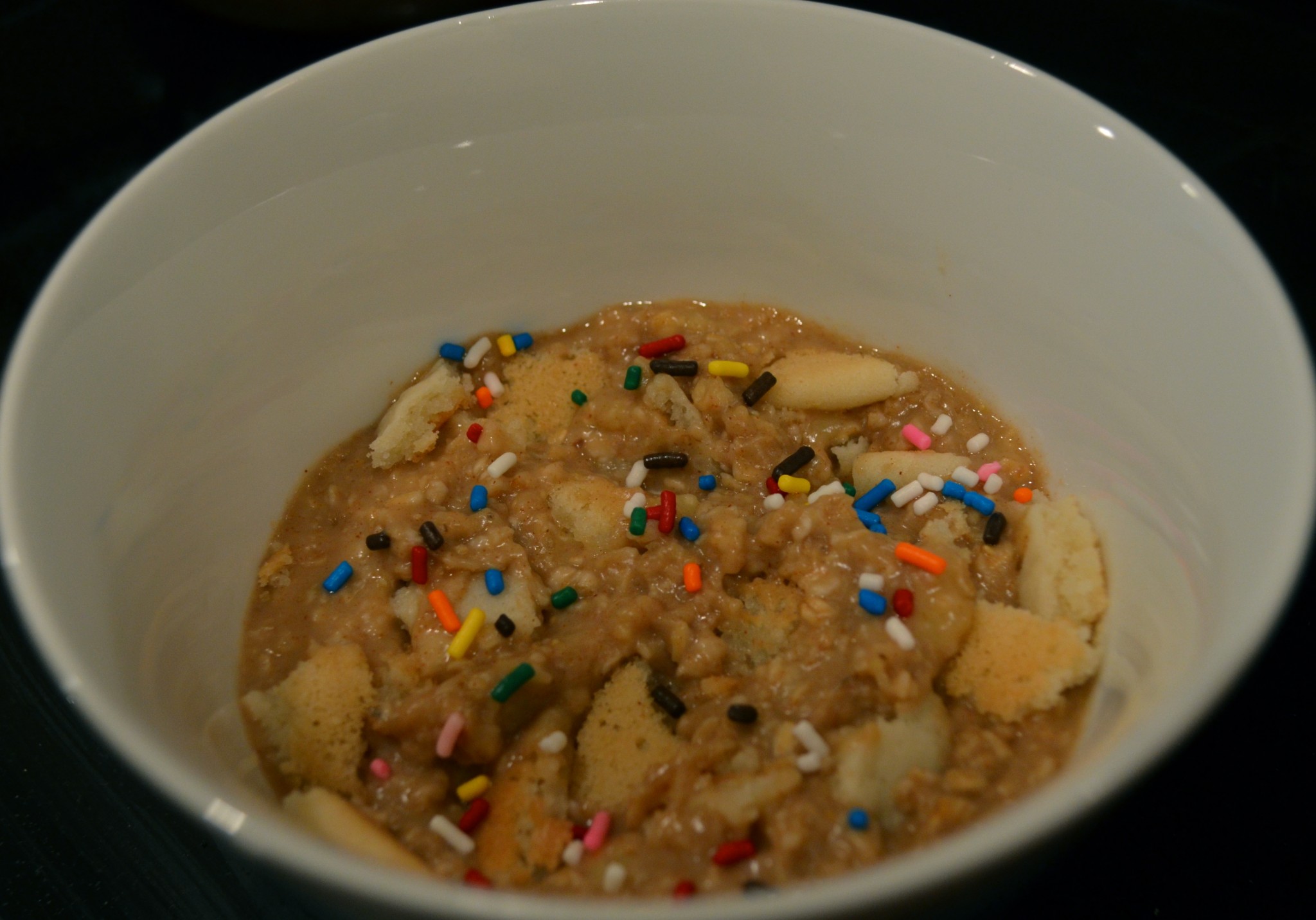 Sugar Cookie Oatmeal
(serves 2)
2/3 cup quick cooking rolled oats
1 cup milk (vanilla almond milk is perfect for this recipe)
1 banana mashed
sweetener to taste (I used 6 packet of Truvia brand stevia and this was pretty sweet)
1 1/2 teaspoon vanilla extract
2 small sugar cookies crumbled
sprinkling of vanilla sugar for a little extra flavor (optional)
sprinkles— just for fun! (optional)
Cook oatmeal in milk over medium heat for about two minutes, stirring constantly.
Added in mashed banana and sweetener. Continue cooking, stirring until oatmeal has reached the texture you like. For me, this time was around 10 minutes, and I like pretty thick oatmeal.
Remove from heat and add in vanilla.
Pour into bowls and add vanilla sugar sprinkling, crumbled cookie, and sprinkles.
Make this into snickerdoodle oatmeal by adding cinnamon to the mixture. Highly recommended!
I have a ton of ideas for dessert oatmeals I want to try, and I want to try them all right now. I wish I had more meals in a day to make them all. For myself, I sometimes make oatmeal for breakfast and lunch. Somehow I don't think Dustin could handle this much oatmeal or sweetness for that matter, but I don't see him complaining about this delicious breakfast treat!