Bacon Wrapped Shrimp and Grits
I know grits are a staple of the Southern diet, but I'm not so sure being from Houston qualifies me for being a Southerner. I'd never had grits until about a year ago when we ate at Burning Pear where I had delicious smoked pork chop with a side of poblano cheese grits. They were so good. I loved the velvety, creamy, cheesy texture. They were totally up my alley. I was so disappointed after we left the restaurant because I had a huge box of leftovers that I proceeded to leave on the table. I hadn't really thought of them much again until I started seeing them on brunch menus around Seattle— definitely not a part of the South. I seriously saw them on three different menus, and with each spotting, I was more and more ready to try my own luck making cheese grits.
After seeing a dish of shrimp and grits served on an old episode of Top Chef, I decided shrimp and grits would be the meal of choice to showcase the cheese grits. Then I decided we should wrap the shrimp in (turkey) bacon for added flair.
I adapted this recipe, courtesy of Rachael Ray, for the shrimp. Most of the recipes I found called for grilling the shrimp, which would have been awesome, but sadly we no longer have a grill (that we are allowed to cook on in our apartment). We preheated the oven to 425° and removed the shells from our shrimp. Then we drizzled the shrimp with lemon juice, a little bit of lemon zest, salt, pepper, and steak seasoning to give the shrimp some smokiness and complement the bacon.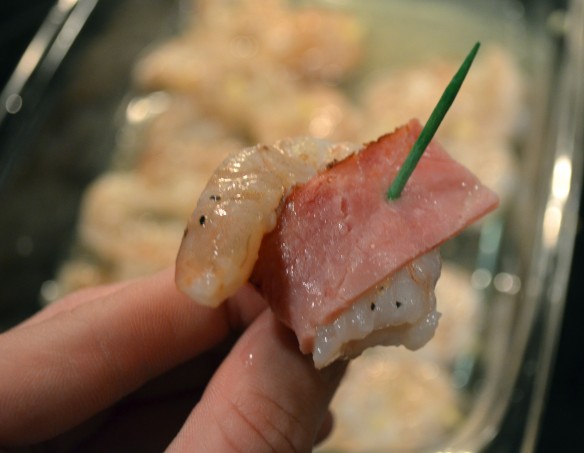 We used small strips of precooked turkey bacon and wrapped each shrimp, securing the bacon blanket with a toothpick. The recipe said to bake the shrimp for 14 minutes, which was the perfect amount time. The shrimp were pink and tender with lots of citrusy flavor. The bacon added a little something extra.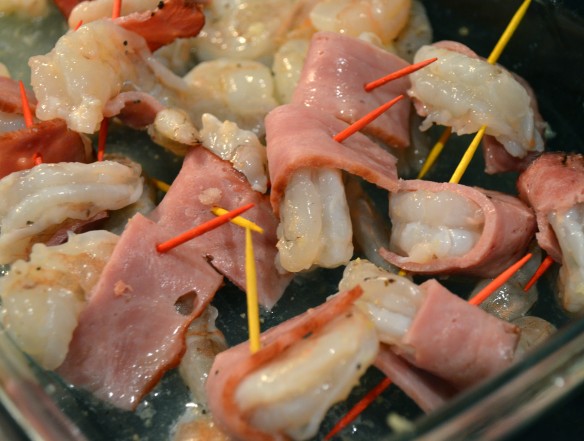 We actually started making the grits first because the recipe, courtesy of Alton Brown, said the grits would take 20-25 minutes to cook. I'm guessing it might be because of the type of grits we used that they cooked so fast. We bought the only brand of corn grits our supermarket had. We brought two cups of 1% milk and two cups of water to a boil. Once the water was boiling, we added the corn grits and reduced the heat to low. We tried covering the pan for a few minutes then whisking them as directed, but I noticed a few burnt flakes when I began stirring. This unfortunate occurrence meant we had to stand over the stove, constantly stirring the grits, and we had to pick out a few burnt pieces with a spoon. The grits only took about 15 minutes to achieve their thick texture, but we had to keep stirring them for a lot longer because our shrimp were still in the oven. But once we were about ready to serve the shrimp, we added two ounces of shredded Monterrey Jack cheese and two ounces of shredded sharp cheddar and three tablespoons of Earth Balance instead of butter. Online I read that Earth Balance could serve as a healthier substitute that wouldn't make a difference in the taste or texture. If it did, I didn't notice because these grits were good as is. Grits were super easy to make. They were a little time consuming to make, particularly because we had to stand there and constantly stir the grits, which got more and more difficult to do as they got thicker.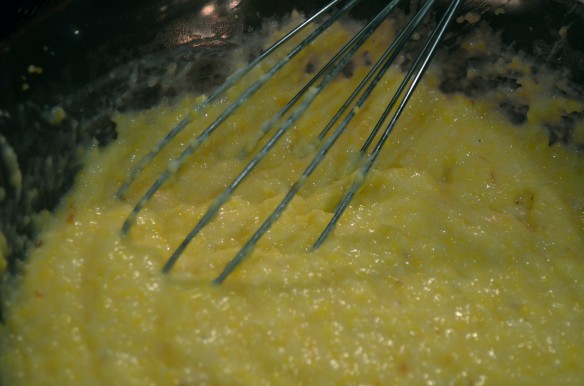 After ladling a heaping load of cheese grits onto our plates, we topped them with our bacon wrapped shrimp and garnished with some chopped scallions. This meal tasted like warm, (Southern) comfort on a plate. I can't wait to try them for breakfast with eggs and with different kinds of fancier cheeses for a more gourmet twist.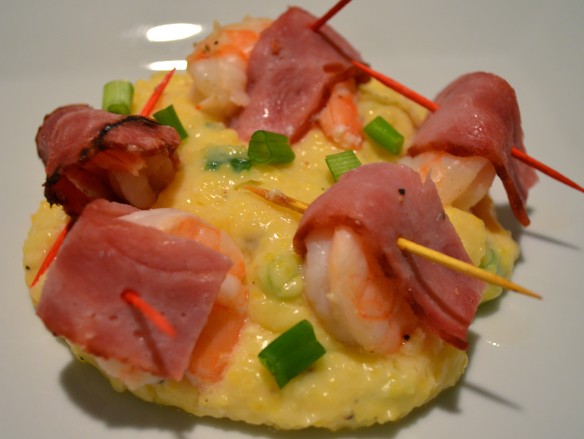 Based on our experience using Bob's Red Mill corn grits, I think I'd suggest preparing to make the grits, then preparing the shrimp. Once the shrimp are in the oven, I would start making the grits to help all of the dishes finish at the same time.
We are really digging experimenting with new food and recipes. Pretty soon we'll be expert cooks. And I promise we'll cook for you when that glorious day arrives!