Blood Orange Margaritas
Walking by a fruit stand in Pike's Place, something caught my eye. It was half an orange with a deep red flesh. Blood oranges. We got so excited because blood oranges remind us of one of our favorite places back in Houston, Benjy's in Rice Village. Their lounge became our go-to restaurant for happy hour. During happy hour, they have great appetizers for only $6. We love their goat cheese cakes and mini pizzas, but their fried calamari is the best we've ever had had— lightly seasoned and breaded to perfection served with aioli. The menu changes slightly with the seasons (different sorts of aioli and small twists like that), but the core of it stays the same. They also have a great selection of happy hour drinks. They make a mean mojito, a drink called a citrus blossom with elderflower liqueur, grapefruit juice and vodka served with a sugared rim, and best of all a blood orange margarita with fresh blood oranges, sweet and sour, Citronage, and El Jimador tequila.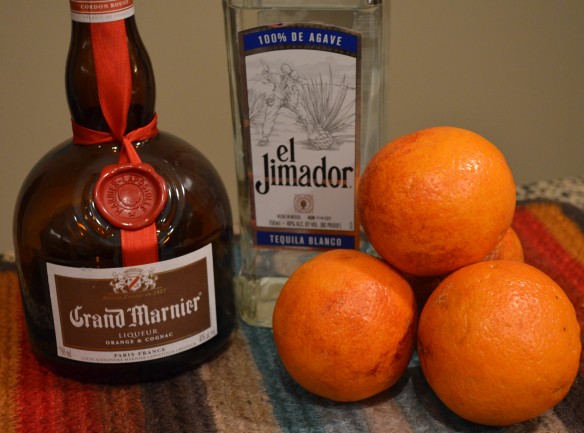 We bought the blood oranges to make our own version with Grand Marnier instead of Citronage and our agave syrup and water mixture instead of sweet and sour mix.
First we squeezed the juices of four blood oranges. Then we shook the juice with ice, two shots of El Jimador, and a shot of Grand Marnier (for two people). We thought we had limes in the refrigerator, but we didn't or else we would have included the juice of a lime as well for a little extra, more authentic Benjy's flavor. It's not a requirement because these margaritas are still tasty without it.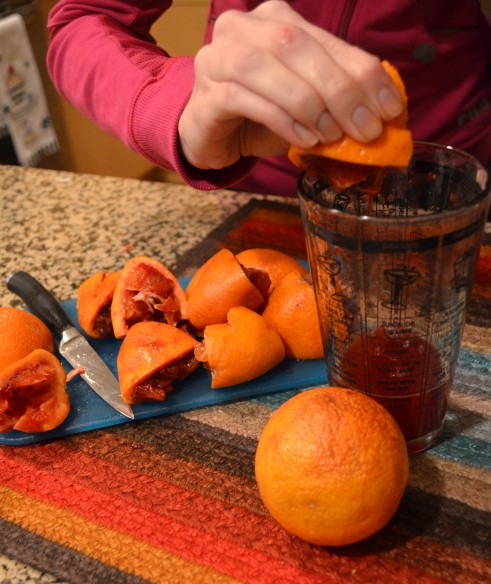 After this little taste of our college home, we are super excited for our trip back to Houston at Christmastime. Unfortunately we are not going to be able to hit all of our regular Houston spots when we are in town since we'll mostly be visiting with family out in the suburbs. Nonetheless we'll definitely be able to get some great Mexican food. I'm so looking forward to getting some melt-in-your-mouth Lupe Tortilla beef fajitas. And maybe we'll be able to squeeze in a blood orange margarita at Benjy's.