Holiday Sugar Cookies
Sugar cookies have a special place in my heart. Not just any sugar cookie though. Not sugar cookies from Pillsbury or sugar cookies purchased from the grocery store. I'm talking about homemade, rolled out sugar cookies cut into fun shapes. To me these cookies will forever be known as "Grandpa Cookies."
I used to make sugar cookies with my Grandpa all of the time when I was a little girl. My Grandpa loved to bake and was crazy about being a grandfather. I loved to eat cookie(dough)s and thought my Grandpa was the coolest. It was a match made in heaven. My best memories of my grandpa were in the kitchen licking the beaters as my grandpa told me not to eat all of the cookie dough. My grandpa used this recipe that called for nine cups of flour and a ton of shortening. It made a ridiculous number of cookies. We would literally cover my grandparent's dining room table with layers upon layers of sugar cookies. It was joked that "Grandpa Cookies" gave birth to more "Grandpa Cookies" because they seemed to breed like rabbits. I was always begging to bake "Grandpa Cookies" with my grandpa.
Unfortunately my grandpa passed away just before I turned five. Even as I grew up and learned that "Grandpa Cookies" were actually sugar cookies, I've always like to call them by my original name to remind me of my grandpa and our fun times in the kitchen. We use a slightly different recipe now when we bake them. His original recipe, cut out from a newspaper who knows when, called for nine cups of flour and a ton of shortening (no wonder they were so good!). We usually don't need nearly that many cookies for our holiday get togethers, and even though they freeze well, we would be eating cookies from the same batch for multiple holidays if we used the original "Grandpa Cookie" recipe. Now we use a super simple recipe that calls for butter rather than shortening and makes significantly fewer cookies, but whenever we bust out the cookie cutters at my grandma's house, the same ones I used with him so many years ago, I am transported back to that time, no matter if the recipe has been tweaked a bit. There is no more powerful emotion than smelling the aroma of a good memory, and every time I smell freshly baked sugar cookies, I feel my grandpa's love.
I mixed together the dough one morning and let it sit in the refrigerator to set, so it wouldn't be too sticky to work with.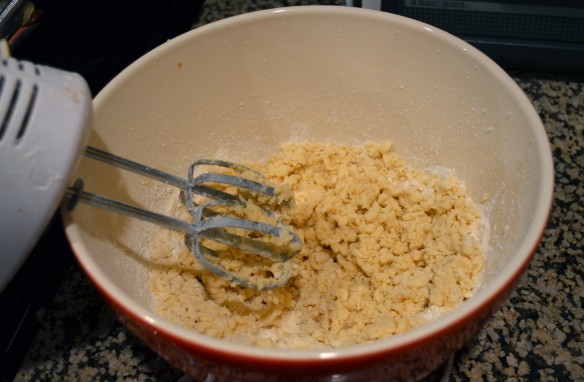 Later that night Dustin and I had a cookie baking marathon.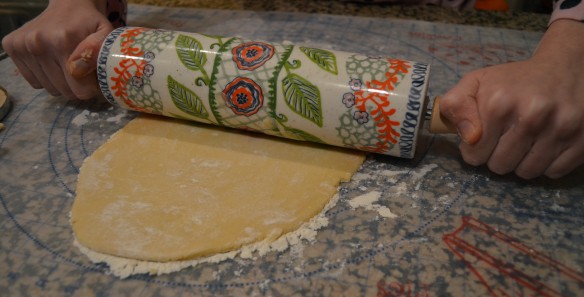 We spent about two hours in the kitchen, rolling the dough out and cutting dozens of cookies. Even though we used the smaller recipe, I think we still had over four dozen cookies, not to mention the gingerbread cookies we were also making.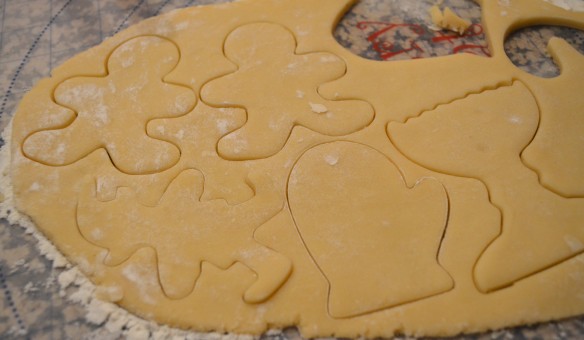 Given the time of year, we cut the cookies into holiday shapes in order to decorate at a mini holiday party we hosted with a few college friends also living in the area. I bought a container of 30 holiday cookie cutters (with everything from a Christmas tree and gingerbread man to even a turkey— slightly unusual) at Bed Bath and Beyond, and we picked up a set of Hanukkah cookie cutters at Crate and Barrel in order to have a multicultural holiday party. When our guests arrived, we (meaning me and the one other girl attendee) decorated the cookies with store bought icing (while the boys played video games). I've never used royal icing myself, and I figured this might not be the best time to learn. The cookies mostly looked like a they were decorated by a kindergarten class, but we had a few turn out to look fairly normal.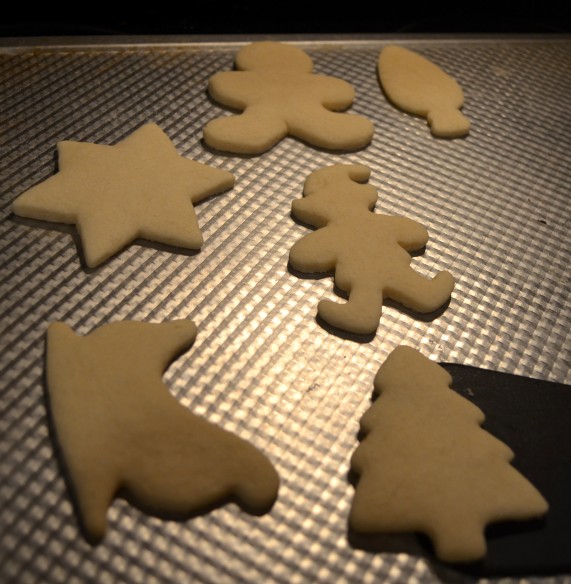 In my past decorating sugar cookies meant adding a little extra sugar or sprinkles on top before baking. Instead of icing, my Grandpa taught me to turn the cookie over and spread a layer of butter on it, something he learned to do as a child. I've never met another person outside of my family who does this, and most people think it is incredibly weird. But I promise it tastes delicious, and it's not like butter (or shortening) isn't one of the main ingredients or anything. I still eat my sugar cookies like this occasionally to pay homage to my grandpa, although I only do it in the comfort of our own home, so people don't think I'm too nuts.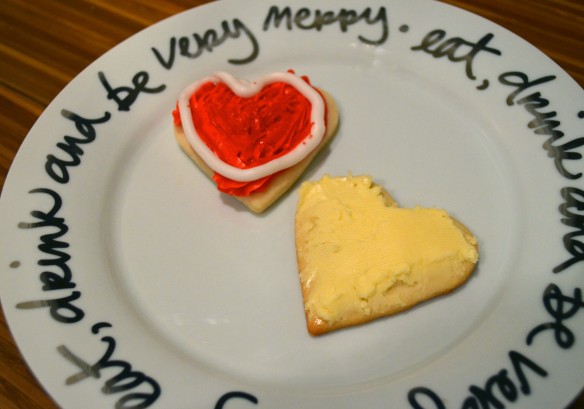 Decorating with icing was a lot of fun, but boy were my fingers tired after all of the pushing I did on the icing can tips. Next I think I need to work on my decorating skills. The cute holiday plates we served them on kind of outshine the cookies themselves, but they tasted fantastic (I managed to bake the cookies just long enough so they were fully cooked but that the top and bottoms of the cookies had the same texture and color, like the perfect sugar cookies you buy from bakeries).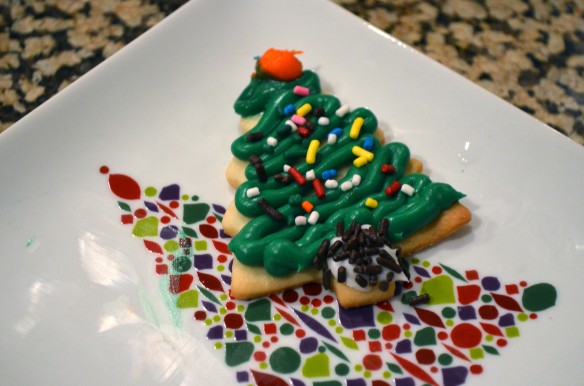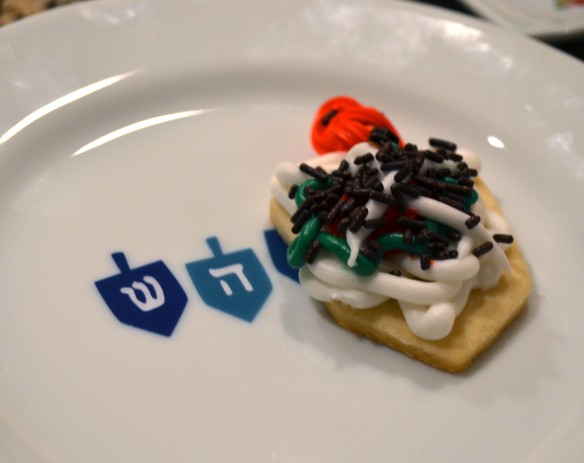 We also made gingerbread cookies (my first time attempting to do so), which turned out to taste delicious, but were a disaster to create. There were so many failures from ingredients not fitting into bowls (multiple times) and a busted motor in my handheld electric mixer (luckily I made the sugar cookies first) that we decided not to share the debacle with the rest of the world. What's most important is that they tasted good.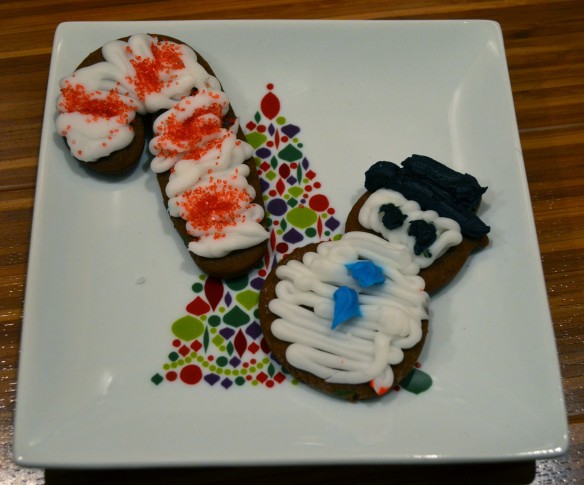 I have consumed so many cookies (and peppermint hot chocolate) over the last few days, I'm not sure I could eat another. I'm sure there will be plenty more, made by my grandma, waiting at her house for Christmas day. Oh, boy!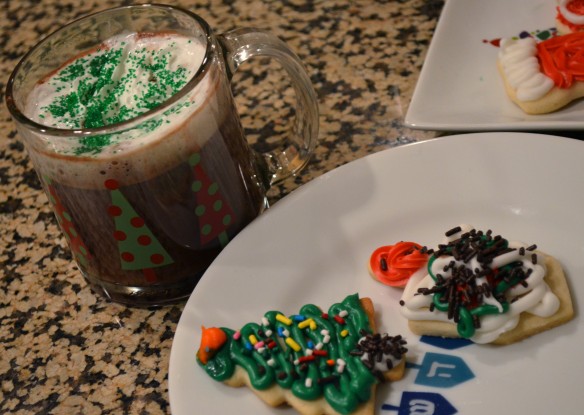 Rolled Sugar Cookies
(makes 3-4 dozen cookies depending on the size of the cookie cutters used)
1/2 cup butter, softened
1 cup sugar
1 egg, room temperature
1/2 teaspoon vanilla
1/4 cup milk
2 1/4 cup flour
2 teaspoons baking powder
1/2 teaspoon salt
Cream together butter and sugar in a large bowl
Add egg, vanilla, and milk, and thoroughly combine
In a separate bowl, combine flour, baking powder, and salt
Slowly add dry mixture to wet mixture and beat until blended
Cover dough and let chill in refrigerator for at least one hour
Roll dough on lightly floured surface to approximately 1/6 inch thickness
Using cookie cutters, cut cookies into desired shapes and place on ungreased cookie sheet
Bake in oven at 375 for 8-9 minutes
Let cool on cookie sheet for a few minutes before transferring to cooling racks