Pumpkin Cream Cheese
I wasn't a big bagel eater before I met Dustin. We ate doughnuts in my house. But bagels have really grown on me. We used to make trips to Einstein Bros. before classes as a special treat occasionally before class. I know Einstein doesn't make the greatest bagels in the world, but we were pretty limited in our choices in Houston. Dustin would always get sesame with light cream cheese, but of course I'd always have a hard debating over all of the different sweet bagels and the seasonal schmears. Surprise, surprise, one of my favorites was the pumpkin cream cheese on a pumpkin bagel. Trader Joe's has a seasonal pumpkin cream cheese, but I forgot to look for it last time we were there, and we don't go there that often. Their meat and produce departments just don't compare with Whole Foods, which we've become accustomed to, being the spoiled foodies we are.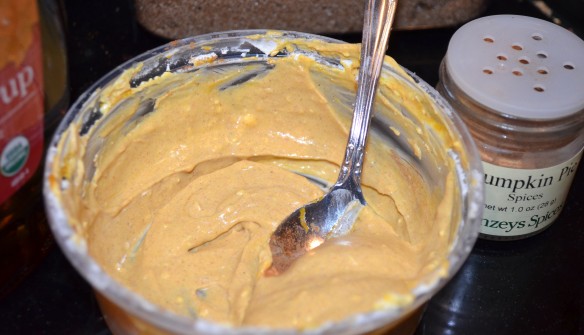 We only had a little bit of whipped cream cheese left, so I just turned all that was left into pumpkin cream cheese right in the container. I added a few tablespoons of canned pumpkin that was sitting in the fridge, a small pour of maple syrup, a couple of teaspoons of brown sugar, and few dashes of pumpkin pie spice. I just kept adding more of each ingredient, stirring and tasting until it had the flavor I'd been desiring.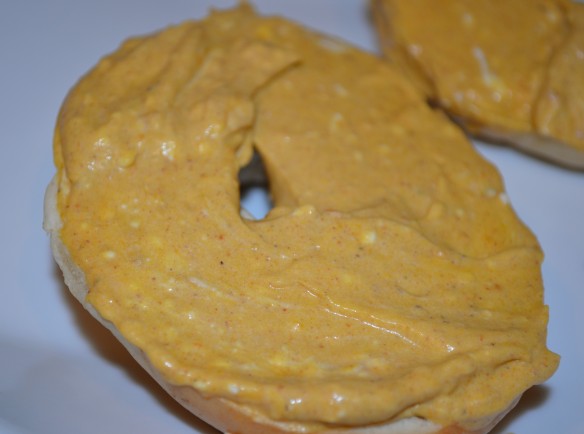 I spread the cream cheese on a bagel and immediately enjoyed, but I think it would be much better to put it back in the refrigerator for a good thirty minutes or so in order to let the cream cheese regain a more natural texture. After all of the mixing, the cream cheese as we ate it was a little on thin side, but we didn't have time to wait, as we were looking for a quick breakfast. But even thin, this cream cheese satisfied my desire for a pumpkin bagel.