Pumpkin Doughnuts
Top Pot makes a delicious old-fashioned pumpkin doughnut that sadly I only sampled once. I wish pumpkin flavored things were in season longer because now that Thanksgiving is over, so is most everything pumpkin. Everybody has moved on to peppermint, eggnog and gingerbread baked goods. Don't get me wrong, I absolutely love those flavors too— especially gingerbread. I'll complain about their season too. The period between Thanksgiving and Christmas isn't long enough to enjoy all of these flavors either. December needs to be about 90 days long. Consequently, next year I may start baking for the holidays in September. Chances are it will feel cold enough here, at least for a Texas wimp like me.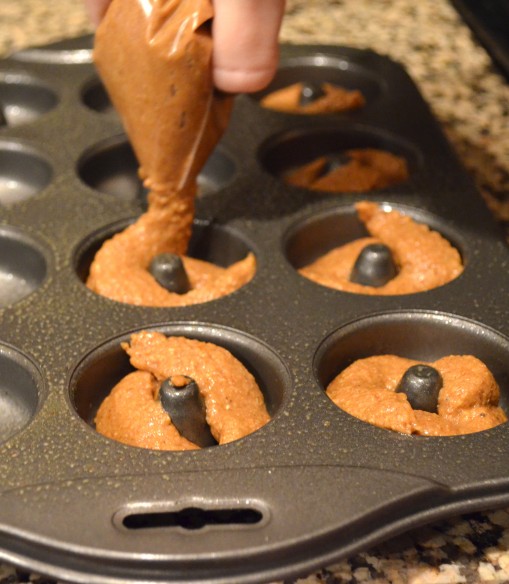 So I baked my own pumpkin doughnuts and because they are baked and not fried and use applesauce instead of butter I feel a little bit better about myself. These actually come together really quickly. You can be eating doughnuts in 30 minutes without having to change out of your cozy, flannel pajamas, which is about the same amount of time it takes for us to get dressed and walk to Top Pot (or less if you walk with a slowpoke like Bonnie).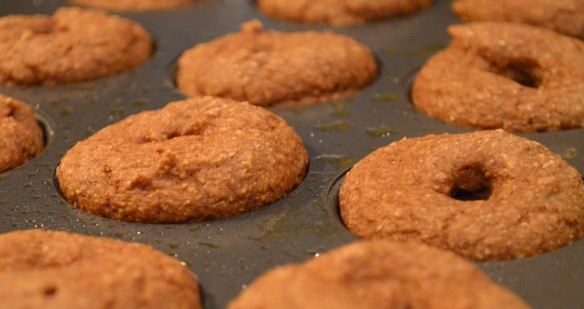 Mini Pumpkin Doughnuts with Maple Glaze
(makes 12 mini donuts with plenty of batter leftover)
Doughnuts
1 cup whole wheat pastry flour
3/4 teaspoon baking powder
1/8 teaspoon baking soda
1/4 teaspoon salt
1/4 teaspoon ground cloves
1/2 teaspoon nutmeg
1/4 teaspoon ginger
2 teaspoons cinnamon
1/3 cup brown sugar, packed
1/8 cup unsweetened applesauce
1 cup pumpkin pie mix
3 tablespoons almond milk
1 teaspoon vanilla extract
non-stick cooking spray
Maple Glaze
3/4 cup powdered sugar
2 tablespoons maple syrup
1 tablespoon of almond milk
Preheat oven to 350° and spray donut pan with non-stick cooking spray.
In a large sized bowl, use an electric mixer to combine applesauce, pumpkin pie mix and brown sugar. Add in egg, milk and vanilla and mix throughly.
In a medium sized bowl, combine flour, baking powder, baking soda, salt, cloves, nutmeg, ginger, and cinnamon.
While stirring, slowly add dry ingredients to wet ingredients until thoroughly combined.
Spoon the mixture into a quart sized freezer bag, cutting off one corner and squeeze the batter into a donut pan
Bake the doughnuts for 10 minutes.
While donuts are cooling, make the glaze by combining the powdered sugar, maple syrup, and milk. Add more powdered sugar for thicker consistency or milk for thinner glaze.
Use a knife to circle the donuts and remove from the pan.
Drizzle (or drench, you choose) glaze on the doughnuts and wait for glaze to harden if  you are patient. If you are impatient, serve immediately and enjoy the stickiness of the glaze.