Puppy Gingerbread Cookies
Let's face it. Over the next few weeks we will be stuffing our faces with lots of holiday cookies. I thought Bonnie should be able to join in on the Christmas fun, so I decided to bake her some puppy gingerbread cookies as yummy treats for her to snack on while we indulge. Plus she's supposed to be having a playdate with one of her friends, so I thought making puppy treats would make me a good hostess. As we've come to find out buying freshly baked dog treats is just as expensive as buying freshly baked human treats, so making homemade is definitely the smart and fun way to go (but wait until you see what treats we bought Bonnie for Christmas— totally worth the price because we are huge suckers for cute). These gingerbread dog biscuits have no added sugar, and apparently the ginger in them can help aid with nausea and aid in digestion. Who knew? I also used a wheat and gluten free flour (barley flour), as recommended in my PupSnacks book since dogs can have wheat allergies.
I whipped up the dough according to instructions, which were really easy to follow, and I used a big metal spoon to stir everything together.
I put the dough in the refrigerator for a little while, so it was easier to work with. Then I rolled out the dough and used a combination of dog-themed cookie cutters (fire hydrants, paw prints, and bones) and holiday-themed cookie cutters (elf, reindeer, wreath, etc.) to create my treats.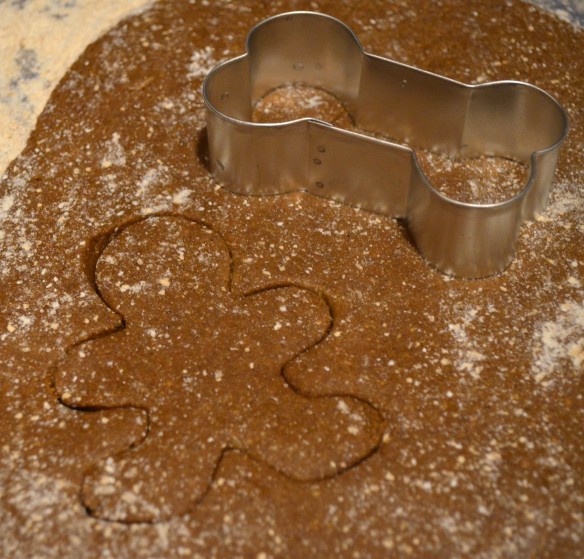 I had to remember not to eat any of the dough remnants as I was cutting the cookies since I was making dog biscuits. I have a bad habit of eating the dough scraps whenever I cut cookies. Oops.
The dough was a little sticky, so I had to use a lot of extra flour on my board and on my rolling pin. That's why the cookies have so much white color to them. It's ok though. It's winter, so they look like they've been snowed on.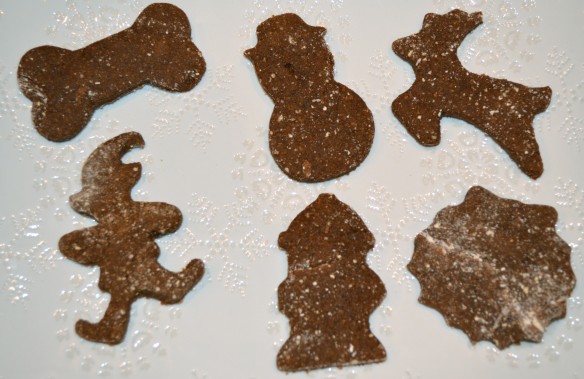 I'm trying to find a clever way to ice these cookies without using royal icing, AKA sugar, to make them look cute. Online suggestions include dipping them in yogurt then putting them in the freezer, but they still won't harden like treats decorated at dog bakeries. You can buy some icing online to make them more professional looking, but the high cost of that sort of specialty product is what I'm trying to avoid by baking at home. I might try to experiment with some things each day as I take a few out of the container in the refrigerator. But even without any decorations Bonnie will still gobble them up. She's not picky!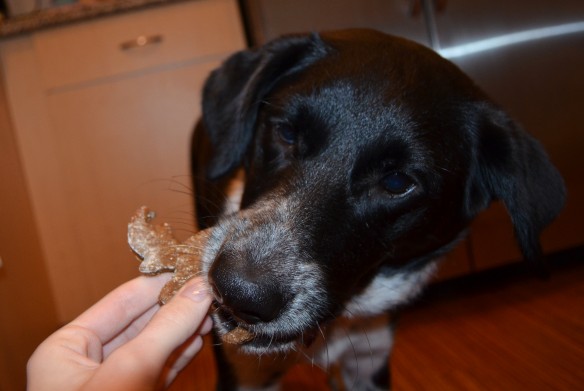 This recipe made me slightly under three dozen treats, so Bonnie can enjoy a taste of the holidays up until she has to go be boarded while we travel to Texas and Santa Fe. We are going to miss our little girl so much while we are away, but she is staying at a really awesome place where she can run in a big open area all day with all of the puppy friends she is going to make. No being stuck in a cage and sad all day. We are a little worried that she's going to have so much fun that she won't want to come back home to her everyday life (although we are pretty sure she is going to miss us based on the fact that she gets bouncy and super excited to see us even if we've only been away for 30 minutes at the gym).
Here Bonnie is waiting patiently for the ok to eat.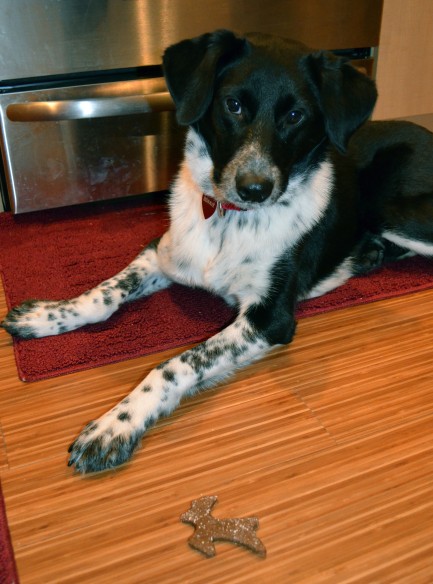 Not anymore.