Tandoori Chicken Enchiladas
Why, oh why, could we not have discovered the Red Lion Pub in Houston sooner? Someone recommended we eat there and try one specific dish that would change our lives. This someone was right. The chefs there are absolute geniuses for creating what is without a doubt one of the greatest dishes ever— tandoori chicken enchiladas. That's right. They have combined what is right with the world, gooey, cheesy Tex-Mex with the delicious and fragrant flavors of India into one out of this world dish. We only managed to eat at Red Lion once before we moved, but I know when we go back home, this place will be on our must-go-to list, because we are seriously craving these enchiladas.
Unfortunately for us, we were unable to find any recipes online that would allow us to recreate Red Lion's delicious dish. In fact there wasn't much evidence that anybody in the world but Red Lion actually has ever made this dish. Challenge accepted!
Our first obstacle was the enchilada sauce. Red Lion claims to use a special, homemade sauce on their website's menu that we don't even know where to begin in recreating it. Red Lion peeps, if you are out there, please give us at least a hint about what to do. We promise whenever we come to Houston to come back to your establishment and stuff our faces with the real deal. Whatever, though not like Red Lion's, our sauce was damn addictive.
Fortunately for us Guy Fieri visited Red Lion on the show Diners, Drive-ins, and Dives and spoke with some people in the kitchen about how they prepare their tandoori chicken quesadillas which use the same chicken recipe as the enchiladas. We watched what I'm sure is an illegal video from the show posted on youtube and found out a little bit of information we used to as we began our copycatting.
First we seasoned the chicken with cayenne pepper (for a little Texas kick as we learned in the video), salt and tandoori seasoning, and cooked it up on the stove with some chopped onion. We decided not to bake the chicken like they did in the video because frankly, we were hungry and not patient enough to wait for the oven to heat up and cook the chicken while then still having to wait for the whole thing to bake for another 30 minutes. No thank you. Once that was cooked up, we pulled it apart like they do in the video, so the end result is still the same!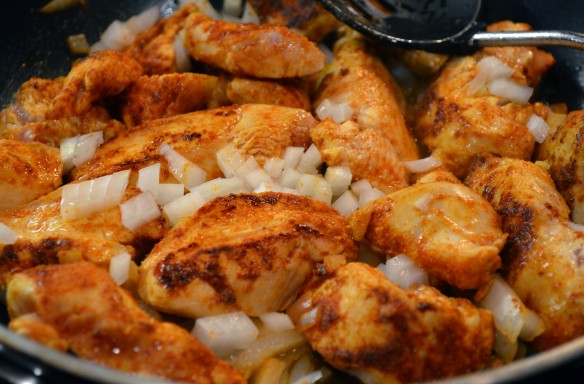 While the chicken was browning up, we started creating our own sauce, which let me tell you turned into just dumping things into a pot on medium heat and tasting every so often. We decided to make a yogurt based sauce, so that was the main ingredient. Then we started adding whatever else we had in the fridge that sounded good, which ended up being some butter, sour cream, tomato paste, milk, and half-and-half to thin the mixture. We spiced it with salt, pepper, and more cayenne pepper and tandoori spices. The sour cream was the last ingredient we added, and we felt that's what sent the sauce over the edge. Before that it had been slightly missing something, but once that was added, it reached perfection.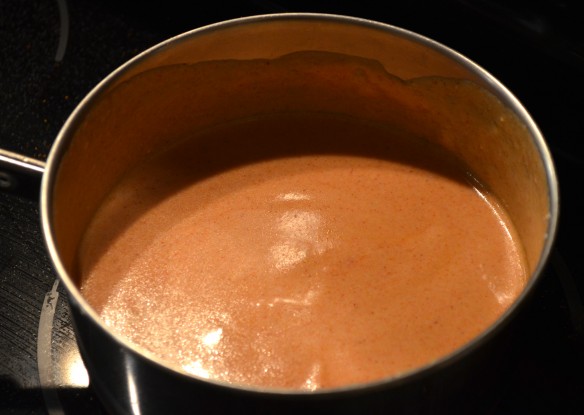 We put some of the chicken in a flour tortilla along with a drizzle of the sauce for moisture and a sprinkling of mozzarella, rolled it up.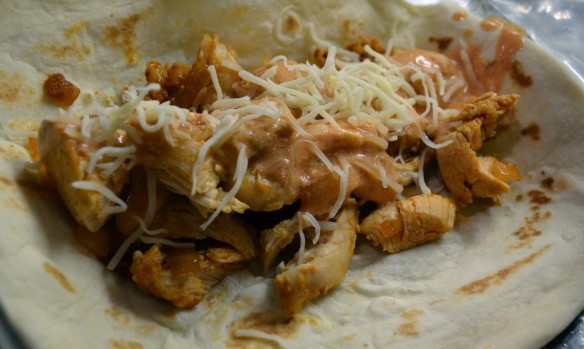 We continued rolling until we had created five beautiful enchiladas.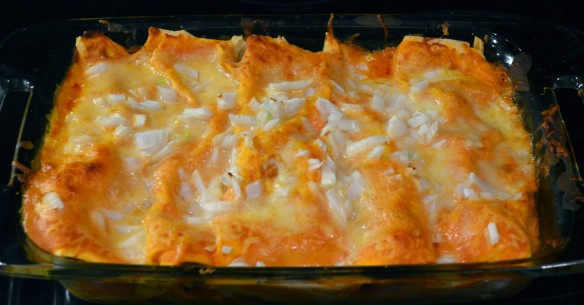 We covered those enchiladas with more mozzarella and raw, chopped onion, then put them in the oven to bake for 25 minutes at 375°.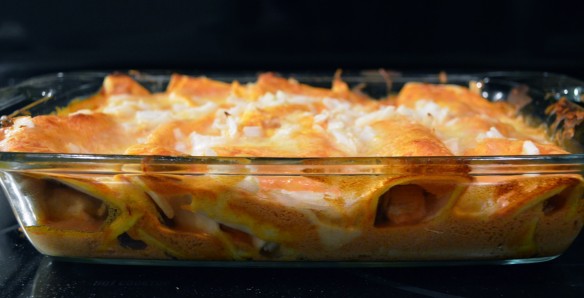 The wait was excruciating.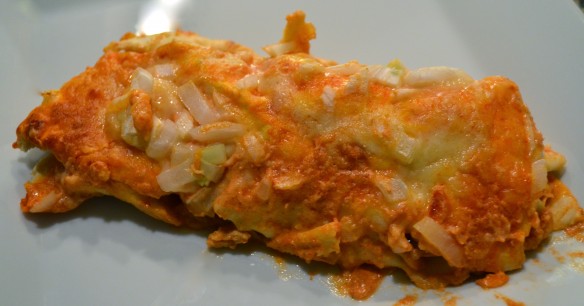 But worth it. Oh my god, good, are the only words I can think to describe this enchilada even though it doesn't look like much. You must go make and eat this. RIGHT. NOW.