Tex-Mex Baked Pasta
Baked pastas are the best kinds of dishes to serve when you have company. You can prepare the dish before the guests arrive, then just pop it in the oven when they arrive. You can still have a nice meal without having to cook while your guest are there and without having to perfectly time finishing the meal to coincide with their arrival, which can be just plain hard. Plus if they are a few minutes late, all of your hold can go right down the drain, when you serve cold food.
We had some company in the form of a puppy playdate with our neighbors. I looked up tons of different baked pasta dishes, and finally I found the inspiration I was looking in this Tex-Mex pasta bake, which we ended up adapting slightly to our tastes. We wanted to impress with our mad cooking skills, so we didn't want to serve something too simple, but at the same time we didn't want something too risky or over the top that might not turn out how we expect. We also wanted to keep the flavors fairly simple. You really can't go wrong with a dish consisting mostly of pasta, beef, and cheese. Also I like that we served a dish with Tex-Mex flair, paying homage to our home state.
We browned an onion and some minced garlic with lean ground beef, sprinkled with taco seasoning in a large pan.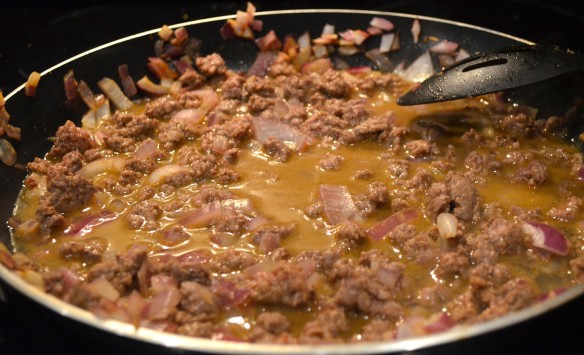 Next we added a cup of chicken broth, two 15 ounce cans of diced tomatoes with green chiles and one 28 ounce can of diced tomatoes into the pan (instead of processing whole tomatoes with jalapeno, since our food processor wouldn't fit that much stuff).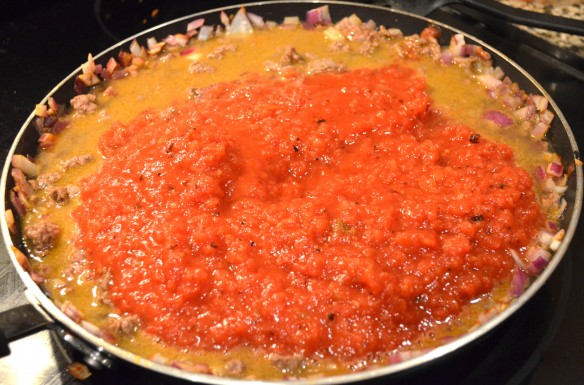 Since this dish is supposed to serve 8, we had to stop midway through and divide the meat and sauce mixture between two pans, so it didn't overflow. We were already using our biggest pan. Fail. I can't imagine having to cook for this number regularly.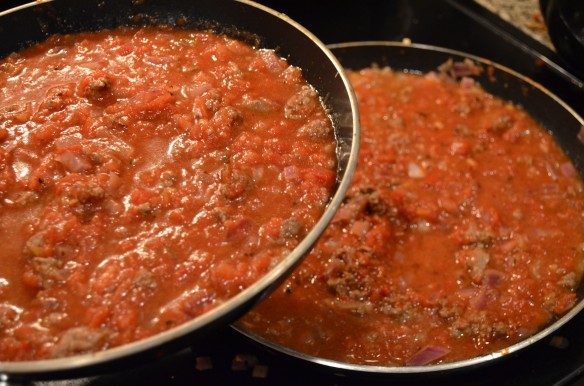 We boiled a pound of penne pasta while waiting for the meat and sauce mixture to cook. Next we added two cups of frozen corn, three ounces of cream cheese, 1/2 cup of half and half (instead of heavy cream called for originally), 1/2 cup of shredded Monterrey jack, 1/2 cup of shredded cheddar, and a few pinches of salt, pepper, and garlic powder to season.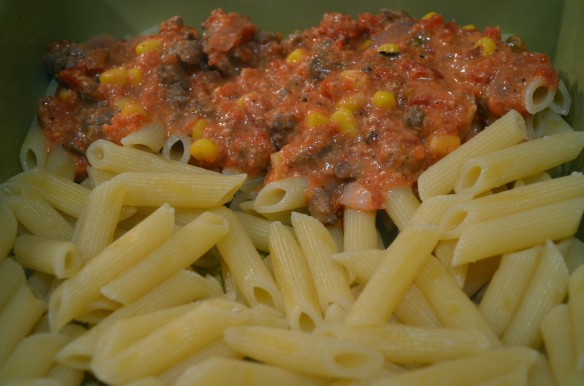 We dumped the cook pasta in our 9 x 13 rectangular baking dish and poured the cheesy meat sauce over all of it. Finally we sprinkled the top with a cup's worth of mixed Monterrey jack and cheddar and popped the dish into a 350° oven for 30 minutes. When we pulled this out of the oven, it smelled like a little slice of Tex-Mex home. This dish was a hit at our get together and made great leftovers for Dustin to take to work.