(Top Pot) Doughnut Bread Pudding
I have been wanting to make this forever but have been waiting for the perfect occasion. We wanted to have our own little holiday celebration together with Bonnie before we head back to Texas (and Santa Fe) to visit family, and doughnut bread pudding sounded like the perfect breakfast to serve on our faux-Christmas morning where we exchanged our gifts to one another.
We picked up some raised, yeasted doughnuts (no cake) from Top Pot the day before—  a cinnamon twist, plain glazed rings, an apple fritter, and a maple bar. They were out of apple fritters that morning, but luckily Dustin got off from work a few minutes early that day and was able to pick one up. Bread pudding saved! We left the doughnuts in the box overnight, so they'd be a little stale. Don't worry, we also ate fresh jelly filled doughnuts from Top Pot the morning we went to celebrate Hanukkah, so we didn't let everything go stale.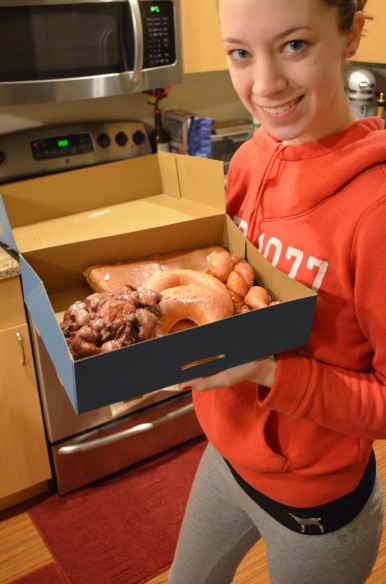 The morning of, we heated the oven to 350° and got the bread pudding prepared. First, we tore apart the donuts and layered them in a 9" x 5" pan sprayed with non-stick spray. We also made a mixture of 3 eggs, 1 cup of evaporated milk, a splash of eggnog (or half-and-half if you don't want a Christmas-y flavor) 1 tablespoon of cinnamon, 1 teaspoon of vanilla extract, 1 1/2 ounces of dark rum, 1/4 cup of golden raisins, and 1/4 cup of cane sugar and poured it all over the cubed doughnuts.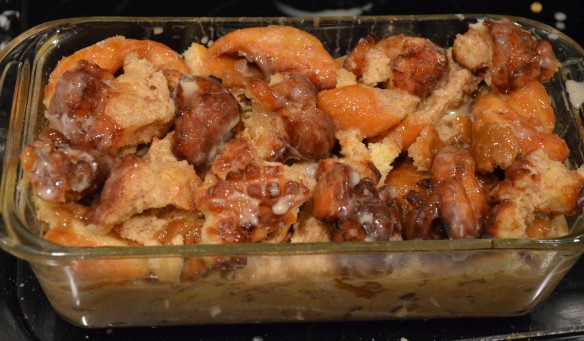 The hardest part of making this breakfast/dessert was waiting the forty-five minutes it took to bake in the oven. Fortunately while it was in there, we were able to open our presents!
Once it came out of the oven, we let the doughnut bread pudding cool for ten minutes while we made the icing— a simple mixture of 1 cup of powdered sugar, 1/2 tablespoon of hot water, and 1 teaspoon of vanilla extract. Fun icing variations might include eggnog or rum flavorings.
We drizzled our icing on, snapped a quick picture, and then went to town eating it. This is the ultimate bread pudding. I'm pretty sure you don't get any better than this. The texture was perfect (putting a layer of the apple fritter on top gave the top a really nice crunch while the inside was soft and moist) and the taste was superbly sweet— a combination of the best parts of doughnuts and bread pudding. I promise you'll want to go back for seconds even if you slice yourself a generous portion to begin with. I know from experience.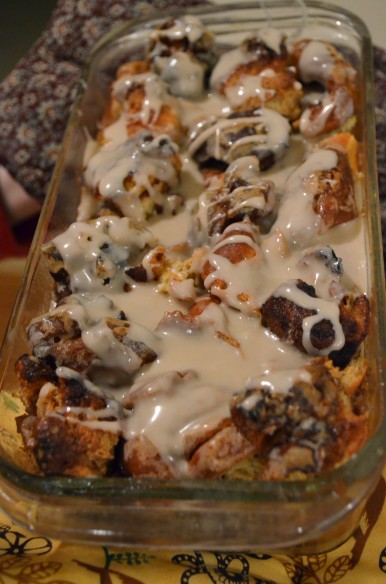 What a fabulous Christmas morning breakfast! You can throw it together and open presents while you wait.