Barbecue Chicken Pizza
The last time we ordered takeout pizza, we faced a dilemma about what pizza to order. We narrowed our topping choices down to our traditional favorite of pepperoni, basil, and black olives, chicken and bacon with ranch dressing, and barbecue chicken. After much deliberation we settled on the pizza with ranch dressing. But ever since that moment, I've been waiting to make a barbecue chicken pizza of my own.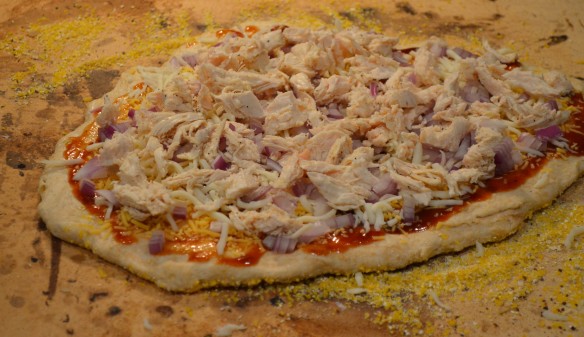 It's a really simple pizza if you already have precooked chicken. We didn't have precooked chicken, so all we did was place one small chicken breast in boiling water for twenty minutes and then shredded it and seasoned with salt, pepper, and lots of granulated garlic.
Once you have your chicken, all you need to do is stretch out your dough (store bought or homemade although homemade always tastes best) on a pizza stone covered in cornmeal. Next cover the dough with your favorite barbecue sauce. We used the honey barbecue sauce from Buffalo Wild Wings that we've stockpiled to make our wings.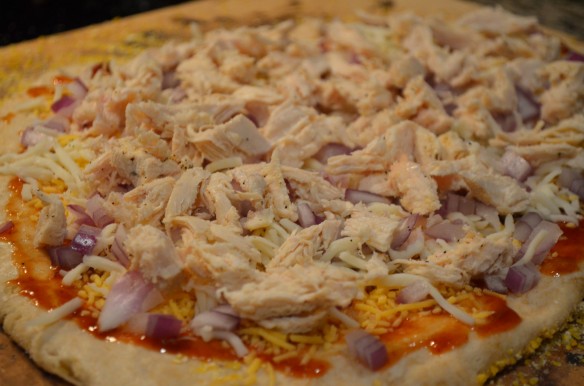 Next sprinkle a blend of cheddar and mozzarella cheeses over the sauce and add some chopped red onion.
Bake in a preheated oven at 425 for 10 minutes (or an extra few minutes if you like crispier crust). Garnish with green onion and cilantro and you have a really easy meal. I premade the dough and cooked the chicken earlier in the day so we could quickly put the pizza together and bake it after a trip to the gym.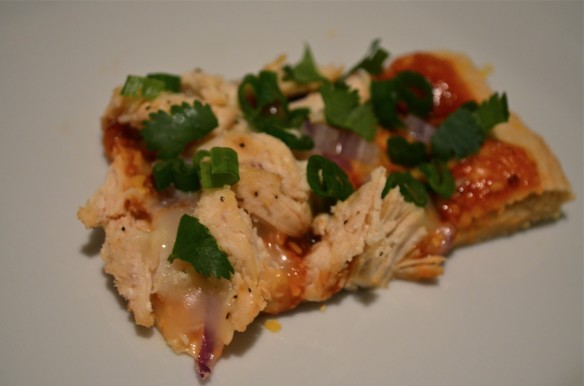 There's nothing better after a hard workout than freshly baked, in taste and to undo all of your exercising efforts!