Chickpea and Dumpling Soup
I really like the whole Meatless Monday concept. Replace one meat-filled meal a week with a vegetarian option to reduce meat consumption (and saturated fat) in order to focus more on vegetables and whole grains. We don't necessarily do it every week, but we've definitely been eating more vegetarian meals as we become more adventurous in our cooking. Having more Meatless Mondays (or any other day of the week) is a New Year's Resolution I'm setting this year.
I'd really love to be a vegetarian, but unfortunately I crave big juicy cheeseburgers way too badly. And not the McDonald's kind. I'm totally thinking of a perfectly medium-rare Seastar burger with porcini mushroom spread oozing out right now. We'll have to hit up happy hour there sometime soon. I feel like a hypocrite sometimes because I feel so guilty when I think about the cow dying to make me a cheeseburger, but I really don't want to give up all of that tastiness. I try not to think about it too much; however, Dustin thinks its funny to constantly remind me of my hypocrisy, creating somewhat of an endless cycle of guilt in my mind. I really must learn to love veggies.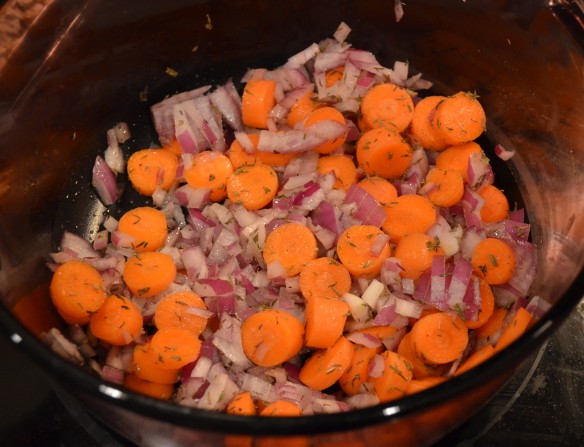 I saw this recipe for chickpea and dumpling soup (yes chickpea, not chicken) by Daphne Oz on an episode of ABC's The Chew, which I had never watched before but happened to catch when I was flipping through the channels one day. The concept of a talk show focused on mostly healthy eating (that airs at noon, at least here) is interesting and totally the kind of thing I'd probably be into if I ever watched daytime TV. I figured I'd give this recipe a try because using chickpeas instead of the traditional chicken to make the soup intrigued me. I love chicken and dumplings; I always ask my mom to make them when I visit home because they remind me of my childhood. This is an important dish to me, and let me tell you, I really didn't miss the chicken. The dumplings have really the star of this kind of soup anyways, but of course I have a somewhat unnatural obsession for anything containing dumplings. There's something about the texture I just absolutely love.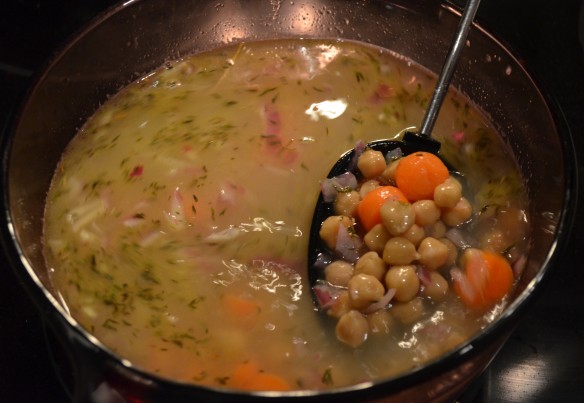 This was a really simple thing to make and it made enough for 4+ servings. We didn't buy all of the fresh herbs it called for, instead just using the dried herbs we had on hand and it still tasted great. The dumplings were made with cornmeal which was interesting to me, but I thought they tasted pretty darn good. I'm definitely a fan of incorporating chickpeas into this dish to make it vegetarian. Dustin said it reminded him of a soup his Bubbe used to make for him when he was young, so that was really nice to hear.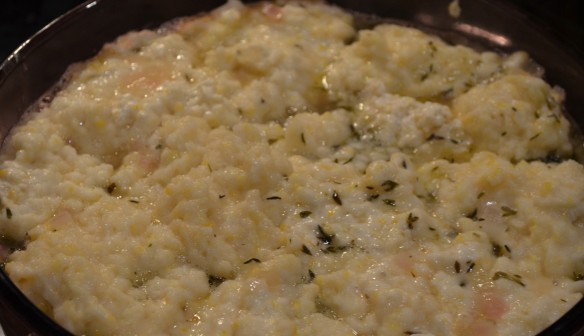 This soup was a perfect warm and comforting meal to serve on a cold snowy evening when you don't want to go out. Just make this soup and cuddle up on the couch beneath a warm blanket with your loved ones and you really can't go wrong! Just look at those pillowy dumplings.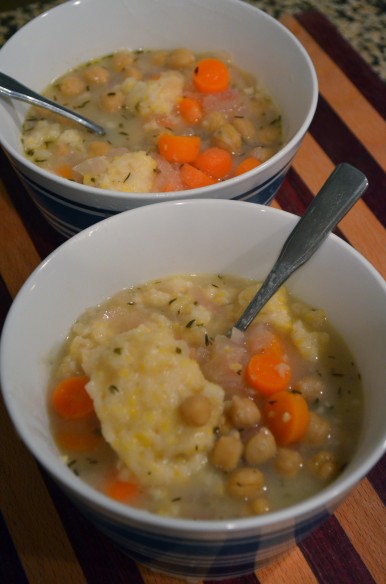 Happy Meatless Monday!