Cornbread Topped Chicken Pot Pie
I was looking through our kitchen cabinets trying to figure out how to get rid some of the stuff we have stockpiled. Unfortunately, we just don't have the storage space to have an awesomely stocked kitchen. I came across the small boxes of cornbread mix we bought around Thanksgiving but ended up not using and thought to myself, "how can we creatively use this?" Then it came to me. Cornbread would make an amazing topping for chicken pot pie.
I know Dustin is not crazy about chicken pot pie. When he thinks pie, he thinks dessert! But I find chicken pot pie to be one of my ultimate comfort foods, especially during the cold weather. I really love the creamy inside the texture of the topping. I don't eat it much because I know it's not a particularly healthy dish and for some reason it just seems difficult to make, but when I did a quick search to  look for cornbread topped chicken pot pie, I found this recipe courtesy of Betty Crocker that is surprisingly fairly healthy and easy to make.
We made a couple of changes— no seasoning salt, making the pot pies in cute individual ramekins, and using Jiffy cornbread mix instead. Sorry, Betty.
First, heat the oven to 400°. While the oven is heating, dice the chicken and the onion. Season the chicken with garlic and pepper and then cook the onions and the chicken in a 12-inch pan for about 5 minutes over medium heat.
While you are waiting for the chicken to cook, place a bag of frozen mixed vegetables in hot water to thaw. We used a mixture of carrots, green beans, peas, and corn.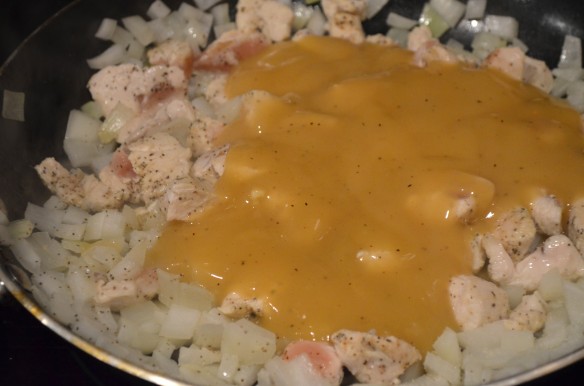 Next add a jar of chicken gravy and continue cooking until the chicken is no longer pink in the middle. The mixture will start to boil, at which point the temperature can be turned down to low to let the flavors meld.
While the flavors are combining, prepare the cornbread topping, which for us consisted of a small box of Jiffy cornbread and muffin mix, an egg, and 1/3 cup of 1% milk.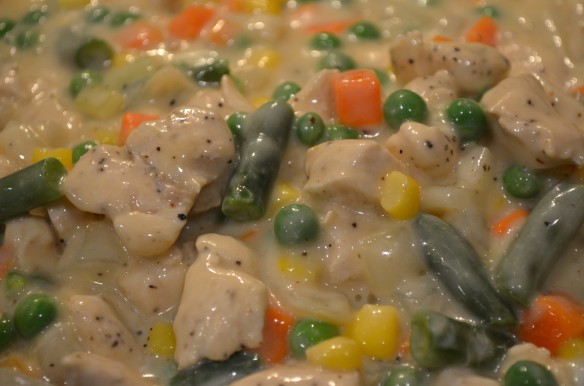 Once the chicken is cooked, remove from the stove and add the vegetables and approximately 2/3 cup of low-fat sour cream to give the mixture is creamy, pot pie texture.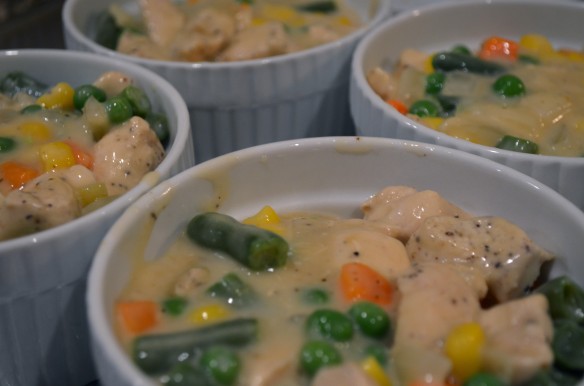 Ladle the mixture into four individual ramekins (we had a little leftover, but not enough for a fifth) placed on a cookie sheet and top with a layer of the cornbread mix. Add a sprinkling of Parmesan cheese to the top and place in the oven for 15 minutes or until the cornbread is golden brown. Transfer the ramekins to plates because they stay hot for a long time and serve.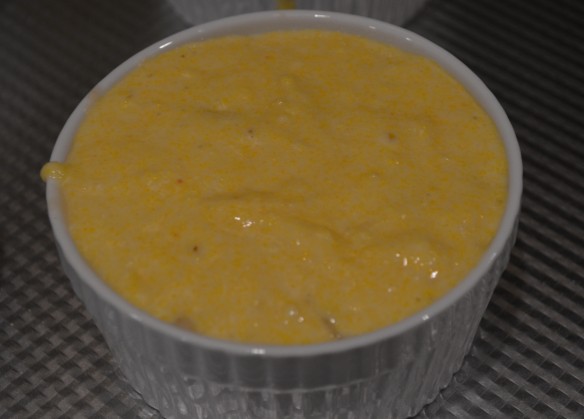 I was pretty impressed with this recipe. It was hearty, filling, and reheated well the next day for lunch. All I had to do was poke a few holes in the cornbread and place it in the oven at 375° for 20 minutes. Plus we most definitely got in a serving of veggies, something we'd like to do more of the course of the next year!