Lemon Ricotta Pancakes
Dustin and I had a fantastic brunch one Saturday morning last summer soon after we moved out here at Lot No. 3. I've been wanting to go back to get the delicious lemon ricotta pancakes I ate that morning, but alas we got busy trying different restaurants and their seasonal menu changed, dropping the lemon ricotta pancakes for pumpkin pancakes.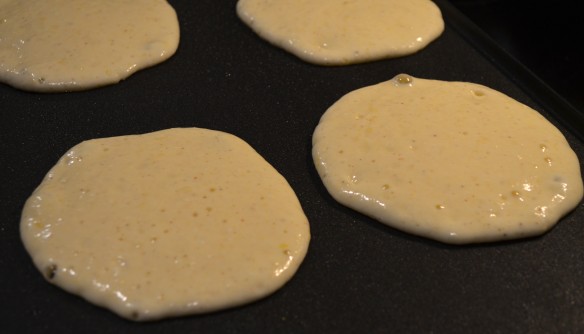 The pancakes were without a doubt the lightest, fluffiest pancakes I've ever tasted thanks to the ricotta cheese, and the lemony flavor was the perfect complement. I was pretty sure we could recreate those pancakes on our new griddle (the perfect and much needed accessory for making pancakes), and we did last weekend, making our very own light-as-air pancakes.
An online search yielded this recipe courtesy of our a favorite burger maker, Bobby Flay. We followed the steps exactly (minus using the lemon curd and garnishes). We instead served with maple syrup and garnished with strawberries. Our original plan was to make our own raspberry syrup in the Vitamix, similar to how we made the blueberry sauce for our Challah French Toast, but we decided to simplify since we had a lot of errands to run that morning and needed to hit the road.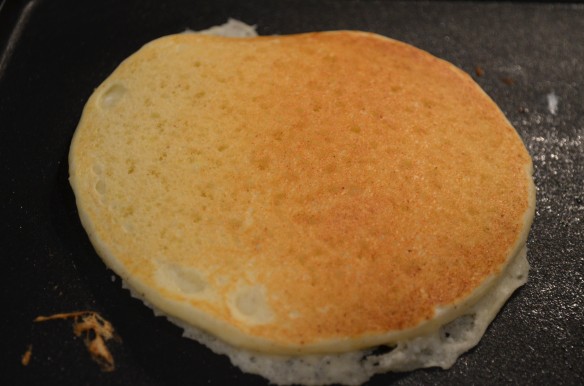 Using the new griddle was great. We were able to make a lot of pancakes at one time and they were much easier to flip since the sides of the pan aren't there to get in the way. Note— we used a 1/4 cup container to measure out the pancake batter, and we were able to create 11 pancakes, so the recipe served enough for 3-4 people, not 2 as it claimed.
I absolutely love fluffy pancakes, so these are a definite winner in my book. I began developing a cold the night before we made these, and I'm pretty sure there is no better breakfast food than homemade pancakes when you are starting to feel sick (and it's super cold outside).