Lower Fat Spinach and Artichoke Dip
I find the name for this dip amusing. With two vegetables in the name it has to be healthy, right? Spinach and artichoke dip is really a misnomer. The name should really be cream cheese and sour cream and mozzarella dip, as the spinach and artichokes are really secondary to all of that creamy, fatty goodness. Perhaps by calling it spinach and artichoke dip, we make ourselves feel a little bit better when we order this at a restaurant, as if maybe some of the calories will magically disappear. Alas, that is not the case.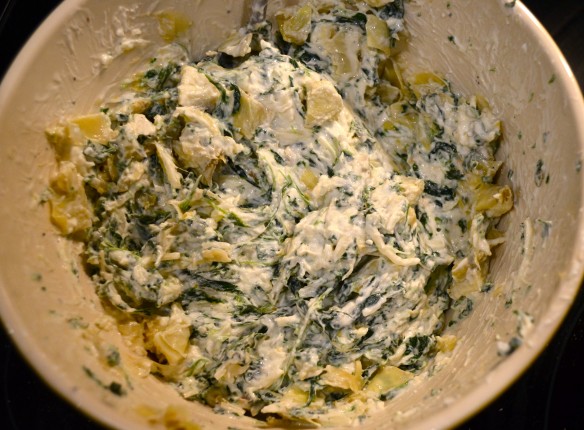 While by no stretch of the imagination can anything with a cream cheese base be considered health food, you can make spinach and artichoke dip healthier with all of the same flavor by using lower fat versions of the main ingredients. Last year for the Super Bowl I made this spinach and artichoke dip from Cooking Light. I thought it was pretty darn tasty, but Dustin swore he could taste the fat free cream cheese in it. Don't get me wrong. I think fat free cream cheese is pretty gross on its own, but mixed with the other ingredients, I couldn't tell the difference. This year, while watching the AFC and NFC championship games, I remade the dish using all 1/3 less fat cream cheese with a few other modifications, and Dustin proclaimed the results much better. The dish was a hit, and the perfect thing to bring to a Super Bowl party!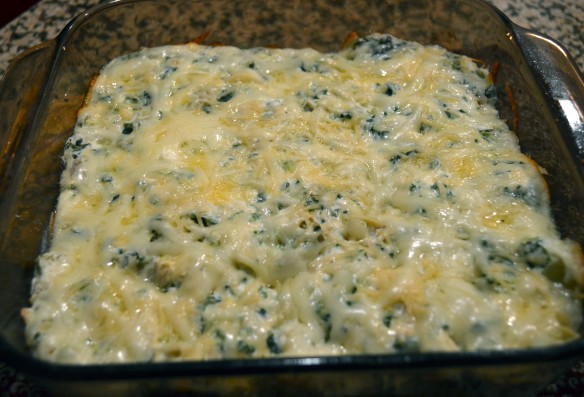 Lower Fat Spinach and Artichoke Dip
(adapted from Cooking Light)
12 ounces (1 1/2 blocks) 1/3 less fat cream cheese, softened
1/2 cup low fat sour cream
1 1/2 cups part-skim mozzarella cheese, divided
1/2 cup parmesan cheese, divided
4 cloves garlic, crushed
1/4 teaspoon black pepper
1 14 ounce can artichoke hearts, drained and chopped
1 10 ounce package of frozen chopped spinach, thawed, rinsed, and drained
Preheat the oven to 350°.
Combine the softened cream cheese and sour cream until smooth.
Add in 1 cup of mozzarella and 1/4 cup of parmesan along with black pepper and garlic and mix well.
Stir in the artichoke hearts and spinach until evenly distributed throughout the mixture.
Pour into 8"x8" baking dish and bake for approximately 30 minutes or until the top is slightly golden.
To be healthier, serve with baked tortilla chips. Dustin really like Juanita's tortilla chips, so we indulged a little for the game.