Pomegranate Bistro
Pomegranate Bistro in Redmond has become our new favorite brunch spot out here. We went with some neighbors on their high recommendation, and let me just say we were blown away. We've been back again since and are already planning another trip soon. We might be obsessed.
The first time we went when they were serving their Autumn menu. We began our meal by splitting an order of the Savannah Hot Puffs with a delicious dipping cream and a giant cinnamon roll. Both were excellent and got our blood sugar quite high.
As if that wasn't enough sugar for me, I ordered the candied ginger lemon oatcakes. The candied ginger was to die for. Dustin ordered the Croque Monsieur, as a reminder of our trip to France, perfectly cheesy with a perfectly cooked fried egg. The others in our party got the French Toast and the shrimp and grits (grits partially substituted for some yummy rosemary hashbrowns).
Of course no brunch is complete with out cocktails. Apparently this place has fantastic Bloody Mary's. We wouldn't know because neither of us can stand them. But Pomegranate has good regular mimosa and the Man-Mosa, a full pint of orange juice with Prosecco on the rocks with a floater of Patron Citronage.
Brunch was awesome, and rightfully so, we were pretty full the rest of the day.
The next trip to Pomegranate was not quite as indulgent, and the menu had changed to Pomegranate's winter offerings. We got so wrapped up in conversation that we forgot to order any appetizers. But no worries, as the food came out really quickly.
Dustin ordered the chilaquiles with lime creme and queso fresco, and while not what he was expecting, he said they were great and the eggs on the side were perfect. I ordered the seasonal Chocolate Orange Brioche French Toast with the most amazing spiced whipped cream. It came with two enormous pieced of bread that I took half home as leftovers. See below.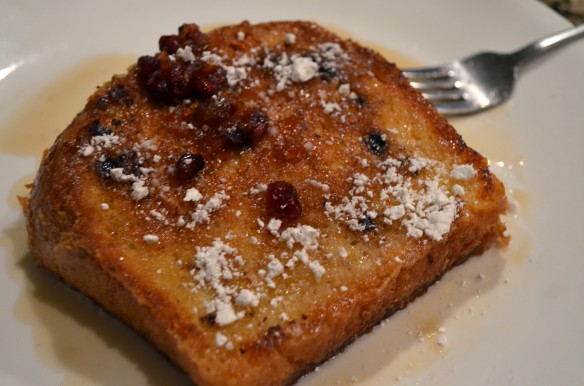 The greatest part about Pomegranate might be the presentation of the food. Everything looks impeccable and artfully arranged on the plates that you want to order everything as you see it brought out. We need to go back several times before they change their menu again, so we can try everything we want before these dishes disappear. Their breakfast burritos looked scrumptious. Fortunately, one of the things we'd like to try, the Pom Benedict appears to be around all year, so we're good on that front. The Pom Benedict appears to be one of their most popular dishes, and we were told it is fabulous as well. I'd believe it based on our experience with the other food and the great presentation.
But perhaps the highlight of Pomegranate Bistro is the Top O' The Mornin', a latte with Jameson whiskey and Bailey's Irish Cream served in a huge mug that lasted the entire meal. I don't even like whiskey, and I thought this drink was delicious. These were the only alcoholic beverages ordered this time around, and I'm sure they will be the only ones we ever drink at Pomegranate.
I would totally recommend this place to anybody. The food is fabulous. The atmopshere is relaxed and unpretentious. Pomegranate Bistro makes an absolutely fabulous brunch. We probably should try their dinner menu as well, but I don't want to risk ruining the magic of their brunch.