Seafood Lasagna
This lasagna recipe has sounded amazing to me for quite awhile now, but I could never bring myself to make it because it's drenched in Alfredo sauce— delicious but ridiculously unhealthy.
Finally I took the time to search out a "healthy" Alfredo-like sauce recipe, which Dustin declared would be a disaster. But once again he had to trust me because I told him I was making it as a sauce for seafood lasagna for dinner one night whether he liked it or not. I decided to be nice and omit the mushrooms the original recipe called for even though I love mushrooms; Dustin always picks them out. Much to his credit, he ate this lasagna with the "healthy" Alfredo sauce, and he COULD NOT STOP talking about how delicious it was. He seriously told me like five different how awesome it was.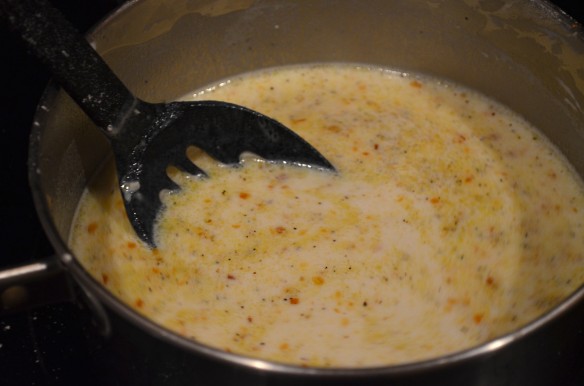 First I made the sauce, making one slight modification. I doubled the parmesan cheese to 1 whole cup. Some of the reviews complained this recipe wasn't as cheesy as they expected, and I didn't want Dustin to have any chance to complain, so I upped the cheese. It was a success. This sauce didn't taste exactly like Alfredo sauce, but the flavor was good in it's own right and particularly creamy considering it was made with milk.
Next I added a pound of shrimp and about 1/3 of a pound of fresh sea scallops, chopped, to the sauce and heated the sauce for another approximately eight minutes until the seafood was cooked.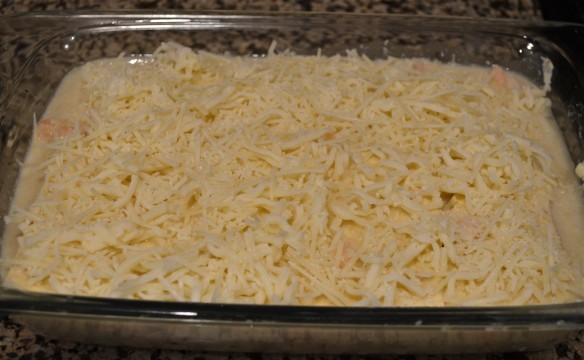 I heated the oven to 350° and began preparing the lasagna in a 9" x 11" glass baking dish. I used no boil lasagna noodles because that's all our grocery store had stocked, and I have to say I was really impressed with how they retained their texture during baking. Usually when I make homemade lasagna, the noodles get really soggy, but with this lasagna, the noodles held firm like the lasagna at good Italian restaurants.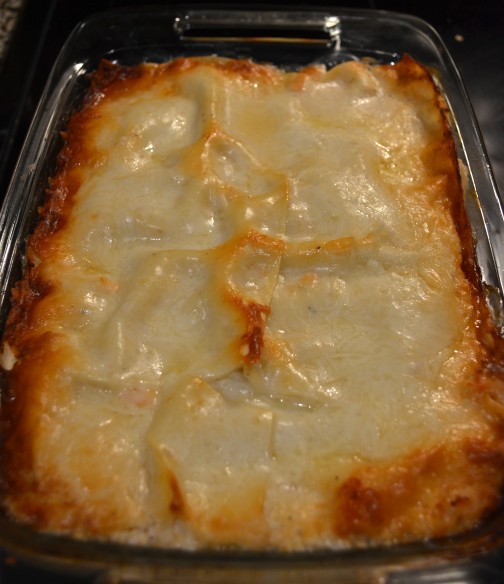 Then I spread a layer of low fat ricotta cheese followed by a layer of the seafood and sauce. I repeated this layering of noodles, ricotta, and seafood sauce once more followed by another layer of noodles, a thin layer of just the sauce (no shrimp or scallops mixed in) followed by a healthy layer of mozzarella and parmesan cheeses. I baked in the oven for 45 minutes (30 minutes uncovered and 15 minutes covered with aluminum foil) until the edges were brown and crispy and there was a heavenly aroma filling the apartment.
We cut it into eight pieces, so we had plenty of leftovers, and plenty to talk about over dinner because this recipe was pretty delicious.