Tapenade Pasta
I don't know how many times I will have to eat this dish before I become sick of it, but truth be told I'm not so sure that will ever happen. This pasta, or a variation of it, has constantly been on our menu for the last several years, and we still devour it every single time.
This love affair started one day when we decided to use homemade kalamata olive tapenade, one of our favorite things in the world, over some pasta when we were out of jarred marinara sauce and pretty much everything else in our kitchen. We sprinkled on a little parmesan cheese and some grilled chicken on top, and oh my gosh, it was out of this world. We were so pleased we started playing around with this dish probably once a week in the beginning (sad, I know). We tried all sorts of meats and cheeses and settled upon a few favorites.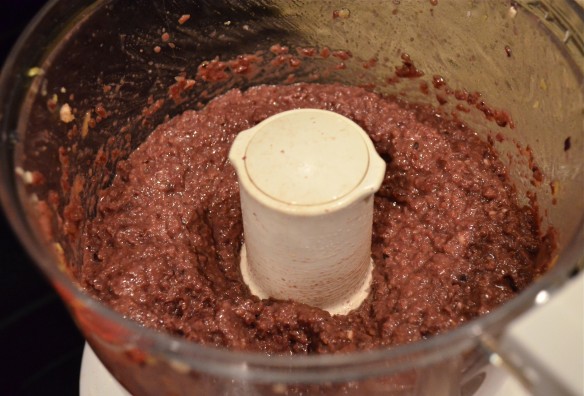 White meats and seafood pair best with the olive tapenade. We love it with shrimp or scallops, but our favorite topping is calamari rings if you can fid them. We almost always have parmesan or mozzarella cheese in the refrigerator that tastes great with this dish, but if we plan on making this pasta we will buy some goat cheese (the kind with the Mediterranean herbs is great) because in our opinion, the goat cheese takes the dish up a notch, from great to outstanding.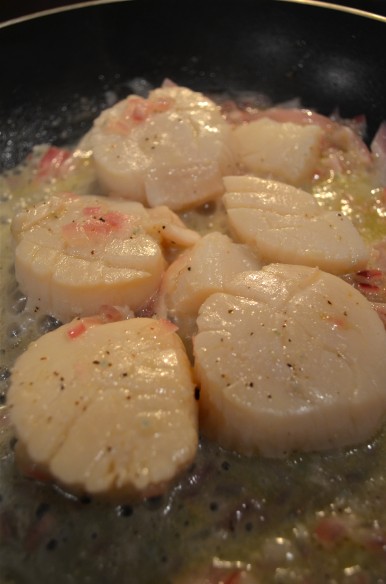 This meal is really quick too if you buy premade tapenade or make your own in advance. All you have to do to make the tapenade is dump some kalamata olives, a few dashes of olive oil, the zest and juice of a lemon, and how ever much garlic you can stand into a food processor and sample until you've balanced all of the flavors properly.
Then all you have to do is boil some water, add the pasta, and prepare your meat.
This time we used fresh sea scallops (with chopped onions for a little crunch) in a mixture of olive oil, lemon juice, and white wine vinegar until they were just cooked, which only took about seven minutes.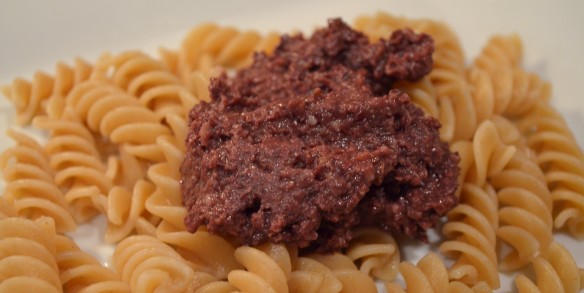 Dump some pasta on a plate with a heaping scoop of tapenade, crumble some goat cheese, place the scallops on top along with some of the chopped onion and the mixture the scallops were cooked in. Super fast and easy. Open a bottle of wine, and you have yourself a fancy, tasty (and easily customizable) dinner, totally appropriate for company (even if it isn't the prettiest of dishes)!