Baked Fries with Roasted Garlic Aioli
It's Super Bowl time! We are ready for some football, and FRIES! Yes, homemade fries!
Who knew making homemade, baked fries could be so delicious? Dustin and I thought the only way we'd ever get good fries was to get them at a restaurant (deep fried), but we have since changed our mind after trying a super simple tapas fry recipe.
All you have to do is cover sliced potatoes (we used Yukon Golds), skin on, in olive oil and spices (smoked paprika and oregano are fabulous) and bake at 400° for an hour. The skin gets this crispy texture usually associated with frying and there is a great smokiness to each bite that makes it difficult to stop cramming slices of potato into your mouth.
To make these fries punch with even more flavor, dip them in roasted garlic aioli. Roasted garlic makes everything taste better, and your kitchen will smell amazing.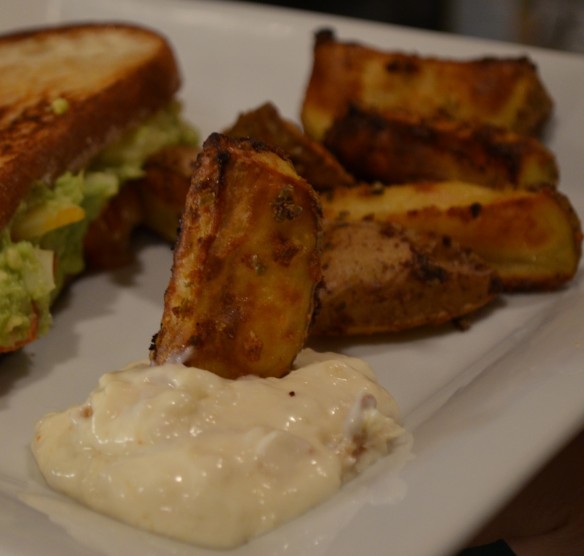 Roasted Garlic Aioli
2 bulbs of garlic
5 teaspoons mayonnaise
5 teaspoons sour cream
pinch salt
pinch of smoked paprika (optional)
Preheat oven to 400°.
Break individual cloves of garlic apart and place on baking sheet, and thoroughly coat with olive oil.
Roast garlic in oven for 25 minutes.
Mash garlic.
Add mashed garlic to a bowl and mix with sour cream, mayonnaise, salt and paprika.
Since our favorite team is out, today we'll be cheering for New York. Go Giants!