Brown Butter Butterscotch Blondies
Try saying that five times fast! I love the alliteration, but that's probably just the English nerd in me.
These blondies are inspired by a dessert that Dustin's Bubbe used to make him when he was a kid. We've made it before using a chocolate chip cookie mix, baked into bars with butterscotch chips folded in. I wanted to make this treat again for nostalgic purposes but this time I wanted to make it completely from scratch (using browned butter, too).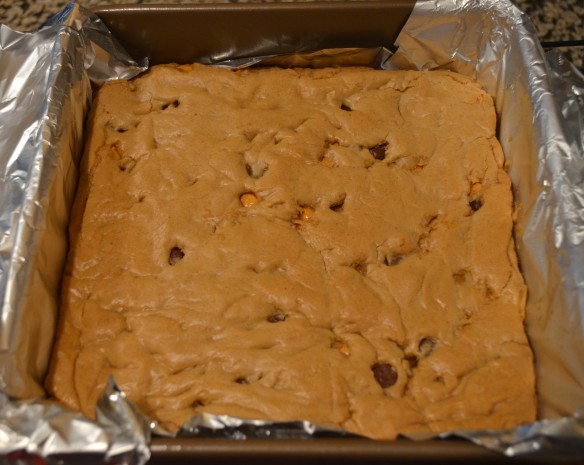 I really like blondies. They tasted like chocolate chip cookies, but have the texture of a brownie. Then I wanted to add butterscotch to top it off. Butterscotch plus browned butter = amazing buttery heaven!
I found a recipe for "infinitely adaptable" blondies on Smitten Kitchen (adapted from How To Cook Everything) that was super easy with only a few ingredients. I made a couple of changes by using browned butter, and I added approximately 3/4 teaspoon of baking powder to make them a little fluffier with a more brownie-like texture since that was mentioned in some of the comments. I added 1/4 cup of chocolate chips and 1/2 cup of butterscotch chips.
I baked for 22 minutes although next time I think I will cook a little less. I like doughier middles, but we were serving these for company and I wanted to make sure my blondies weren't undercooked.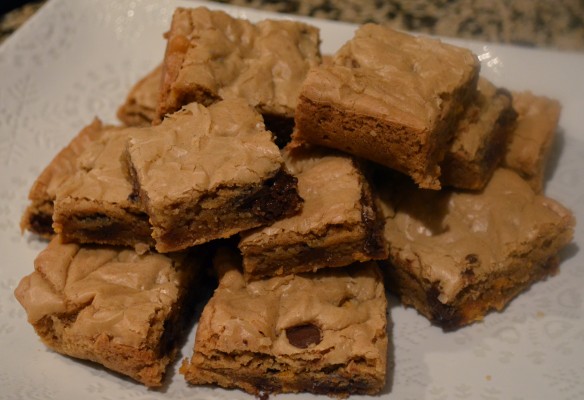 I hope they fondly reminded Dustin a little of his Bubbe and brought a smile to his face. The joy and memories are often the best part of baking, even better than the treat itself.