Chicken Caesar Salad Sandwiches
I know Dustin was a little disappointed we didn't go all out on with our traditional Valentine's Day meal, omitting the Caesar salad. I hope these sandwiches can offer him a little consolation. They maximize the best parts of a chicken Caesar salad— chicken, Caesar dressing, and parmesan cheese, while minimizing the more boring parts (i.e. lettuce).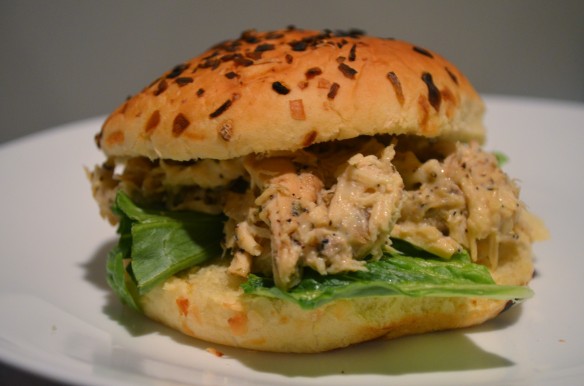 These sandwiches, slightly adapted from Sweet Treats and More might be the easiest thing ever to make. Cook a pound of boneless, skinless chicken breasts in a 1/4 cup of water on low for four hours in a crockpot. After four hours, shred the chicken in the crockpot, mix in 1/4 cup of Caesar dressing (we used Cardini's light) and 1/8 cup of parmesan cheese and cook on high for another hour. Season with salt and pepper. Place the chicken on a bun along with another layer of parmesan cheese and a few pieces of lettuce (this is, after all, a chicken Caesar SALAD sandwich), and there you go!