Lightened Cod Chowder
Dustin and I've been talking about making a trip to San Francisco together for as long as I can remember. I've never been, but always wanted to go, and Dustin has been a number of times and has told me about all of the fabulous things to do and places to eat. We already have an itinerary planned out for a nonexistent trip. One of our plans is to go to Fisherman's Wharf and eat clam chowder in a bread bowl. I've never had clam chowder served in a bread bowl, and I've decided I'm not going to try it until I can have it in a freshly baked sourdough bread bowl in San Fran.
As much as we enjoy clam chowder, we don't indulge often thanks to all of that cream and butter. While much thinner than the real deal, this recipe for cod chowder is reminiscent enough to satisfy a craving for some chowder without the extra calories. We stuck with the cod instead of opting for clams because cod is a heck of a lot cheaper at the grocery store, plus it was a little different for us, and we like trying new things.
As we waited for the cod to cook, we prepared our veggies— carrots, onion, and Russet potatoes.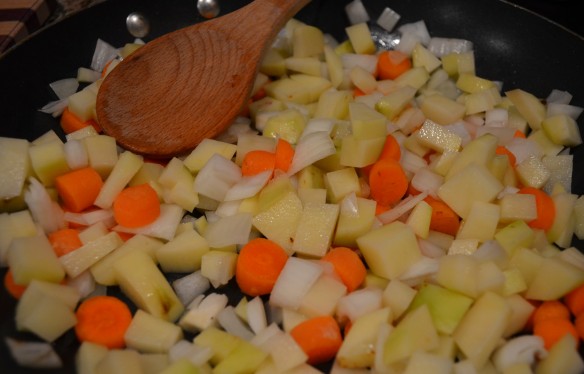 We created the milk based broth and let it simmer for awhile before we added the cod back in.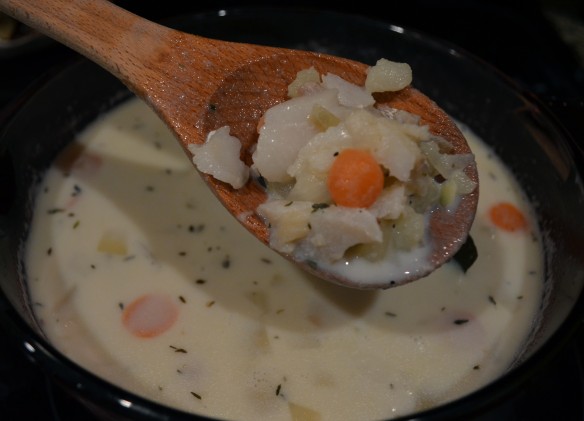 Top with turkey bacon and crushed pita chips with a lot of fiber (we used flaxseed and onion pita chips from Whole Foods) instead of oyster crackers.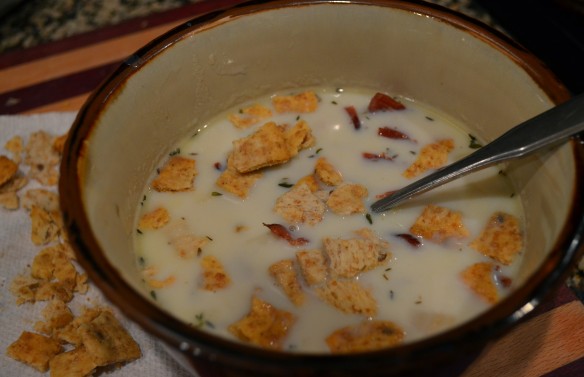 Delish healthy dinner (with leftovers for tomorrow's lunch)!