Peppermint Patty Stuffed Chocolate Cookies
Everybody, I'd like you to meet the perfect chocolate cookie. Perfect chocolate cookie, meet everyone. I think this is the beginning of a beautiful friendship.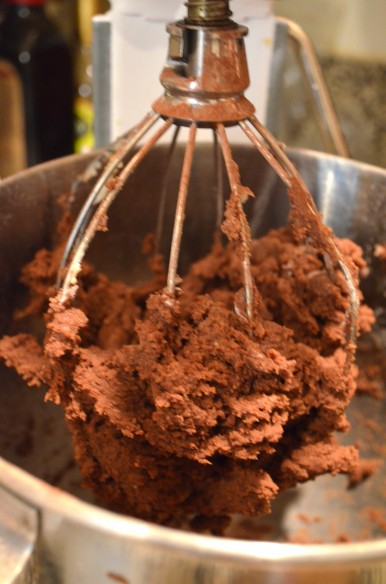 Dustin has been begging me to make brown butter chocolate chip cookies again, but I haven't because I want to try new things. He changed his tune after tasting these. I think this cookie is in a dead heat with those brown butter chocolate chip cookies for best cookie I've made so far. I think it depends on your mood.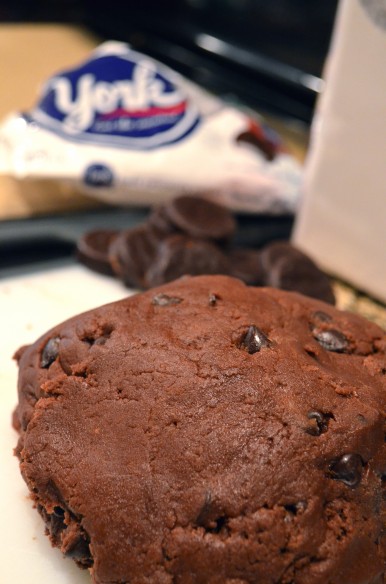 What these cookies are, are double chocolate cookies adapted from the recipe I found on My Baking Addiction with peppermint patties stuffed in the middle. Stuffed cookies are all the rage right now in the food blogging world, and I've decided to try my hand at making them. What's better than a delicious treat stuffed with another delicious treat? I think cookies and candy are just meant for each other in this case.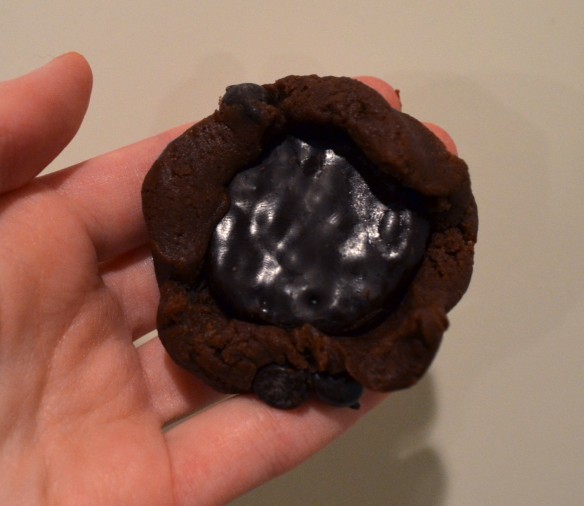 The double chocolate chip cookies alone are amazing, but then you bite into the middle with the peppermint patty and you are sent into sensory overload. The peppermint filling is oozing out of cracks and provides a super refreshing, cooling sensation in your mouth.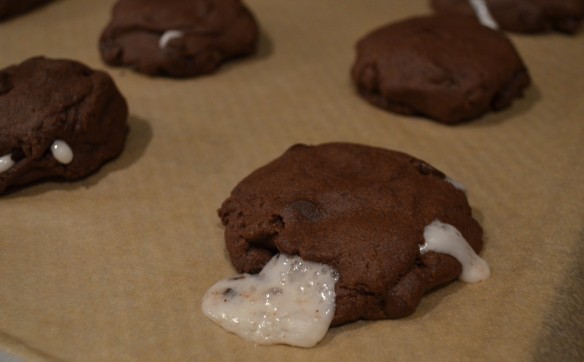 Oh my gosh, it's hard to imagine eating just one. And these cookies are not small.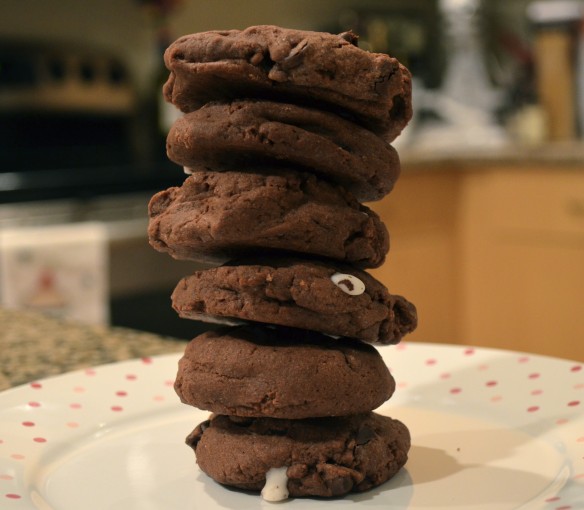 Don't they look awesome in the middle?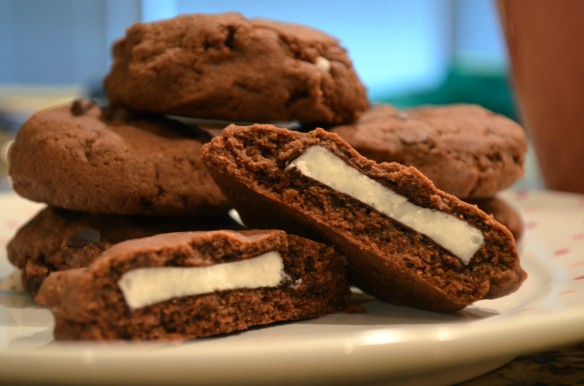 Peppermint Patty Stuffed Chocolate Cookie
(adapted from My Baking Addiction, adapted from Parsley, Sage, Desserts, and Line Drives, which was inspired by Levain Bakery)
(makes 20 cookies)
3/4 cup unsalted butter, cubed and cold
1 1/4 cup granulated sugar
2 eggs
1/2 cup cocoa powder
2 1/4 cups all purpose flour
1/4 teaspoon salt
1 teaspoon baking powder
1 1/2 cups semi-sweet chocolate chips
20 York peppermint patties
Preheat the oven to 350° and unwrap 20 peppermint patties
In the bowl of a stand mixer, combine the sugar and cold butter on medium speed until fluffy
Add eggs one at a time
In a separate bowl combine flour, cocoa powder, baking powder and salt
Add flour mixture to stand mixer bowl and combine
Fold in chocolate chips
Remove dough from bowl and work the dough with hands until a nice cookie dough consistency is reached
Remove a small piece of dough and flatten it out in your palm. Add a peppermint patty into the middle, fold up the sides around the cookie and add a little bit more dough to the top to form a seal around the patty
Place cookie on parchment paper lined baking sheet then bake in oven for approximately 15-16 minutes
I made Dustin take all of the leftovers to work, or I would have eaten each and every one on my own. No joke.