Shortcut Caramel Corn
What's better than a quiet evening, sitting on the couch watching a fun movie with your family and eating popcorn? All of that except make the popcorn caramel corn.
But instead of going through the process of making my own caramel syrup, I used the jar of fleur de sel caramel sauce from Trader Joe's we had sitting in the fridge, thus making shortcut caramel corn.
This stuff is super simple to make. First you need some freshly popped popcorn. We actually popped kernels in a brown paper bag in our microwave. We followed some instructions on the internet (1/2 cup of kernels), which turned out to be too much popcorn in the bag because when they popped, they began overflowing from our bag and made a hole in the bottom. Next time I think we'll only make 1/4 cup of kernels using this method.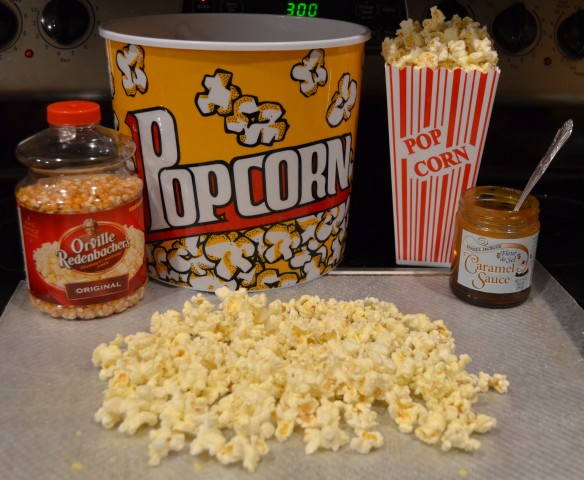 To serve two people, pour two cups of popcorn on a cookie sheet covered with wax paper. Spray with butter flavored cooking spray and sprinkle a little bit of sea salt on top. Drizzle three tablespoons of caramel sauce over the popcorn and take a handful of peanuts and toss on top.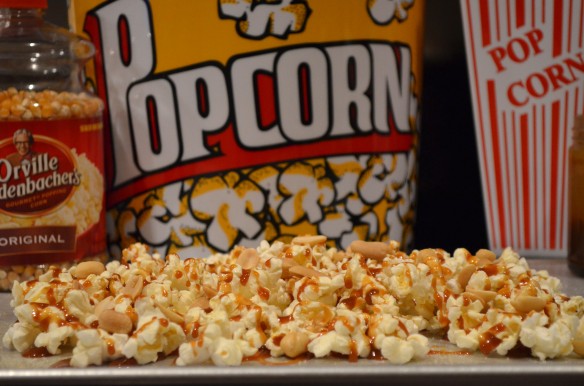 Bake in the oven at 300° for twenty minutes then allow to cool for five minutes before serving. This snack was the perfect, not too indulgent blend, of sweet and salty and made our lazy movie watching evening that much more enjoyable.