Toasted Nutella and Coconut Sandwich
I eat peanut butter sandwiches at least three or four days a week. I do like to vary them up slightly each day. I have several varieties of Peanut Butter & Co. butters, and sometimes I add some banana or a sprinkling of cinnamon, but even with these changes I recently got tired of my commonplace peanut butter sandwich, and decided to switch my spread to Nutella. But I didn't just want a plain Nutella sandwich and simply adding a banana reminded me too much of my everyday pb sandwich, so I set out to do something a little more creative.
I stumbled upon this recipe for a Nutella and coconut sandwich, and I knew this was the winning combination for lunch. It might not look like much in the picture, but let me say, fresh from the toaster oven, the chocolate and hazelnut flavors topped with unsweetened coconut made for the perfect light lunch. Coconut and Nutella are a great pairing, and I think this sandwich was an awesome and creative idea.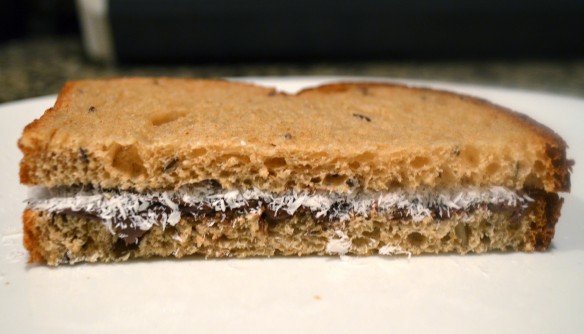 Now I'm wondering what else I have in my cabinets that I can slather on bread with Nutella to knock my socks off. Any suggestions?