Barbecue Beer Chicken
Made right in the crockpot, all you have to do for barbecue beer chicken is take a large, boneless, skinless chicken breast (about 1 pound), cover it in a thin layer of Worcestershire sauce and a bottle of your favorite beer, dump in your favorite spices, and wait while the crockpot does it's magic. We used garlic powder, onion powder, smoked paprika, salt, pepper, and red chili flakes, and boy did this meat turn out flavorful.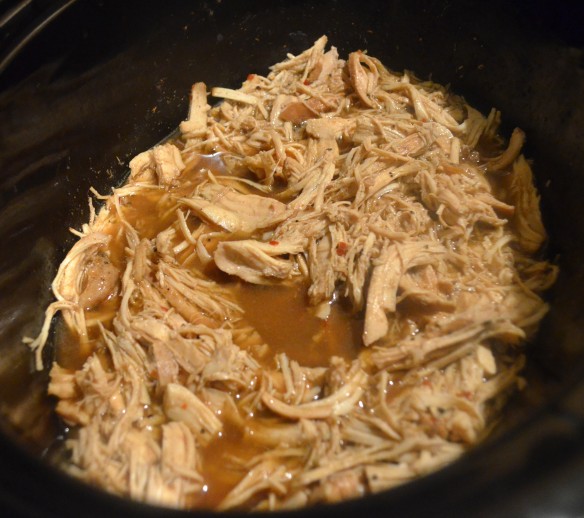 After five hours of cooking on low, we had a tender chicken breast that shredded into some of the most moist and succulent chicken I've ever tasted. We tossed with some barbecue sauce, put it on our the leftover hot dog buns we had from our bratwurst night, and sprinkled with cheddar cheese. This meat tastes really versatile though. Instead of tossing it with barbecue sauce, I could totally see adding some taco seasoning and putting it in Mexican food dishes like enchiladas or tacos, or I could see eating it next to a heaping pile of mashed potatoes. The possibilities are endless. In my book, beer equals bad for drinking, but great for cooking flavorful meat! This meat was so juicy it instantly soaked the bun and made eating this dinner a huge mess, with beer juices flowing everywhere.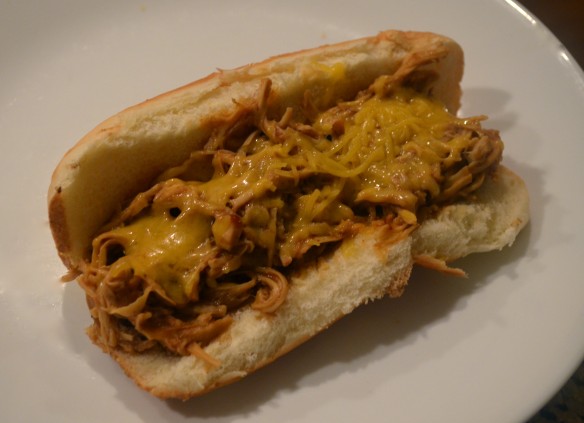 But hey, we're eating barbecue-style. You don't expect it to be neat. When you go to a barbecue joint in Texas they usually just roll out some butcher paper for you to eat off, so why should we expect it any different when we make it at home?