(Better Than) Red Lobster's Cheddar Bay Biscuits
I'd be perfectly happy eating at Red Lobster and not ordering a single thing off the menu, just eating their famous cheddar bay biscuits (especially now that I'm spoiled by some of the freshest and most delicious seafood in the world living in the Pacific Northwest). But those Cheddar Bay Biscuits were one of my favorite things to eat as a kid, so these biscuits come with a lot of nostalgia for me. I've been itching to make them since we were back in Houston, but never did. My mom had found a recipe and given it to me, which involved using Bisquick, as have most other recipes I have seen on the Internet. Given my new appreciation for making things from scratch, I really didn't want to use a boxed mix, so I kept looking until I found a promising recipe from Chickens in the Road that didn't involve the ubiquitous box of Bisquick. It's one of the first search results when you type in 'cheddar bay biscuits from scratch,' and by far the most delicious looking one I saw.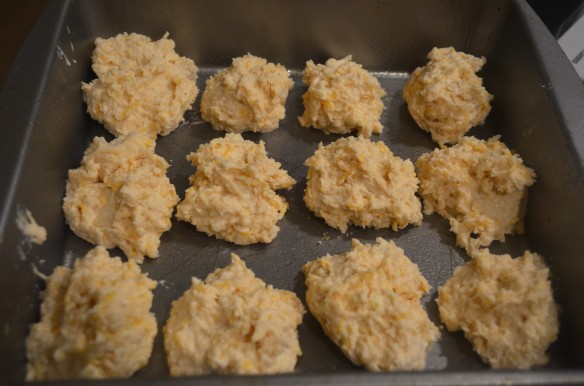 These are super easy to make. I had everything in the pantry without having to specifically plan for any ingredients (except I used smoked paprika instead of cayenne pepper and upped the garlic powder). I also halved the recipe to make only a dozen since it was just me and Dustin, but perhaps I shouldn't have, seeing how successful they were. As I write this, all of the biscuits have been eaten (not at one sitting, of course, rather two sittings), and Dustin is telling me to make them again. They looked awesome with their herbed, buttery, golden brown tops, and believe it or not they tasted better than they looked. They were were absolutely delicious— not as fluffy as Red Lobsters— but Dustin said he liked this texture better, and both of us agreed the flavor was far beyond the flavor from the actual restaurants' biscuits. Dustin proclaimed these biscuits the best I'd ever made.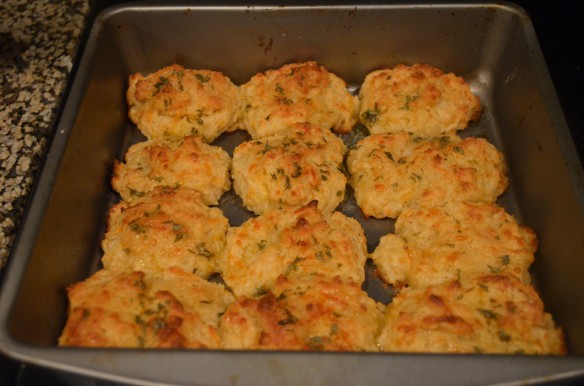 Being the nerd that I am, I actually planned our dinner around these biscuits. We obviously had to have some kind of seafood with them, so I got some really fresh looking crab cakes made in-house at our local grocery store. I decided to go with something really simple for the meal, so I could focus on the biscuits. I did make an awesome creamy avocado sauce that consisted of one medium avocado, 1/4 cup of sour cream, a splash of lime juice with salt and pepper to taste. It was reminiscent of guacamole but thicker and creamier. It was a perfect, cooling complementary flavor to the slightly spicy red pepper flakes in the crab cakes. I also think I saw Dustin dunking the biscuits in the sauce as well, so it must have been good!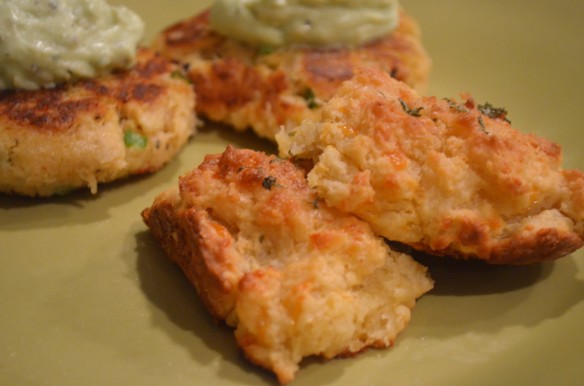 They look very similar to the biscuits, but those are the crab cakes in the back.