Bratwurst and Sweet Rice
Whenever I'd visit my dad's family when I was kid, German sweet rice was always served. It's really just a rice pudding, like every culture seems to have, but for me it will always be German.
I hadn't had it in forever until a few months ago when my mom went online and looked for a recipe and made it for us. Now I'm sure it is becoming a staple in their repertoire of recipes, as I know it was a constant on the menu as my dad was growing up. I know it has a special place in his heart stomach.
But despite my dad's German heritage, he is not a fan of most German cuisine. I on the other hand am a fan of Bratwurst served with saurkraut and onions, so Dustin and I had our own little German dinner night.
First I began making the sweet rice since it does take awhile and a lot of stirring. I just followed a basic recipe found online here, using arborio rice so it would be extra fluffy. Right before serving the rice, I added a teaspoon of vanilla to give the rice a little extra flavor. My sweet rice was a little thin, as I probably should have let it cook a little bit longer, but nonetheless, the flavor was perfectly sugary all the way through and cinnamony on top.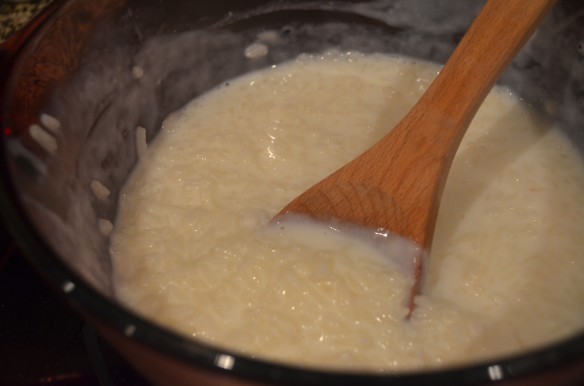 While the rice was cooking, I boiled a large onion and some bratwurst sausages in a bottle of Pilsner beer (plus enough water to cover the sausages) with some spices— granulated garlic, red pepper flakes, salt, pepper. I made sure to puncture the sausage in order to allow the sausages to absorb more of the flavors.
After boiling the bratwurst for 10 minutes, I moved the bratwurst to a large pan covered with a tablespoon of butter and grilled the sausages on each side for a few minutes until fully cooked.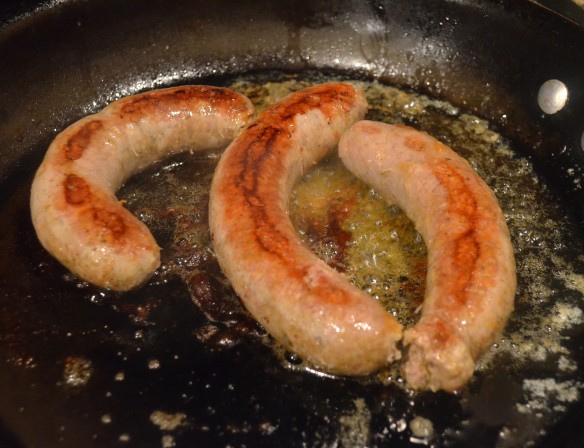 We toasted up some hot dog buns, added some of the onions cooked in the beer mixture, some saurkraut, and mustard along with the sausage. These bratwurst were quite tasty— extra juicy on the inside, a nice crunch on the outside, and the perfect hint of beer flavoring— and perfectly complemented by all of the condiments.