Chocolate Raspberry M&M Pancakes with Raspberry Sauce
No fruit pairs better with chocolate than a raspberry. That's why I impulsively bought a bag of dark chocolate raspberry M&Ms at Target during my visit to Houston. While snacking on the bag on the plane, I had the brilliant idea to make raspberry M&M pancakes, like chocolate chip pancakes but instead of chocolate chips, I would use raspberry M&Ms. I had to make myself stop devouring them, so I'd be able to experiment at lunch the next day. Then I had another brilliant idea to give the pancakes a chocolate base. Then I had the most brilliant idea to make a chunky homemade raspberry sauce to pour over the top. Talk about decadence!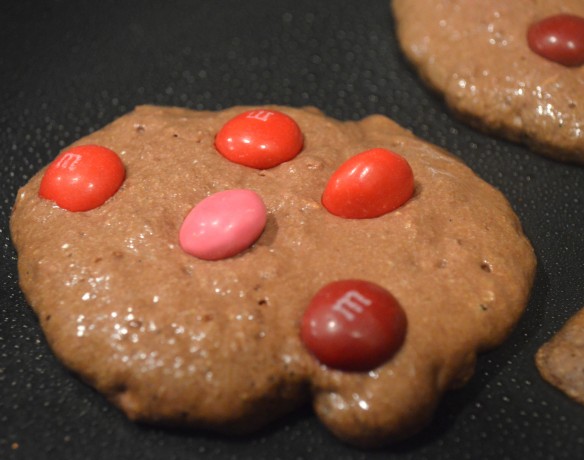 I've played around with so many pancake recipes over the past few months, and developed my own combination using healthier ingredients that I think is pretty tasty. I made this single serving for lunch one day, but it can easily be multiplied. I'm sure Dustin will want me to make them for him once he hears all about them!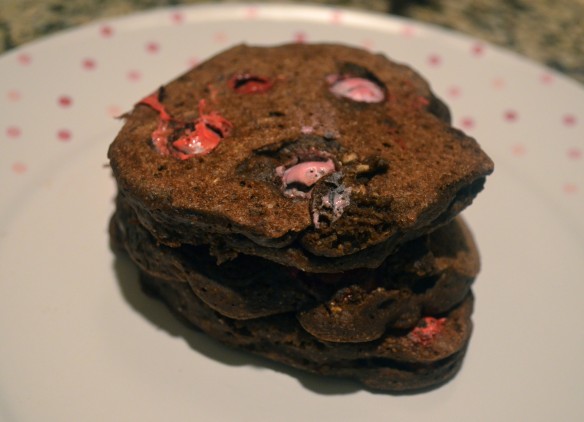 Chocolate Raspberry M&M Pancakes
1/4 cup whole wheat pastry flour
1/8 cup oats
1 teaspoon baking powder
1 Tablespoon cocoa powder
3 packets of stevia
1/3 cup almond milk
12-15 (or more!) raspberry M&Ms
non-stick cooking spray
Combine the flour, oats, baking powder, and cocoa powder in medium bowl.
Add almond milk and mix.
Pour large spoonfuls of batter onto non-stick pan sprayed with cooking spray over medium heat.
Cook for approximately 1 minute then press M&M candies into batter.
Flip pancakes when edges begin to bubble and cook for another couple of minutes until pancakes are cooked thoroughly.
Raspberry Sauce
1/4 cup frozen raspberries
1/4 teaspoon lemon juice
1 1/2 Tablespoons granulated sugar
Thaw raspberries.
Combine raspberries, lemon juice, and granulated sugar in blender.
Blend on low for just a few seconds.
Pour over pancakes.
Since there isn't much inside the blender, the mixture will stay pretty chunky, but that makes it even better! Drizzle with chocolate sauce for even greater decadence!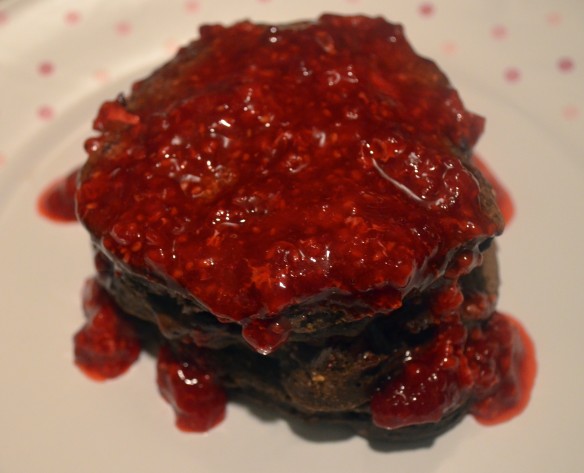 Dustin should be thankful I didn't eat this on the plane...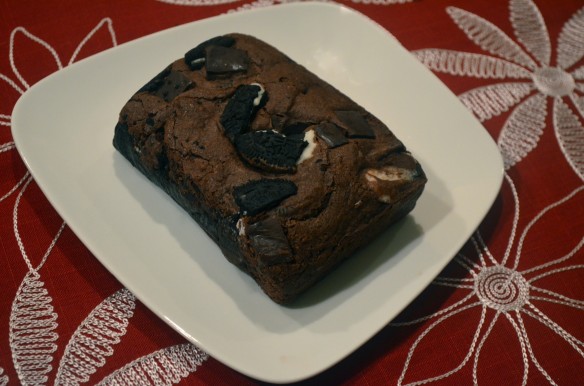 A giant and probably the most delicious brownie I've ever tasted from the Chocolate Bar in Houston. I bought the Oreo one instead of the regular chocolate chunk brownie to celebrate Oreo's 100th birthday that fell on March 6. I wish I had been able to find the special birthday cake Oreos when I was at Target...