Cinnamon Roll Oatmeal
I swear there is nothing better than freshly baked cinnamon rolls hot out of the oven. The only negatives are the calories and the time it take to make the cinnamon rolls. I will get to making them soon, but until then I'll stick with healthy cinnamon roll oatmeal. I like to think of it as a cinnamon roll in a bowl.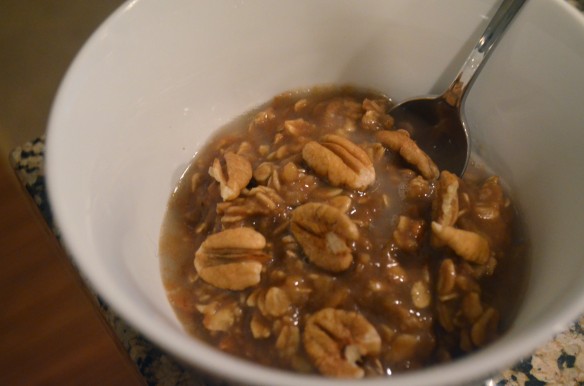 I cooked a generous serving of oatmeal with almond milk, stevia, vanilla extract and of course cinnamon until it reached the perfect thick oatmeal consistency I like. I created an icing to go on the top with almond milk and powdered sugar, but it was too thin and the oatmeal was too hot, so it just ran all on the top creating an extra sugary glaze. Topped with some pecans, it was nearly as satisfying as munching on a cinnamon roll and much more calorie and time friendly.