Guinness Cupcakes with Bailey's Irish Buttercream
In honor of St. Patrick's Day coming up, we made some boozy cupcakes to celebrate. It's amazing how well Guinness and chocolate pair together and make a delicious and moist cake. You don't really taste the Guinness (or else I probably wouldn't like it), but it gives the cake a flavor distinctly different from  your traditional chocolate cake. The batter was a little on the thin side for me, and I first worried I would have cupcakes with saggy middles, but they came up quite nicely in the oven.
The Bailey's Irish Buttercream frosting we used on top, however, very much tasted as though you were sipping on some Bailey's. Boy, was this frosting creamy and rich! "Killer" was the word our neighbor used to describe it.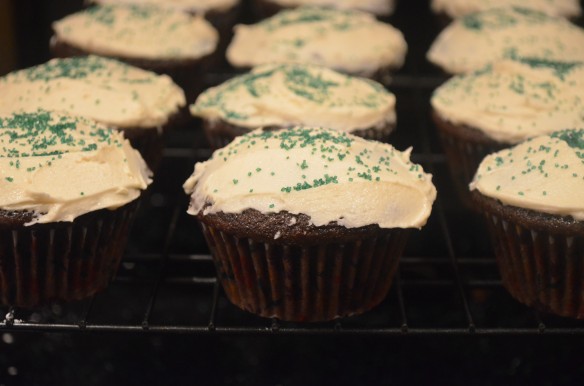 Topped with some green sprinkles, these cupcakes were a real crowd-pleaser. Afterwards I thought I should have added some green food coloring into the frosting for an even more festive look. Top with caps from Guinness bottles for extra cute cupcakes.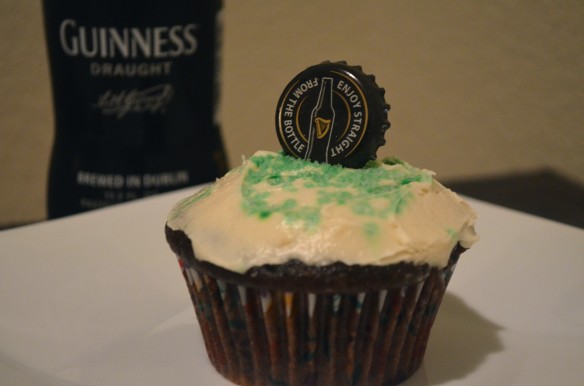 Next time, I'll have to try making Jameson's Irish Whiskey ganache to fill the centers, so I can call these Irish Car Bomb cupcakes, after the infamous drink that I will never try. I think I'd rather eat it in cupcake form.