Joël Robuchon Las Vegas
There aren't really words to describe eating at Joël Robuchon's Las Vegas restaurant. Describing this food as delicious is a gross understatement. All I can say is that eating here is an experience, and once you've done it you'll understand. The Chef of the Century's restaurant is the only 3 star Michelin guide restaurant in Las Vegas and is one of the top restaurants in the country if not the world. We decided to treat ourselves to this dinner that cost more than we normally spend eating out in an entire month, but we figured this was a once or twice in a lifetime experience, and that celebrating our upcoming wedding was the perfect time in our life to enjoy this fabulous meal.
Joël Robuchon does it right before you even begin your meal. They offer a complimentary gold limo to pick you up from your hotel to bring you to and from the restaurant. The limo must have had a previous engagement, so instead we were picked up from our hotel in a black Escalade and taken to the MGM Grand. We were dropped off at a special, private gated entrance to the Mansion at the MGM Grand. There were beautiful gardens and a fantastic fountain that surrounded villas that can be rented starting at $5,000 (!) a night as we were told by our escort to the restaurant.
We arrived in the intimate restaurant (apparently they only can seat 17 tables), which was absolutely gorgeous with beautiful royal purple booths, lovely curtains, an ivy covered wall, and a grandiose chandelier. The table setting was lovely as well with gold accents, aqua linens, Japanese stones, and a beautiful butterfly napkin ring. We took a few moments just to sit and revel in the beauty of the restaurant.
Upon our seating we were bombarded with menus— one for wine, one for cocktails, one for their prix fixe menus, and one for their 16-course menu degustation. We would have loved to do the 16-course dinner, but unfortunately that was a little out of our price range, and I doubt there was any way I could have made it through that much food (although there's a good chance Dustin could have). I wish we had been able to see a table order the menu degustation, but we were eating there early on a weeknight to make a show without having to rush, so there weren't too many people in the restaurant and everyone was sticking with prix fixe menus.
Although we had decided on the prix fixe menu, we still had to decide how many courses we wanted. We debated and settled on the six-course menu. We were already spending a lot on food, so we decided that since this was such a rare opportunity, $30 or so a person, was a relatively insignificant price to pay. Plus this was going to be some of the best food, we'll ever taste in our lives. Might as well live it up a little bit.
All menus came with an amuse bouche to prepare our palettes for our delicious upcoming meal. We were brought an apple compote covered in a blood orange gelee with pomegranate seeds, which was delicious, but the real outstanding part was the presentation. Beneath the bowl there was smoke-like fog coming out thanks to the magic of dry ice. Dustin's bowl was actually shaking and making this really funny noise that made for quite the entertainment.
Next was a stop from the incredible bread cart. Literally the bread cart pulls up and the waiter will start listing off nearly 20 or so different breads and then wait for you to pick your selections. It was a tad a overwhelming, so I asked for recommendations and got a delicious bread with Gruyere, a bacon epi, and a basil focaccia (the first two of which we were told were the most popular). I really loved the soft basil focaccia and my cheese bread. Dustin got a different kind of cheese bread (I thought mine was better), a fleur de sel puff pastry (which I also would include among my favorites), and a piece of olive baguette, which had an amazing flavor and great crunchy texture that Dustin really enjoyed. The bread was also served with Spanish olive oil and freshly shaved butter topped with salt. This cart is a bread lover's dream!
Following our carb overload, our appetizers arrived. I ordered the La Langoustine, a truffled langoustine ravioli with shaved cabbage covered in a foie gras sauce. Overall, the dish was fabulous. The ravioli was amazing and the sauce was good, although not my favorite. I must say if I have to eat cabbage, I want this place preparing it because it was ridiculously good! This was my first experience with black truffles atop, but I really don't see what the big fuss is all about. They were good, but for the price, I think you can order a lot more delicious things. Dustin ordered the foie gras. We tried foie gras at Spur Gastropub on a tasting menu here in Seattle for the first time, and it was decent, but neither of us were super impressed to ever really want to try it again. But Dustin decided since we were at one of the best restaurants we'll ever set foot inside, if there was any restaurant in the world to convince him that foie gras was good, it would be Joël Robuchon. Now he's a believer.
We both chose the same soup— a "savory scented fava bean cream on sweet onion foam." There were only two soup options, and the other one required a extra fee of $60, so we stuck with the fava bean soup, even though it was something we would have probably never ordered if we were picking from a larger menu (fava beans remind me of Silence of the Lambs). But the soup turned out to be a pleasant surprise, and Dustin's favorite part of the meal. I would say that the best part of eating at a restaurant like Joël Robuchon is that you are sometimes forced out of your comfort zone by a more limited menu and will find something unexpectedly delicious.
When we were choosing entrees, I immediately decided on the sole cooked in salted butter with small zucchini flower and yuzu (an Eastern citrus fruit). Dustin also wanted that but changed his mind after I had already staked my claim. That fish was without a doubt the most perfectly cooked, tender piece of fish either of us had ever eaten. Dustin ordered the spiny lobster cooked in a coconut curry broth and served with yucca root, which tied all of the flavors together perfectly. I laughed after tasting both dishes because based on our individual tastes and the flavor profiles of the dishes, I think ordinarily I would have ordered the lobster (I probably would have had there not already been lobster in my appetizer), and Dustin would have ordered the sole, but we got our decisions reversed today. We also ordered a half bottle of white wine from their enormous wine list to have with our dinner.
Dustin mentioned how his dad had been watching Anthony Bourdain rave about Joël Robuchon's mashed potatoes, which may or may not have been why we looked into going to eat here. We were not disappointed, as I had done some research and found that every main dish came with a side of these famous mashed potatoes. Basically it was like a stick of butter, a few splashes of cream, and just a hint of potato. Or at least that's how it tasted. And boy was it good. The texture was so smooth. Everyone who knows me knows how much I love mashed potatoes, and these were far beyond anything I've ever tasted, in a league all of their own. I could have eaten an entire bowl all by myself. I totally agree with what Dustin said— what was so impressive about these mashed potatoes was that they were so absolutely simple, without trying to be different or fancy. Instead these potatoes focus on being perfectly simple and delicious.
Next, it was time for dessert. I ordered an exotic fruit mousse swirled with peanut butter, topped with bananas and served beside brown sugar ice cream. I debated between that dish and an orange chiffon cake, but went with the crazier sounding dessert and was not disappointed, especially because of the ice cream. The peanut butter and exotic fruit mousse (I feel like I tasted some kiwi) was an interesting combination, but it definitely worked. Dustin order this hollow ball of meringue filled with vanilla apples. Once again the presentation was amazing with the awesome, dry ice fog.
Finally it was time for the spectacular mignardises cart. It was filled with three to four dozen different kinds of mini desserts, and the waiter went through each and every one with us. I was pretty impressed that he knew what everything was and where it was located. As with the bread cart, we were overwhelmed with choices, but in a good way. I got a vanilla macaron, a white chocolate covered cheesecake ball, and something else I can't remember now, but the first two were my absolute favorites, so I guess my memory blocked out the last one. Dustin ordered a chocolate ganache, a peach jelly, and this lemon raspberry cake thingy I can't really describe, but it looked cute. Then the waiter threw in an extra raspberry marshmallow that I expressed interest in. Dustin and I proceeded to nibble on all of the different treats, trying each of them, which made for a really fun experience. I think getting to see the little cart might have been this sweet-loving girl's favorite part of the evening.
We also began the night with some of Joël Robuchon's signature cocktails. I ordered "The Right Cocktail," a gin based drink (made with Right gin, hence the name) that was basically a fruity, raspberry/lemon take on a gin and tonic. Dustin ordered a whisky-based drink, like he usually does and raved about it.
Before we were escorted back through the Mansion to be picked up (in the gold limo this time) to head to our show (The Beatles' LOVE Cirque du Soleil show at the Mirage, which was an amazing experience in and of itself), I was handed a bag with a large bar of Joël Robuchon chocolate that was covered in something I didn't quite catch since it was in French, but it looked like gold flakes. Dustin was handed the bill. He said that wasn't fair, but I didn't mind!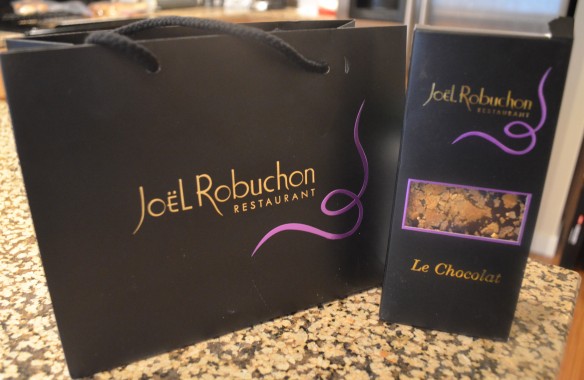 We tasted the chocolate once we got back to Washington, and of course, it was fabulous as well.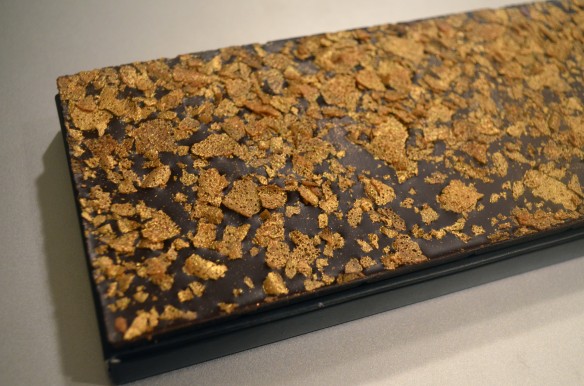 It'll be awhile before we go back to the amazing Joël Robuchon (maybe next time we can afford the menu degustation, which I'm sure is out of this world), but it was definitely an experience we will always remember. To date, it is without a doubt the best food we've ever tried.
A few days before we arrived in Las Vegas, I was doing research on the restaurant, and stumbled upon this blog review of Joël Robuchon by Kirbie's Cravings, which has pictures of some of the same dishes we ate and pictures of the impressive atmosphere if you'd like to get a better feel. We packed lightly and didn't bring the camera to Vegas, and Dustin said he would have felt silly taking pictures, but we actually saw another couple taking pictures of all of their food with a big fancy camera while we were there, so it must be something that happens there a lot. I wouldn't be surprised given all the beautiful plates and presentations we saw.
Note for the rest of our trip we ate cheap like In-and-Out Burger and the secret pizza place at the Cosmo, so we didn't completely break the bank!