Samoa Donuts
After seeing these baked Samoa donuts from Top With Cinnamon on foodgawker a few weeks back, I became really excited to try something similar. I missed Girl Scout cookie season this year. Despite my best intentions to buy them, cookie season passed without us consuming even a single cookie. Historically I've always been a Thin Mint girl, but several other flavors have grown on me over the last few  years, including samoas. Mini Samoa donuts seemed like the perfect way to satisfy the Girl Scout cookie craving, but with a twist.
I woke up early one weekday morning while Dustin stayed in bed, so he'd have homemade donuts waiting for him when he got up for work. He had been having to work a lot of extra, stressful hours, so he was ready for a relaxing morning with a special treat. I found a vanilla donut recipe on What Katie's Baking that didn't involve using yeast to act as the shortbread cookie base. I halved the recipe (to make 12 mini donuts), upping the vanilla content a little and slightly reducing the cinnamon, and I cooked them for 10 minutes. I was really impressed with the texture of the donuts. They had the most accurate donut texture of any of the mini donut recipes I have tried. I think the key was the slightly thicker batter.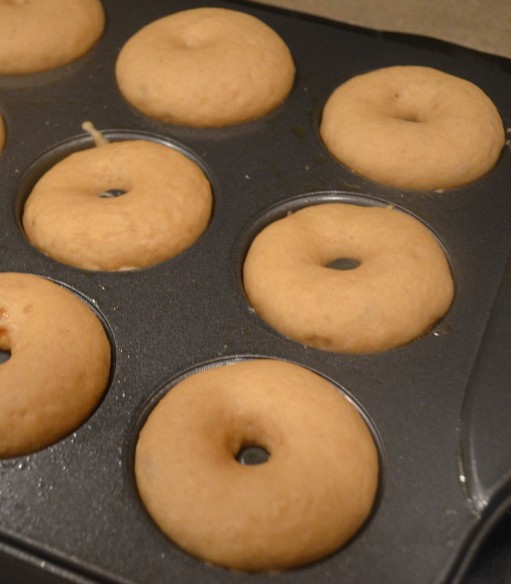 While the donuts were baking, I lightly toasted some sweetened flaked coconut in a non-stick pan on the stove over low heat until it reached a nice golden color.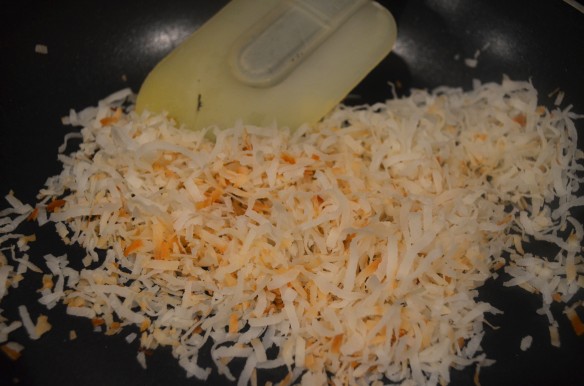 The coconut and the donuts were finished at the same time, so while I waited for the donuts to cool a bit. I heated some caramel sauce. I used premade this time, but I really want to make own caramel sauce as soon as I get a candy thermometer.
Once the donuts had cooled, I dipped the tops in the warm caramel sauce and set them on a cooling rack with a sheet of parchment paper beneath.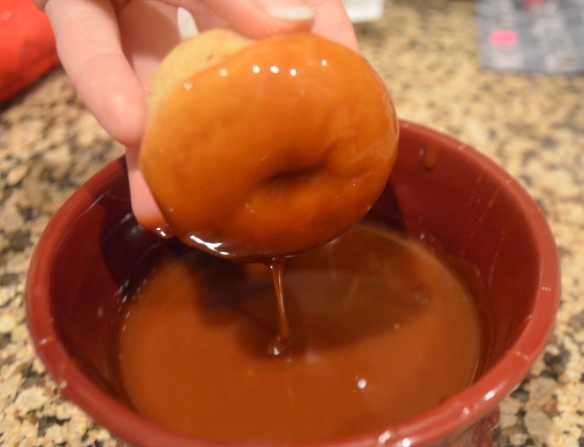 I added the toasted coconut to the top.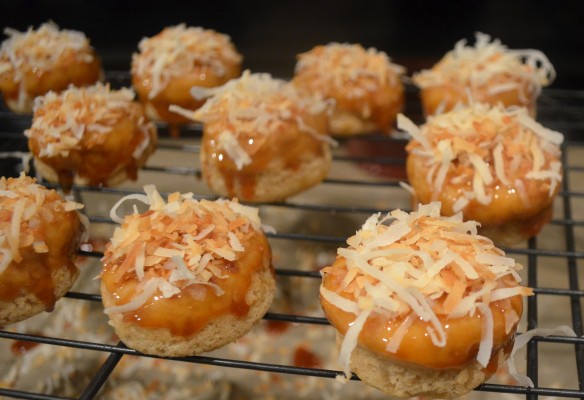 Finally, I drizzled chocolate syrup I had in the fridge on top instead of using melted chocolate. The melted chocolate would have made a prettier, and more samoa-looking drizzle on top, but I was using shortcuts to get these donuts to the table faster. If I was going full out with these, I would have also dipped the bottoms in melted chocolate. Alas, I will have to try making these full out one weekend when there are no time constraints.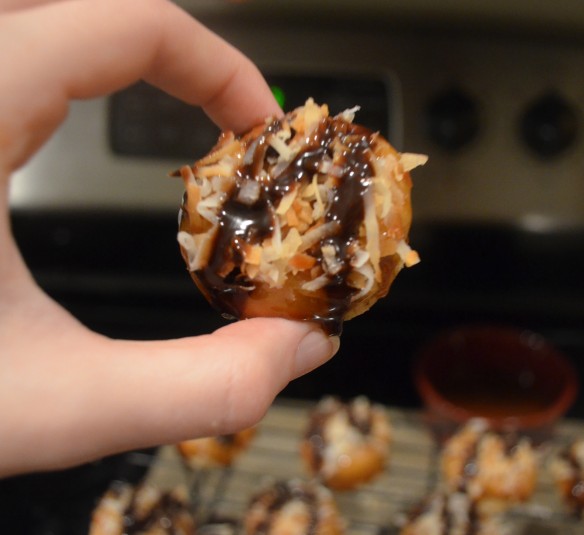 I went back to bed while the donuts cooled and the tops hardened, and we then were ready to eat Samoa donuts. The mini donut pan made the perfect sized treats to remind us of actual Girl Scout Samoas.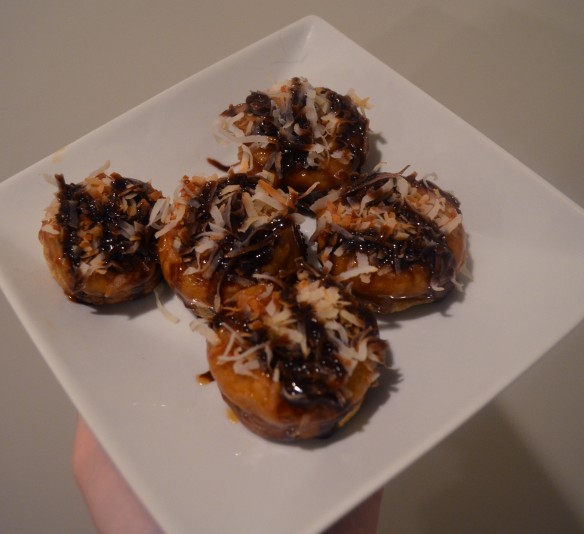 These were so good! All of the flavor of the Samoa cookie was there with a light and fluffy texture instead of a crunch. Now I just need to figure out a way to make Thin Mints into breakfast...