Stopsky's Delicatessen
Seattle Met magazine has been a great resource for helping us in choosing restaurants in our new city. Recently they released the best breakfast spots to eat. One of the places featured was Stopsky's Delicatessen, a Jewish deli on Mercer Island, for their spin on Eggs Benedict.
For a Jewish deli twist, you can order the your eggs with pastrami (yum!) and served on latkes instead of a boring old English muffin. We really like the idea of making latkes the base of a dish, so we were eager to head out to Stopsky's for brunch one lazy Sunday morning.
The location is pretty small with a to-go counter and cases of deli meats, a coffee bar, and freshly baked goods on one side of the restaurant and tables and booths on the other. We had to wait about 15 minutes for a table, but it was no big deal as we ordered our coffees and looked at all of the delicious treats, trying to decide what we'd like to take home (more on that later).
Once we were seated, we ordered right away, since we perused the menu while waiting for our table. I ordered Seattle Met's recommendation, Latkes Benedict, and Dustin ordered the salami and eggs with caramelized onions with the intention that we split the dishes.
I kept seeing the Latkes Benedict being delivered to other tables, so I was ready to eat when the dishes finally arrived. I asked for the hollandaise sauce on the side, so when my food arrived I saw perfectly poached eggs sitting atop a latke covered in pastrami. The dish was perfect, an awesome twist on a classic dish. Dustin's salami and eggs were also great, served with a latke and applesauce and a slice of rye toast.
We were pretty excited about our meal and decided we'd definitely need to come back to try the sandwiches.
On the way out, we picked a couple of apricot Hamentashen for the road since we ended up not getting to make any homemade cookies for Purim and it was just a few days after. They were so good! I can't wait to try making some in my own kitchen. We really wanted to walk out with a ton of their delicious looking cookies, breads, and cakes, but we decided to exhibit self control and stick with a Jewish classic. Our stomachs were pretty happy in the end.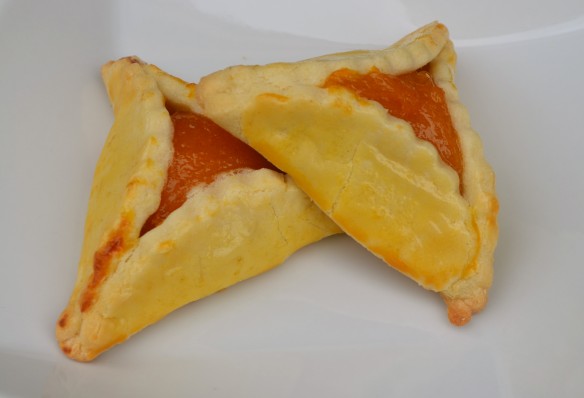 Stopsky's Delicatessen was a fun weekend brunch spot we'll absolutely hit up again.